How the Resilience of Retailers Shines Through

By Bob Phibbs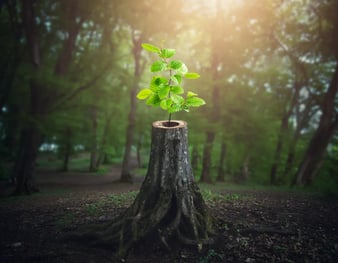 I still remember the day President John Kennedy was assassinated. I was home with my mom, and the door-to-door Fuller brush man rang the bell as usual.
My mom actually opened the door and invited him to come in and watch on our black-and-white console Sears Best TV. She never let men in our house.

I remember when President Reagan was shot on my birthday in 1981, the start of the Rodney King riots on April 29, 1992, the September morning the twin towers fell, and October 10th when the market crashed in 2008.

But little did any of us know that morning on March 12 when Tom Hanks announced he had Covid and the subsequent day when a national emergency was declared the full scope of the situation. But we sensed it was big…

That day I was flying back to Newark from my mom's funeral and a subsequent speech. When I got on the thruway, traffic was 85+ mph as we sped home to a future none of us could foresee – lockdowns, closures, and over half a million Americans dead.

With that grim news, it is time now to take stock of where we were as retailers and how far we have come in 12 months.

Sure it's easy to say a five-year future timeline was compressed to six months as retailers had to learn about:
Curbside delivery
Cleaning protocols
Buy online, pick up in store
Livestreaming
PPP and PPE
But at the local level, what did all of that mean exactly?
I started my Hope For Retail project last year, and I thought today there would be renewed hope from thoughts of retailers who are on the other side of the start of the pandemic.
That's why I asked fans to give me one thing they had to learn quickly:
Mindset
Kara Waugh Being positive and strong for others when inside, I was freaking out.
Robin Jeffs I called at least eight customers a day to check on them, kept it up and strengthened relationships.
Alice Bacon Provided a reassuring atmosphere that allowed people a taste of "normal" life while adhering to all safety protocols.
Aaron Flach Create the image and perception of being safe.
Logistics
Marilyn Puffer We locked the doors and let the customers shop through the window; we were amazed at the response from our customers.
Alicia Ristic Learn how to adopt my business for online presence and learn how to use different platforms to keep in touch with clients.
Carol Nixon Adam Daily video with demo or new product.
Sueann Blackwell Proper cleaning - before and after work was completed and having no one wait.
Jeannie Keys Creative solutions for aging populations who are unable to shop in-store, but also not savvy online shoppers.
Tony Roberts How to quickly scale home deliveries and overall logistics management.
Jennifer Hunt How to switch to online marketing.
Sarah Hanssen Lewis Trying to foresee what might work a week or two ahead.
Vanessa Gammel Figuring out online sales on our very clunky website.
Kelley Bova What time the post office closes on Saturday! Lol
Joanne Smida I had to learn how to use Zoom and interact with vendors to help boost my social marketing along with the Downtown Chamber live shopping.
The Granville Island Toy Company Seeing that Amazon wasn't shipping non-essentials, we jumped on the opportunity to offer curbside pick-up and offer local delivery for $5. It was a huge success, and families were so thankful they could find stuff for kids to do while in quarantine.
Staff
Sherri Crowell Good communication and willingness to go the extra mile.
Casey Robert We had to learn how to communicate without sounding irritable. I was eight months pregnant at the beginning of the shutdown and had a baby in my arms by mid-May. We reduced our hours and had limited staff in the building, which was alright for workflow, but it was confusing to customers early on. I finally began doing some social media posts explaining why I'd be staying away for a while (no pop-ins for free advice for a few weeks, dear customers), and when I did that, I got a supportive response.
Cynthia Holliday Make sure my team felt we cared and provide enough sanitizing products. Made masks mandatory to enter our building for the safety of the team and their families.
One thing you had to let go of in the past year:
Mindset
Joanne Smida I had to let go of my insecurities about being on video.


Thomas Fasshauer I finally let go of trying to be perfect. Perfect inventory levels, perfect customer satisfaction, etc.


Vanessa Gammel I had to let go of trying to make everyone happy. We require masks and ask people to wait 6-feet apart at the checkout. All because of Covid. Not everyone likes our rules, most are appreciative of our actions but there are a few complainers. I used to fuss over people not being happy and take it personally.
Mimi Sherwin I had to let go of my own ideas of what was safe and realize each and every person had a different comfort level . It was so much more than sneeze guards and hand sanitizer. As a gift store I decided to get the biggest selection of masks I possibly could so we could try and find out what people liked best. Turns out it brought so many people in that hadn't gone anywhere except the grocery store. It was an honor to be considered a safe space and was a much different experience than the traditional sales. Fifty years in the business and it brought me back to how important each and every customer is. I had to let go of taking things for granted.
Alice Bacon We had to let go of our comfort level and just deal with ''what is'' instead of ''what we thought it would be''. We were just coming up to that ''magic number'' of five years in business and were at a place where we had a team of really wonderful long term staff and a really good flow, sales numbers and revenue heading in the right direction and a solid place in the community with lots of loyal, regular customers. Suddenly the rug was pulled out from under us -- we closed completely for a month, then returned to limited operations for another month, with just my husband and teenaged son and myself working, and then slowly rebuilt and expanded as restrictions eased. But we lost a number of our team due to fears of working with the public. I am so proud of how well our mainly young group of employees has taken ownership, and accepted the need to ''go with the flow''.
Logistics
Lauren Haik That out of stock products and shipping delays are just a part of business for the time being.
Casey Robert Turnaround times! They're nonexistent these days. We offer custom framing and other interior services & products and the supply chain is just a mess. I emphasize that we'll communicate as much as possible with each client, but each ticket tends to stay open longer than before.
Michael Mixon Letting customers in the store until I can get vaccinated. I love my job but due to preexisting conditions I'm not willing to die for it. Been doing lots and lots and lots of curbside and digital orders.
Laurie Luitgaarden We had to let go of some policies and procedures and quickly pivoted to new procedures to maintain safety protocols.
Jenn Sullivan I had to let go of half our providers.
Alicia Ristic We had to let go of our space of 16 years and move into 1000 sf. Size of art class is now limited to 8 students, previously 18. We are limited not only by COVID restrictions but by space. Hopefully, we can return to some form of normal and restructure the way we do things - we have so many ideas to put in place once we can.
Kelley Bova Our sewing classroom brought in thousands of dollars every year. Now it's a kitting, packing, and shipping room.
Staff
Martha Johnson My free time. We were understaffed after being shut down, and some employees didn't come back. One was taking care of a grandparent, and another moved with her family. We were extra busy and didn't have anywhere near enough staff.


Kathleen Donahue I had to let go of my perfectionism and control. When all hell was breaking loose, I had to focus 100% on vital, core business operations. If anything else was going to happen, my staff had to make it happen with very little oversight. Sometimes they do things differently than I would, and that had to be ok. I've learned a lot about trusting their instincts, even more than I did before. I now even take at least one day off a week.
One thing you are keeping that you learned from the past year when it comes to your business:
Mindset
Janna Cotroneo Cohen If it's out of your comfort zone, try it! Videos on social media, trying to learn a website, start a shop on social media, just try something!!
Logistics
Mohammed Elyas Taking my business online saved it during the shutdown. In May of 2020, in my basement and locked down, helped by an SBA loan, I decided to put a small but decent amount and full-time effort into taking my business online. It has paid off in spades. Click to store is our goal for the first half of 2021.
Caroline Morris A product has to "earn" its place in my store. If it isn't killing it, it isn't here.
Janet Tanury I need to put myself on the payroll and pay myself regularly.
Lauren Rudeck Offering virtual shopping! It's perfect for customers who are out of state or those who can't come in but want to see the store as they shop.
Sherri Crowell We will be keeping the "Appointment Only" for the long haul. It allows us to have time exclusively for our clients and their orders and also allows us to finish projects without worrying if the paint will streak because we stopped midstream to wait on a walk-in customer.
Alice Bacon We will be keeping and building on our online presence for sales and working with a web designer to build an online store that suits our personality instead of just showing our products.
Diana Farrar We became much better listeners so we could provide much better service. Business is booming because of it.
Staff
Joanne Smida My staff. It was difficult trying to survive while we were closed and then reopening without staff for three months. To be successful and productive, I need a trained staff that can contribute to growth and success.


Robin Jeffs Making sure every customer has an exceptional experience in the store, selling with an open heart, and building relationships. Continue using Sales RX training lessons with a willingness always to improve.
See also, Shaking Off the Retail Apocalypse With Hope and Real Data
In Sum
After a year of COVID-19, many shoppers find themselves accustomed to the anxieties of a life spent mostly in their homes.
With mass vaccination on the horizon, retailers can now anticipate a return to normal life.
The key is to remember all that was learned over the past year, leaving behind what didn't work and keeping the focus on the customer who is expected to come back in record numbers - and sooner than you may be ready for.
Welcome this customer with a crew trained in how to engage a wary public. If you want to go deeper in how I can help you, check out SalesRX.com.
By the way, here were three of my most popular videos in the Hope for Retail project:
Retail Is Not Dead – Sharing True Stories of Hope For Retail Stores
Hope For Retail: Customer Story Ted Baker
Hope For Retail: Customer Story Ralph Lauren