How To Gain A Positive Customer Perception Of Your Brand

By Bob Phibbs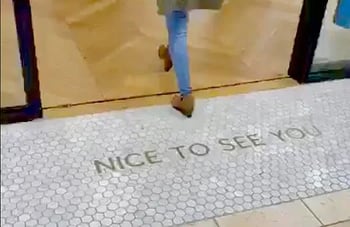 What customers think of you decides how much you can charge for your product, what kind of employees you have working for you, and what kind of customer loyalty you will have.
What is customer perception?
It is marketing speak for what consumers feel about your brand, whether good or bad. We often call that a brand's reputation. Customer perception is closely related to brand equity because brands that have positive customer perceptions can leverage that loyalty to generate more sales.
In order to transform your business to be customer-centric, everything from operations to service must be considered - these things are not separate from the brand, they are what make up your brand equity.
It has often been said that customer perception is reality. No, only reality is reality. But a customer's positive perception can become their reality about your business because how they feel about something, the way they were treated, their own baggage, and a host of outside factors have a potent influence on how they look at the reality of your brand.
Who should be responsible for creating a positive customer perception?
First, you have to realize that a customer walks into your store with some kind of perception already in their head. How that customer has engaged with your brand is based on a host of many things, from their prior knowledge, to what they have heard from others before experiencing it for themselves, to their emotions on the day they choose to come to your store, and even from their own self-interests.
But what kind of perception they leave your store with is all based on the employee service they receive while they are there.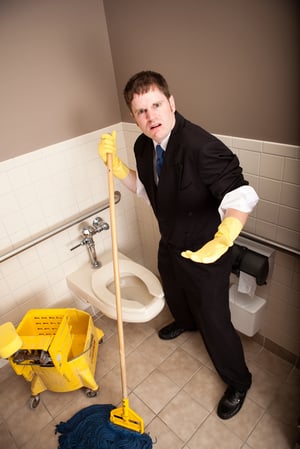 For example, let's say I have a toilet leak and water is everywhere, but I don't want to call a plumber. I come to your hardware store and tell the seasoned employee what is going on. I tell him I don't want to spend much money. He comes up with a cheap solution that will work temporarily for under $5. That hardware store made a lifetime customer out of me because this employee's service quality was so great and I was satisfied by my personal experience dealing with him.
But now let's say I go into another hardware store instead and tell you about the leak. A new employee cuts me off and tells me the only way it will be fixed is with a new toilet for $250. I ask if there isn't some other way and he says, no. The only choice I have now is to go try to find another store to see if there is another option. I leave thinking he was just trying to "sell me something." I hate the brand now.
You can have the most amazing store design, the best marketing campaign ever, and the finest products, yet the one rotten employee you leave on the floor on a busy Saturday can destroy it all.
Importance of Customer Perception
Why should retail businesses be concerned about customer perception? Because you want to do your best to increase the likelihood that shoppers will feel good about your brand. That means you have to have a laser focus on how you will deliver an exceptional experience when anyone encounters your brand.
That might mean on all your social media platforms, you will set the bar to reply to anyone within 1 hour whether that is on Facebook, Instagram, or Twitter.
That might mean you hire an architect to design a stunning showcase for your jewelry store that makes shoppers feel transported to luxury like in this cool jewelry store.
That might mean you have a rigorous hiring policy and training procedure, so everyone receives the same customer experience, not focusing only on closing a sale.
That might mean you never discount your products as associates have more pride when selling (and customers have more pride when buying) when they know the product is worth it.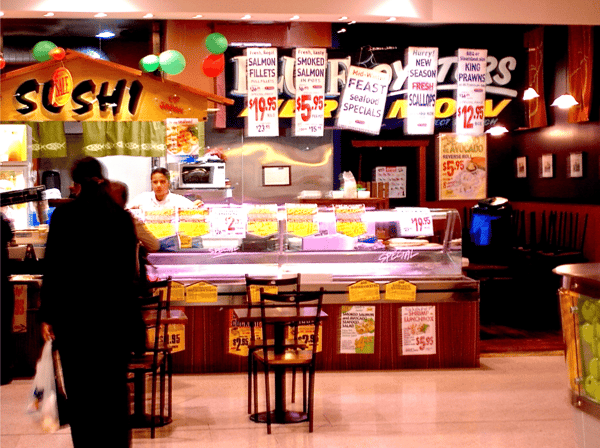 In short, customer perceived value starts with what the brand wants the shopper to feel when they encounter it.
Excellent customer perception is necessary for retaining and attracting customers because if a shopper doesn't leave with a positive perception, it is less likely they will make the trek back to experience it again.
But when shoppers feel they truly had a remarkable experience, the positive emotions the retailer tapped into will stay with the shopper long after the initial purchase is forgotten.
That leads to customer loyalty.
When it comes to your marketing strategy, the images you project are the ones shoppers will buy. Think of the difference between a Baby Boomer who purchased a Harley to connect to Peter Fonda's bad-boy image in Easy Rider versus a young guy today who buys a scooter simply for transportation to his job at GrubHub.
The more customer expectations align with a brand image and the more that customer sees the product as something special, the more the brand equity and valuable a brand becomes.
Just like celebrities have a measurement of familiarity and appeal of their brand or TV show known as the Q-Rating, every brand, store, and even associate receives their own rating from each and every shopper they encounter.
How to control customer perception
How can a business guide customer perception through every interaction whether in-store, online or on social media?
As they enter your store, customers should be able to get their bearings. That means you set up a positive expectation with the visuals you use. Check out the entrance to this Warby Parker in New Jersey.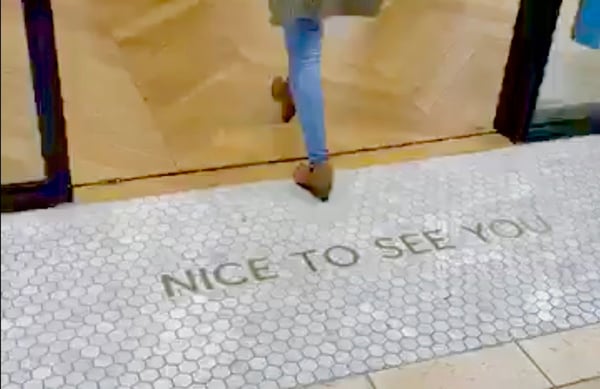 On the floor, the first words out of your associate's mouth set up the expectation of either a great or a forgettable experience. When it comes to Selling, the associate's ability to develop rapport and discover their shopper's needs is what will give the shopper something online can't give them, a positive feeling.
People who feel they matter perceive a brand as favorable and buy more. That's what gives you a competitive advantage over online retailers.
On social media, the posts you choose to share that are authentic and focused on the viewer rather than the products help a follower feel they are part of a tribe. The way you respond to their comments on social media platforms shows you are engaged and helpful.
Check out how this retailer commented about a former employee...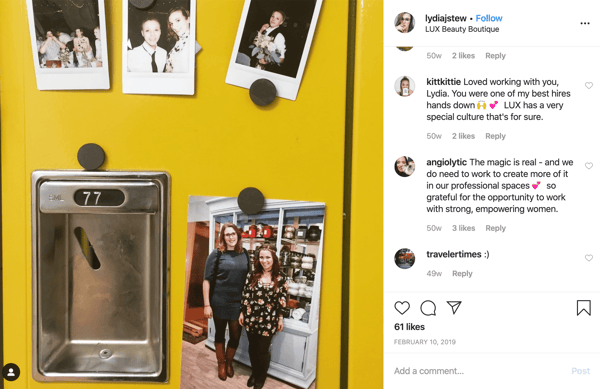 If your customer perception is that you are aloof or unprofessional when you don't reply or are curt during their interactions, or if you can't nurture them as followers, it will seem as if you can't nurture them if they visit your store either.
In marketing, your goal in guiding your customer perception through every interaction must begin by being consistent. A quick promo may build a few sales, but you don't want to be that "discount retailer."
Otherwise, your branding strategies in the marketplace will be seen as you only cater to promotions and that is the only audience you'll attract.
In customer follow-up, the last impression your loyal customers have is when they leave your store. Did the associate thank them and bid them return again? Did you follow up on a purchase with a personal note on a particularly expensive item and make sure they were a satisfied customer?
You can use an app like Salesfloor in helping to make the in-store sale and in clienteling afterward. The old adage out of sight, out of mind has never been truer.
In pricing and promotions, the more you scream sale, discount, and coupon, the less likely you are to attract customers who will pay full price for quality. It then becomes a race to the bottom to see how low you have to go to get shoppers to bite at your offer.
The less you make, the lower your service quality is likely to become. No one raves about poor customer service.
Further, the people who would like to shop with you because of your products and service start to see you as a discounter. They become afraid to pay full price and so return to your store less and less.
You have to sell value over price to have a good reputation.
Consumer behavior is a direct result of how you treat those consumers along with the products you stock and the way you promote them.
Customer Perceptions in Discounting
While many brands have to ask what percentage of discount is required to sell their product, Hammit handbags doesn't because the industry sees them as a premium brand with pricing integrity.
Other than at their once-a-year sample sale, you're not going to see piles of Hammit on sale anywhere.
Look at these after-Christmas screenshots of famous handbag makers from 2018.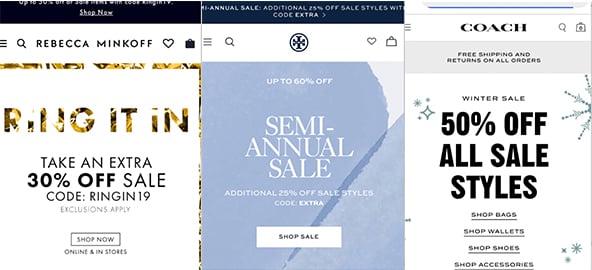 And Hammit's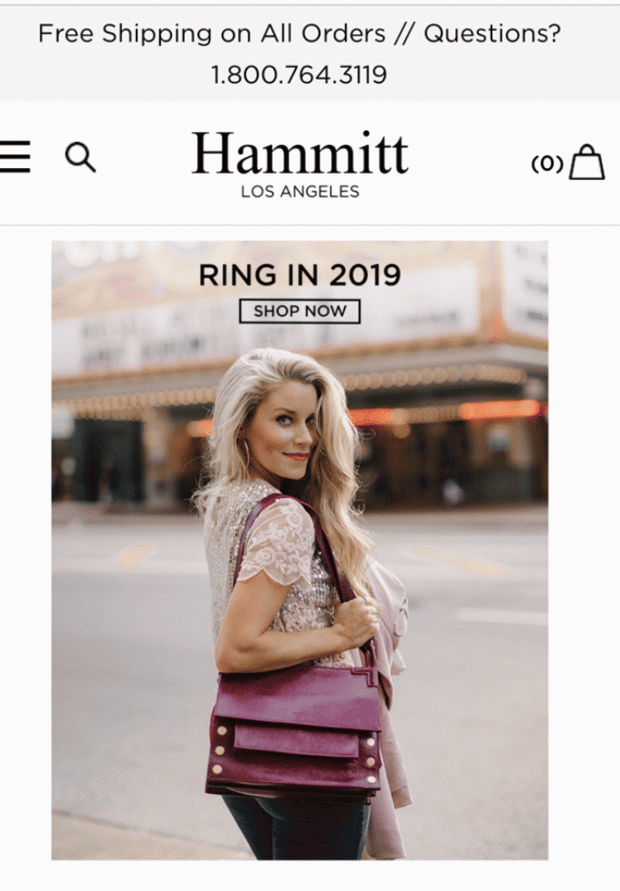 How does Chief Cheerleader Tony Drockton of Hammit gauge his brand's customer perception? He told me that US handbag sales are down 20% while the secondary market for them has grown.
If there is no price integrity in the secondary market, he told me, the customer perception was that the handbags weren't that well made to begin with and won't hold their value.
He says he can tell on the Real Real, Rebag, or Poshmark how much a product is worth used. And if you're looking for brand equity, results from Poshmark now show up on Google and Instagram. Using data, you can track how LV or Gucci values are dropping or rising based on the secondary market.
Perceived brand equity is the difference in value. And brand matters in fashion.
Brands make you feel something in the store. You go to the store to discover and be a part of a brand lifestyle.
Stores can't only be for when you need something, they need to be when you want something too.
How to improve customer perception
What are the simplest ways to improve customer perception? Remodel, retrain, and cultivate reviews.
Remodel. Many malls require tenants to rebuild every seven years. That's because retail exists to answer a shopper's one question, "What's new?"
Retrain. When shoppers see a refreshed store, they are drawn in to see the changes. That brand perception becomes one of freshness, newness, and contemporariness. Your service delivery has to be the best in class if you hope to change a jaded customer's mind. That means you have to adapt a training program that constantly encourages and rewards employees.

Renew

. If you've done everything necessary in-store to create customer satisfaction to the point they will rave about you, you have to make leaving reviews easy, whether asking for them in your newsletters or using a more sophisticated customer messaging system like Google's Podium.
How can brands increase their customers' confidence in them?
By being genuine. That means in social media posts and advertising, the days of the airbrush and the perfect have given way to the way consumers are living – in casual clothes, not perfect, but authentic. The more transparent your marketing can become, the more loyal customers' perceptions will be that their experience in your store and with your products has been authentic as well.
By hiring people who embody your brand. Those who are trainable. Those who like other people. Those who enjoy using your products themselves. Since selling is nothing more than a transference of feeling, making authentic connections with strangers must be a priority. That will take changing employee perceptions that they are only there to answer when asked to become proactive in getting the shopper to change their thinking from not wanting to want to engage in conversation. That is a tall order if you do not have a structured training program.
By avoiding promotions and discounts. If price integrity is lost, so too is image. Use customer feedback tools and engage those who buy your items at full price. Find out what is important to them about your brand using online customer surveys. Talk to the associates who sell your products in different stores. Find out if they feel differently about brands that are always on sale. Look at your data and find what the average selling price of your merchandise is.
If you're unable to get close to your marked price, you may be chasing a different shopper. They rate price over value. Their customer perception is that you are a good place to get a deal, not the best place to discover the best merchandise. You lose shoppers' brand confidence.
Again, your store can't be only for when a customer needs something or has a coupon.
Not if you want to stay in business.
See also, Retail Sales Associate Training: 9 Ways To Get Better At Selling
In Sum
Do customer service standards make a difference to customer loyalty? Absolutely.
Just understand because each person has their own ideas and baggage they bring to the table, your associates must concentrate on executing your customer service strategy to create an exceptional experience over and over again.
That way, your chances at keeping your quality and customer perception high is achieved.