How to Sell More: Increase Your Sales and Revenue

By Bob Phibbs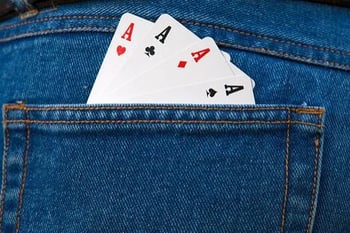 "How can I sell more to customers?" is frequently asked by retailers of all sizes.
And it's a smart question.
That's because many companies are trying all kinds of marketing to get their names out there.
What happens when all that hard work brings customers through your doors, but they don't open their wallets?
Or worse, what if they open their smartphones and buy from a competitor while still inside your shop?
Stop worrying about how to compete against online retailers. With my proven selling strategies, you'll swap these stressful scenarios for increased sales and revenue.
The question of "how to sell more" is best answered with this 4-step approach:
Understand the major differences that drive millennials, boomers, and gen-Xers.
Learn what each generation needs before they will buy (and no, it's not checking Amazon).
Deliver excellent customer service.
Listen, acknowledge, solve, and think to get to the heart of their complaint and give them a solution.
It's hardly any secret that retail is going through a transformation. If you're ready to sell more to your customers, this proven 4-step approach is for you.
Let's look at each of the 4 selling strategies you need. Then, I'll share some tips to help your retail employees start selling more today.
The best way to sell: a 4-step approach
If you want your retail store to be successful, you've got to know how to sell. It's as simple as that. Formula sales scripts and revenue-destroying promotions will only get you so far.
Instead, start incorporating these four selling strategies into your retail employee training.
1. Define your customer: Understand the major differences that drive your target demographic
Do you understand your target audience and the significant differences that drive purchasing decisions for each demographic?
If you want to sell more, you've got to know your retail customers. And I mean, really know them.
You want to craft a customer experience so compelling that shoppers feel at home inside your store. While looking at merchandise, your shoppers should start thinking and feeling, "This is my store."
Don't fall into the common trap of viewing your regulars as your target audience; the two are not synonymous. Your shoppers likely fall into different demographics, and each will have unique motivations for purchasing.
So, take the time to get to know your target customers. You can use sophisticated software to gather information digitally. Or, try my favorite (and simple) way to learn about customers: one-on-one conversations on the sales floor.
Pro tip: It's easy to drown in a sea of data. Focus your messaging and marketing efforts on the audience segments that generate the most revenue.
A defined audience is most likely to buy your product. Plus, when your employees better understand your ideal customer's pain points and desires, they can sell more, too,
2. Learn what people need before they buy
You've narrowed in on your target audience and better understand the differences driving each demographic. Good.
Now, most retailers would stop here ...
That would be a mistake. If you want to know how to sell, you've got to deeply understand what propels your customers to make purchases. And that starts by learning what your shoppers need before they buy.
Take my friend over at Eklund's, an agricultural equipment dealer in a rural part of upstate New York.
Billy Eklund pays attention. Not long ago, Eklund realized his target audience was shifting from commercial customers to weekenders with vacation homes. This new audience didn't want to trek through a muddy field to see tractors; they were more interested in playing farmer for a few days.
So, Eklund changed his interior design and messaging to meet this new audience's unique needs. He made them feel at home within his store.
Eklund started by asking, "How do I sell more." Then, he disrupted his comfort levels and discovered new ways to meet his customers' needs. He's been wildly successful as a result.
Understand your customer's pain points and then become the solution to their problems.
Here are a few questions to help you better understand your target demographic's needs:
How old are they?
Where do they live?
Where do they work?
Why do they buy from you?
What kind of cars do you see in your parking lot?
Do they pay with cash, credit cards, or Apple Pay?
What influences them first? Movies, blogs, videos, articles, brands, etc.
Where do they get recommendations? Social media, review sites, online retailers, etc.
Look for obvious signs, and don't forget to learn about your customers on the sales floor via one-on-one conversations, too.
3. Deliver excellent customer service
What's the secret to delivering excellent customer service?
Make your shopper feel like the most important person in the world.
Here's what you need to remember: Customer service and customer experience are not the same.
Yes, the customer experience is extremely important. But experience refers to the entire shopping event; it begins when your customer drives into your parking lot.
On the other hand, customer service is the one-on-one interaction between the sales employee and the shopper.
If you're following my 4-step selling strategy, you already understand your customer's pain points and how to speak to them. This is the foundation for any 5-star customer service, so don't skip this step.
Here are a few additional tips for selling more with first-rate retail customer service:
Eliminate friction to sell more
How long does it take before your shoppers receive assistance? Are aisles easily accessible and clearly marked? Are there backups at checkout?
Make it as easy as possible for your customers to find what they need so they make the purchase.
Add-on sales the right way
The right add-on sales tactics drive margins and delight customers. But the wrong suggestive selling? Well, that will send shoppers dashing out the door.
If you're wondering how to sell more, these suggestive selling techniques are for you.
Create a seamless shopping experience
Don't confuse your customers. Ensure your messaging and service is replicable across all channels, from signage to the selling process to social media and your website.
Master customer service, and your customers will choose you over the competition time and time again.
Remember that excellent customer service doesn't happen without a plan. Get my full guide to customer service here and learn how to sell more now.
4. Make a connection with the person on the other side
Genuine connection is at the heart of any memorable and lucrative sales experience. So, make your shoppers feel valued. Let them know you can help them make the best purchase possible.
Here are a few ways to do precisely that:
Don't just listen to your customers. Remember what they say, too
Practice actively listening to customers. Repeat a few words to the shopper to show you understand what they need. When you can, remember (and use) their name. And whatever you do, never allow your staff to use mobile devices when engaging with a customer.
Greet everyone with a smile
Want to strengthen your customer relationships and improve your bottom line immediately? Smile.
Studies show salespeople who smile sell more. Plus, genuine smiling releases endorphins, so both you and your shoppers feel better.
Find something to like about each shopper
Make a connection with shoppers by offering a sincere compliment. Keep it specific and relevant to your products.
Stay visible and available to your customers
You don't need to follow your customers around the store, but you don't want to disappear, either. Train your retail employees to stay visible, so they're immediately available when shoppers need assistance.
Go above and beyond the requirements
Create a 5-star shopping experience that begins the moment shoppers pull into your parking lot, and your customers will consistently choose you.
Bonus: Helpful tips so you can sell more
Follow my 4-step strategy on the best selling techniques, and you'll be well on your way to increasing your sales and revenue. Then, supercharge your success with these tips on the best way to sell.
1. Take advantage of social media
Shoppers begin their searches online, so if you're not using social media to attract and engage your target audience, you're missing an opportunity to gain customers and sales.
Many retailers forget that the key to social media is to be social. Don't just throw up a bunch of promotions. Instead, create opportunities for meaningful engagement.
Use educational content and behind-the-scenes videos to create raving fans and respond to comments and messages immediately.
Learn more: Discover how to sell more with social media in this guide.
2. Pick the right price
You'll hear me say it again and again: people buy based on their emotions.
However, that doesn't mean price doesn't matter.
No one knows what you pay but you, and I tend to tell most of my clients they need to increase their prices. But there's a strategy to raising your prices to sell more without upsetting shoppers.
It starts by getting to know your customer and understanding the price point that works for your target audience. Competition research pays big rewards, too. Then, follow these tips to raise your prices.
3. Teach employees proper negotiation techniques
How do your employees greet shoppers? Does your staff know how to deal with common objections? What about how to deal with customers with different personality styles?
Teach your employees how to negotiate with customers, and you'll increase sales and revenue. This could be about shipping charges, setup fees, and more. Negotiate the wrong way, though, and you risk losing once-loyal customers to online retailers.
The best-trained retail teams know how to handle objections with compelling, "non-salesy" negotiation tactics.
Want to improve your retail sales training and ensure your crew knows how to close the sale no matter what? Learn more about SalesRX, my ultimate online retail sales training.
4. Outdo the competition
If you want to sell more, you need to outdo the competition. Regularly check in with other businesses in your industry. Find ways to differentiate yourself from the masses.
You don't always need the lowest prices, but customer service and experience matter.
Take time to analyze the competition, and you'll stay at the forefront of your industry — and sell more in the process, too.
Start learning how to sell more right away
How to increase sales in retail is a topic of considerable concern for retailers, both big and small. I get it. If you want to increase your sales and revenue, you've got to train your staff to sell with ease.
Follow my proven 4-step approach to sales and start increasing your profit. Then, download my free retail sales training email course.
I've helped thousands of brick-and-mortar retailers discount less and sell more — and I'd love to help you, too.
Download your free training email course and start growing your sales and revenue today.