A survey by LoyaltyOne showed that approximately half of consumers reported experiencing a problem on their last shopping trip.
Of those customers, 81% decided not to contact the retailer about the issue. Among these silent shoppers, 32% said they were unlikely to recommend the retailer to friends and family.
I'm not surprised. Are you?
So very little is understood about leadership and best management practices for a retail employee…well any employee. The real crisis is that poor management of associates has left them as unengaged on the sales floor as they are in many aspects of their lives.
This allows your staff to work at a minimum level, with minimal interactions, with minimal engagement of customers, and with minimal impact on your sales… even though, deep down, they would like to feel a part of something...part of your store, part of your team, part of your success.
If you don't want your associates to be as useless as the g in lasagna, follow these 9 secrets to managing employees:
Respect they have a brain. A grocery store route driver noticed the yogurt in one store never sold and went bad, yet they were always out of a particular salsa. So one week, he dropped the yogurt from an order and doubled the salsa. His boss called him on the carpet for independently modifying the order, and told him it was not his job to think. That boss was wrong. Actually, the most successful retail manager understands great ideas can come from anywhere and always talks to associates as equal of their time and concern.
Compliment in public. Everyone likes to know they are doing a good job and an occasional attaboy is fine, but the best retail store manager goes further. To develop leaders in your store, take time during staff meetings to recognize associates for what they did well and recount why what they did was so good. When you find more of what employees are doing right than wrong and tell them specifically in front of others, you nurture employee engagement and a team environment.
Train in private. Learning requires judging – something is either right or wrong. For training to stick, you have to get past bad behaviors, which requires correction. No one ones to be corrected in front of others – or worse…in front of customers. Schedule time to train associates one-on-one off the floor, away from the demands of customers. Allowing retail staff to explore and ask questions without interrupting them on the floor gives them the space to learn. My virtual online training program SalesRX.com is perfect for this.
Encourage exploring the merchandise. Three of the worst words for a customer to hear from a sales associate are, I don't know. Make a point of everyone examining shipments for what's new. Encourage employees to try on, handle, or use new merchandise.
Pay above minimum wage. A new employee agreed to start a retail job at minimum wage. She did a great job of pitching in, yet when her check arrived two weeks later, she posted her disappointment all over Facebook. She soon quit. If you want to attract and keep the best, you'll need to pay the best. Creating an exceptional experience takes thinking, acting, and maximum talent. Those who can do that expect to be paid accordingly.
Hold accountable. If you train associates to do things correctly in your store, whether it is making a display, selling your luxury items, or doing a refund, you must hold them accountable for the expectations you have of them. Retail managers often only hold accountable those people closest to them like assistant managers or shift leads. But part-timers must especially be held to the same standards as they frequently are in more direct contact with your customers.
Help them find a friend. A manager's job is to train, encourage, and challenge their staff. One of the key components to making a great team happens during onboarding. You want to help the new employee find things in common with other crew members. This helps remove the feelings of them versus me.
Ask their opinion. One of the most frequent comments about bad bosses is their inability to listen or pay attention to others. If you hire Millennials, you must involve them and get them to freely share their thoughts. It doesn't mean you have to use them all, but collaboration is key.
Thoughtfully reward them. When goals or large sales are made or they went over and above, reward with a gift card, car wash, or something personal to their interests, not just money.
Infographic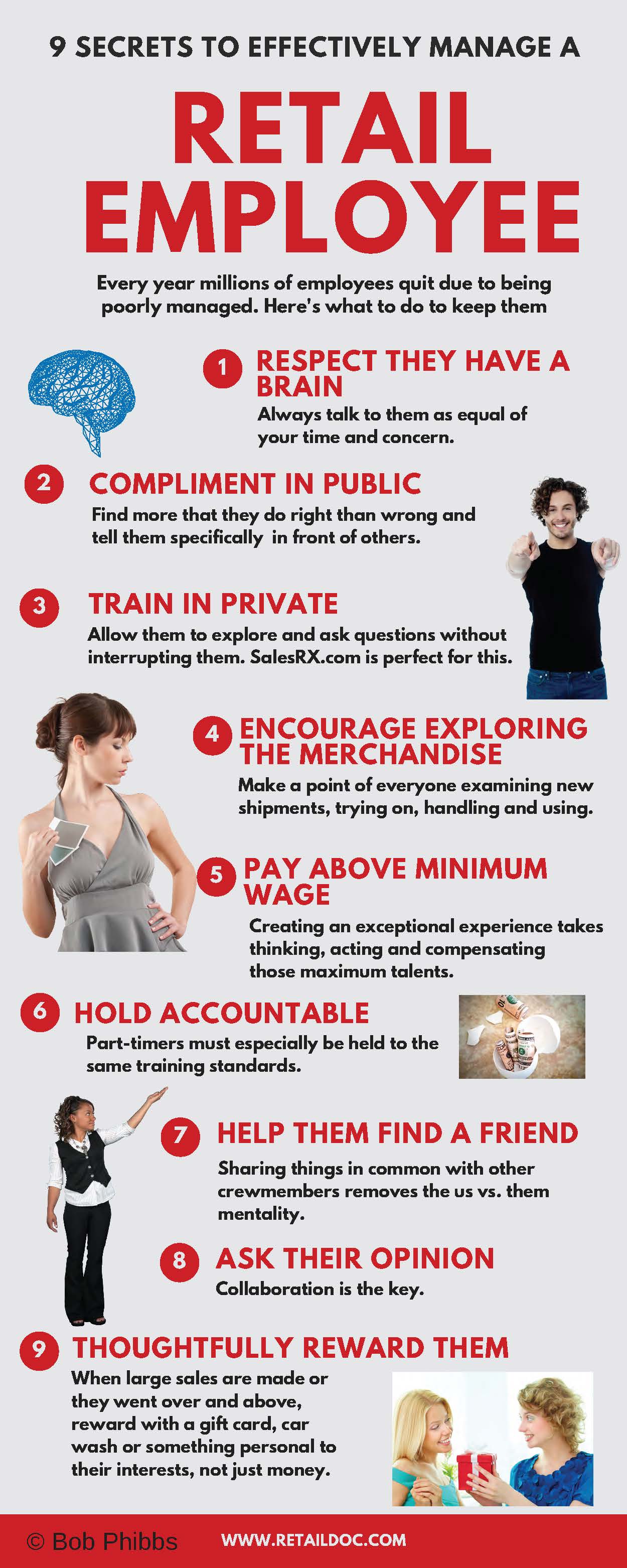 In Sum
Properly managing your employees helps them realize their own potential and allows them to sell from confidence and to grow personally while they help grow your retail business.