After an interview at CNN in New York, I was to catch up with my buddy Tony at the new Men's Nordstrom just down the way. I had a few minutes to spare, so I went into the Ted Baker store there at Columbus Circle.
I received a warm greeting from Asha welcoming me into the store. She was dressed in a Ted Baker outfit and she encouraged me to take a look at what was new. A minute later Maxwell came over to me and said something positive about the shirt I was now looking at.
I asked about the tape measures and ruler accents all over the fixtures and walls and even the chandeliers.
In addition, the wall behind the counter and the counter itself had what looked like 3-D tiles that showed the tops of the buildings that surrounding the store. Maxwell explained that when anyone plans a building in Manhattan, they measure the distance from Columbus Circle.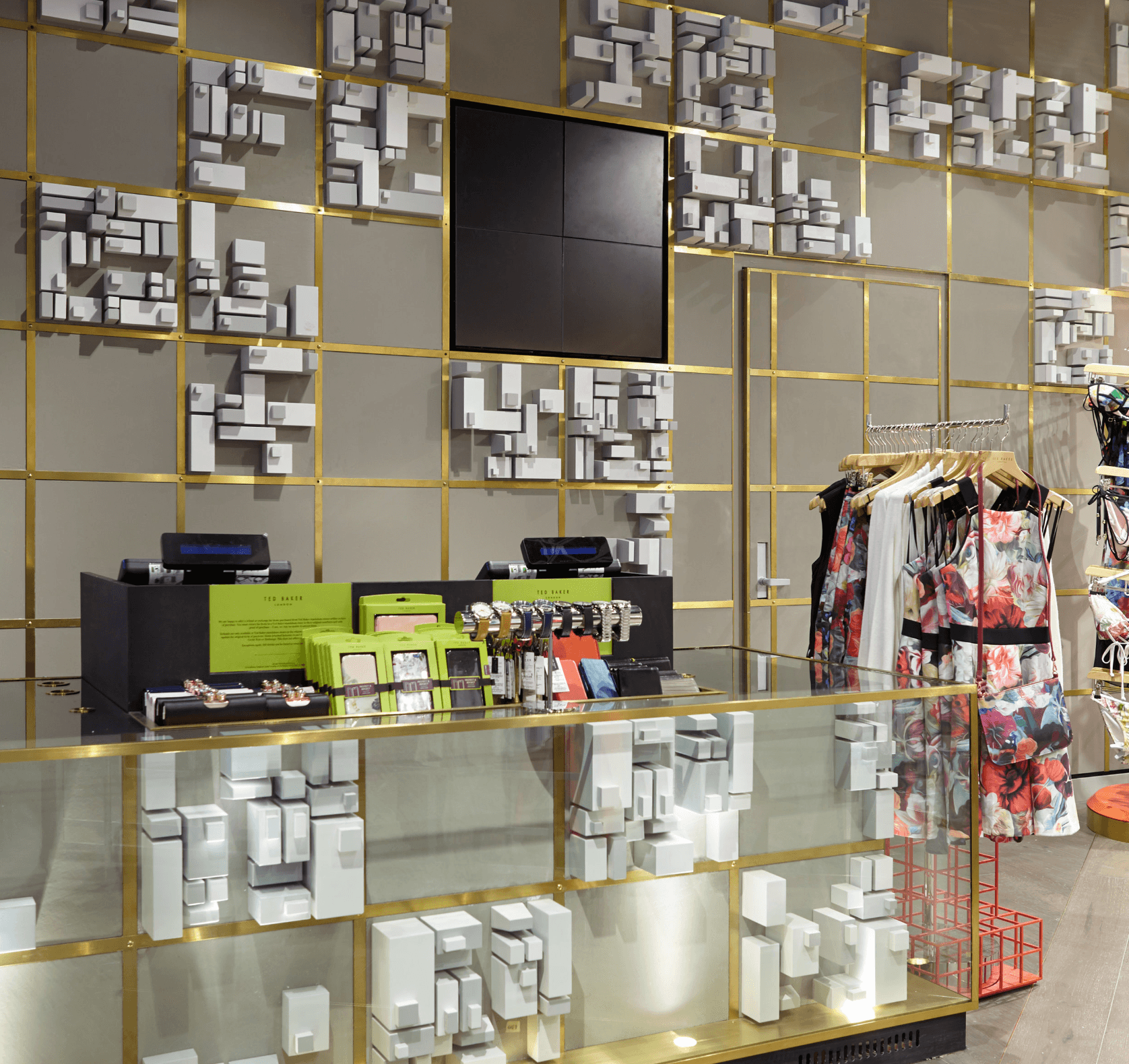 Then he set up a fitting room, brought me a few additional shirts, and left to wait on someone else. I tried the first one on, came out to look in the mirror, and thought I looked great.
I tried the others on - including one he said looked too Halloweenie on him but might look good on me. Either Asha or Maxwell returned over each time I out to look in the mirror; sometimes it was just a thumbs up but I felt as if they never left me alone – in a good way.
I purchased three shirts...including the Halloweenie one.
I have been in several of their over 500 outlets and found similar traits. Employees who like working there. Employees who enjoy engaging strangers. Employees who always look meticulous. They execute that Ted Baker experience each time.
It's one thing to have one employee who is great.
You can have a crew that is great for awhile but oftentimes, with high turnover, it doesn't last.
You have to train at a high level to have operational excellence.
The problems plaguing many luxury and department stores is quite simply they do not articulate and deliver a consistent shopping experience.
If you want to win against the online bandits like Amazon, become brilliant on the basics of customer engagement.
When I keynoted at the Retail Excellence conference in Dublin, Ireland earlier this year, I went into over twenty stores looking for an exceptional experience. Not one associate spoke to me. They were clustered together talking about their personal lives or hiding behind counters using their phones or tablets to virtually leave the store.
But one store came through…Ted Baker. The young man engaged me, was curious, shared a bit of his story, and added energy to the store by his presence. It made it easy for the many shoppers to engage.
I had that experience at a Robert Graham store a few years ago, but the last time I went to one, the employee was so desperate in trying to sell me sale shirts, that I left with nothing. Oh, and he didn't even have a Robert Graham shirt on.
There are those who will say, "I don't like anyone to talk to me when I shop."
And these people are in charge of the brands that were built with just the opposite belief.
So these don't talk to me people think how to make their stores more like Amazon Go; they tout the new ways shoppers want to be engaged on apps and online...and that shoppers want to be left alone.
I cry foul.
You are the ones changing shoppers' experiences.
Your loathing of interacting with people is driving people to shun your beautiful stores.
You are thinking your store is so good, the merchandise is presented so differently, that it will fly off the shelves.
I mean really, in many ways – how different is your experience from a Dollar store?
The WSJ did a story on Nordstrom that posited they have a rich-person problem which shared, "Nordstrom saw weakness specifically in its full-price stores, where same-store sales rose by 0.3%. It will resort to promotions to unload the excess inventory."
How do stores end up with too much inventory? Rewind to my Neiman Marcus post last week – no one seems to know how to sell it or add to the merchandise.
And while Ted Baker, the brand, was associated with controversy around their CEO last month, their holiday sales were up 12%.
Name another luxury retailer who could have crowed about that?
That's why analysts have upped their estimates for shares of Ted Baker.
Ted Baker is just as prone to online thievery of their brick and mortar customers as any other brand. They are just as prone to Brexit and Wall Street and the Shutdown.
Why in a world of downgraded retail stocks like Macy's, Nordstrom, and Kohl's, is Ted Baker's up?
Because they provide a feeling in their stores. They have a relentless obsession on the person walking in their doors.
Do you?
Or is it a relentless obsession with discounts and sales?
I'll bet the latter as you tell yourself any type of training of employees would make them pushy. And so you tell yourself and your C-level squad that shoppers have changed and they don't want anyone talking to them.
So you focus on apps to checkout when simply pulling out a credit card is faster.
As Scott Emmons, the former head of Neiman Marcus' Innovation Lab, recently summed up, retailers do PR about tech instead of doing the hard work of aligning everything around a customer journey. He states,"training can only successfully take place with support from the C-suite."
I know there are some waiting to see how strong and efficient Ted Baker's internal corporate governance controls are going to be with the investigation of claims against their CEO. AndI know there will be those who feel this post is wrong to even be written because of that... but that has nothing to do with the experience I have received in their stores.
When retailers don't understand their customer or lose sight of who they are, they begin losing shoppers, and sales begin to fall.
In our recently released survey with Oracle NetSuite we discovered that 73% of retail executives believe that the overall environment in retail stores has become more inviting in the last 5 years, but only 45% of consumers agree, and 19% state stores have become less inviting.
That's a big disconnect.
I asked Asha and Maxwell if they would grant me permission to do a video with me to show you online; they both said sure. They are doing many of the things I teach retailers to focus on, take a look at it to see what I'm talking about
Wouldn't you be thrilled to have a crew like that? Of course you would.
But great associates are made, not found.
Why is Ted Baker winning when most other retailers who carry their brand are struggling?
They have great product, well-trained employees, location-based designs of their stores, sale merchandise that is separated from the full price, a consistent experience for the shopper from employees they have hired and trained to have an open heart and to be curious… and everything is well-lit.
You get the brand promise from the moment you walk in.
If you're looking at piles of unsold merchandise, it is the most visible example of your failure to sell it and shows the very foundations of your business are failing.
Product and promotion are worthless when the energy in your store is zero.
It doesn't have to be that way.
I'll even go one further, the failure of your in-store experience can be measured in your crowing about the exponential increase in your online sales.
Quite simply, you aren't worth a special trip to the store.
See also, Don't Be The Luxury Retailer That Had To Close Due To Discounting
In Sum...And A Challenge
I'm spending a few months in California and having my mail forwarded from New York. I had been watching its tracking information for over six weeks. I had watched it crisscross the US multiple times, and had even reported as missing.
When I finally picked it up on Friday, my postmaster, Tracy, explained, "Once they tried to deliver it - but without a suite number couldn't - a tag that was supposed to be placed over the tracking number was placed above it instead, so the package was continually being scanned and sent back to Los Angeles where it was undeliverable again. With no one taking responsibility, your mail just continued to travel." Tracy added, "This wouldn't have happened in the past; training has gone out the window and taking responsibility doesn't seem to come from within. And those who had it are retiring."
Brick and mortar retailers have lost sight of training and making the shoppers' day. I was talking to one of the Top 20 consumer brands, and a Director told me her boss said, "We'll keep the lights on but no new initiatives or store training anymore."
If you're trying to be among the best retailers in the world, mark me...
You are known by the feeling the shopper has in your store.
Your people provide the face of your brand. Not an AR avatar, not a new catalogue, and not another discount.
If shoppers feel nothing, they don't buy - that's not their fault, it's yours.
Until the time more brands can consistently deliver, I proclaim based on my first-hand experiences, that Ted Baker the best customer experience retailer out there.
Tell you what, big retailers like I've talked about in the last couple weeks, how about a challenge?
Put me in one of your stores and compare my results to the tired norm. You can DM me from LinkedIn to learn more.
For the rest of you reading this, isn't it about time you stopped settling for crumbs when you can have the whole feast?