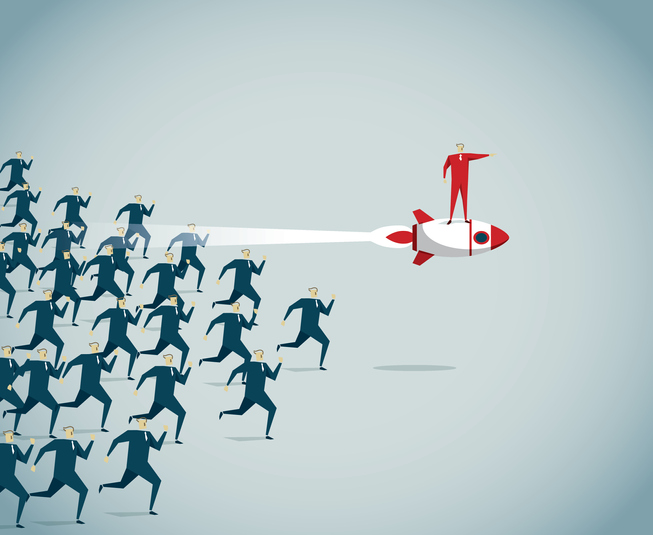 Gillette sells razors, Nike sells shoes, Starbucks sells coffee, and Patagonia sells sportswear, but these are also socially responsible brands.
They have a tremendous impact on consumer behavior in what type of products they offer and how they structure their stores. They also have the ability to move quickly on social issues without the restraint of red tape and bureaucracy.
This is why we've turned to retailers in this time of political gridlock and frustration.
Customers continue to expect retailers to do the right thing - beyond just helping them purchase merchandise. Not only can they have a real impact, but it's also just good business.
Take the issue of guns. It makes perfect sense that retailers have an outsized presence in the gun debate – they're the ones selling them. In the wake of the Parkland shooting and with calls to enact stricter gun control falling on deaf ears in Congress, Dick's Sporting Goods chose to stop selling assault-style rifles and raise the age to buy a gun in their stores to 21.
This was a deliberate move on their part to step into the fray and Walmart took similar action. While the effect of these decisions on the overall gun sales is still unclear, the impact can't be overstated. Removing assault weapons from stores that reach millions of consumers every year will undoubtedly make a difference over time.
Edward Stack, chairman and CEO of Dick's, said during a December earnings call, "The decisions we made on firearms" negatively affected their bottom line but the drop in sales was something they expected. They did not, however, regret their decision to change a number of their gun-sales policies and back new gun-control legislation.

"We knew this would happen when—we've made some decisions on firearms in the past and we've had a pretty good idea of what these consequences were going to be. We felt that was absolutely the right thing to do. We would do the same thing again if we had a mulligan, so to speak, to do it again."
An even clearer example of how retailers are uniquely able to shape consumer behavior on these issues is the example of cigarettes. After CVS decided to stop selling tobacco products in 2014, those who bought cigarettes solely at CVS stores were then 38 percent less likely to buy tobacco at all, according to a recent study.
This is an astounding outcome and provides clear evidence of the impact retailers can have in shaping behavior.
Overall cigarette purchases dropped by 1 percent across 13 states, accounting for a whopping 95 million packs, in the eight months after CVS made its decision.
A simple decision based on the company's values made a substantial difference. Q2 reporting for 2018 saw overall same-store sales rose 5.8%.
Traditional retailers are also in a position to significantly move the dial on social issues given the number of employees that work for them. Through their benefits and policies, they can have a profound impact on a large portion of the US workforce.
Target, for instance, decided to allow transgender customers and employees to use the bathrooms of their choice, expanding the use of gender-neutral bathrooms in their stores. On day one, this policy impacted the more than 320,000 people who work for the company, all of whom make Target the twelfth largest employer in the country. In addition, the controversy did not stop people from shopping, Q1 2018 results showed total sales rose 10% to $22.77 billion
Of course, the decision to stand behind a cause starts with believing in the mission first, not sales. And many retailers eschew taking a stand on anything they might get blowback on.
But standing up for a cause may also equal survival in a competitive landscape.
Consumer Packaged Goods (CPG) manufacturer Gillette stepped into the spotlight with their new two-minute video that urges men to act against sexual harassment, misogyny and bullying, asking: "Is this the best a man can get?" While fans are applauding the move, critics say it assumes men need to be steered away from negative tendencies.
On their website Gillette said, "It's time we acknowledge that brands, like ours, play a role in influencing culture. And as a company that encourages men to be their best, we have a responsibility to make sure we are promoting positive, attainable, inclusive and healthy versions of what it means to be a man." Gillette said it wants to eradicate phrases like "Boys will be boys" and any justification for bad behavior.
Gary Coombe, president of P&G Global Grooming, said in a statement, "By holding each other accountable, eliminating excuses for bad behavior and supporting a new generation working toward their personal 'best,' we can help create positive change that will matter for years to come."

"We expected debate. Actually a discussion is necessary. If we don't discuss and don't talk about it, I don't think real change will happen," Pankaj Bhalla, Gillette's North America brand director, told CNN.
So do you really want to antagonize anyone in this economy? I suggest you don't look at it that way.
A recent Sprout Social study found that 66 percent of consumers think it's important for brands to take a stand on social and political issues. Retailers that don't get behind a cause will watch their customers go elsewhere to a store that does.
Nike's Colin Kaepernick ad sparked a boycott — and earned $6 billion for Nike.
In the case of Dick's and Walmart's decision to implement new controls on the sale of guns, an analysis by YouGov BrandIndex showed that the people talking positively about Dick's jumped from 2% to 18% and from 13% to 20% after they announced their policy shifts.
See also, Starbucks Shows Why Retailers Must Be The Drivers Of Social Change
In Sum
Retailers are in the unique position of touching millions of lives, whether through their expansive workforce, geographical reach, or daily service to thousands of customers.
This is why we've turned to retailers in this time of political gridlock and frustration.
Customers rely on them to do the right thing.
And bottom line: it doesn't hurt sales.
And even if it does, it's the next generation they are willing to court.