When coming to New York, retailers should study what's new in Manhattan. You can see technology, merchandising, retail trends, and customer interaction examples in every neighborhood. Here are ten retailers who are meeting with success in New York City that you should make it a point to visit.
10 Must See New York Stores:
1. Huckberry 383 Bleecker St, New York 10014
Huckberry is like stepping into a men's shop created by a couple of guys in their apartment. No pretense. Nothing slick. You get the idea that their travel products have been road tested and they have. They boasted one microbial t-shirt you can wear for 72 hours without smelling. They are a guy's place for the new and upcoming brands – each with their own story.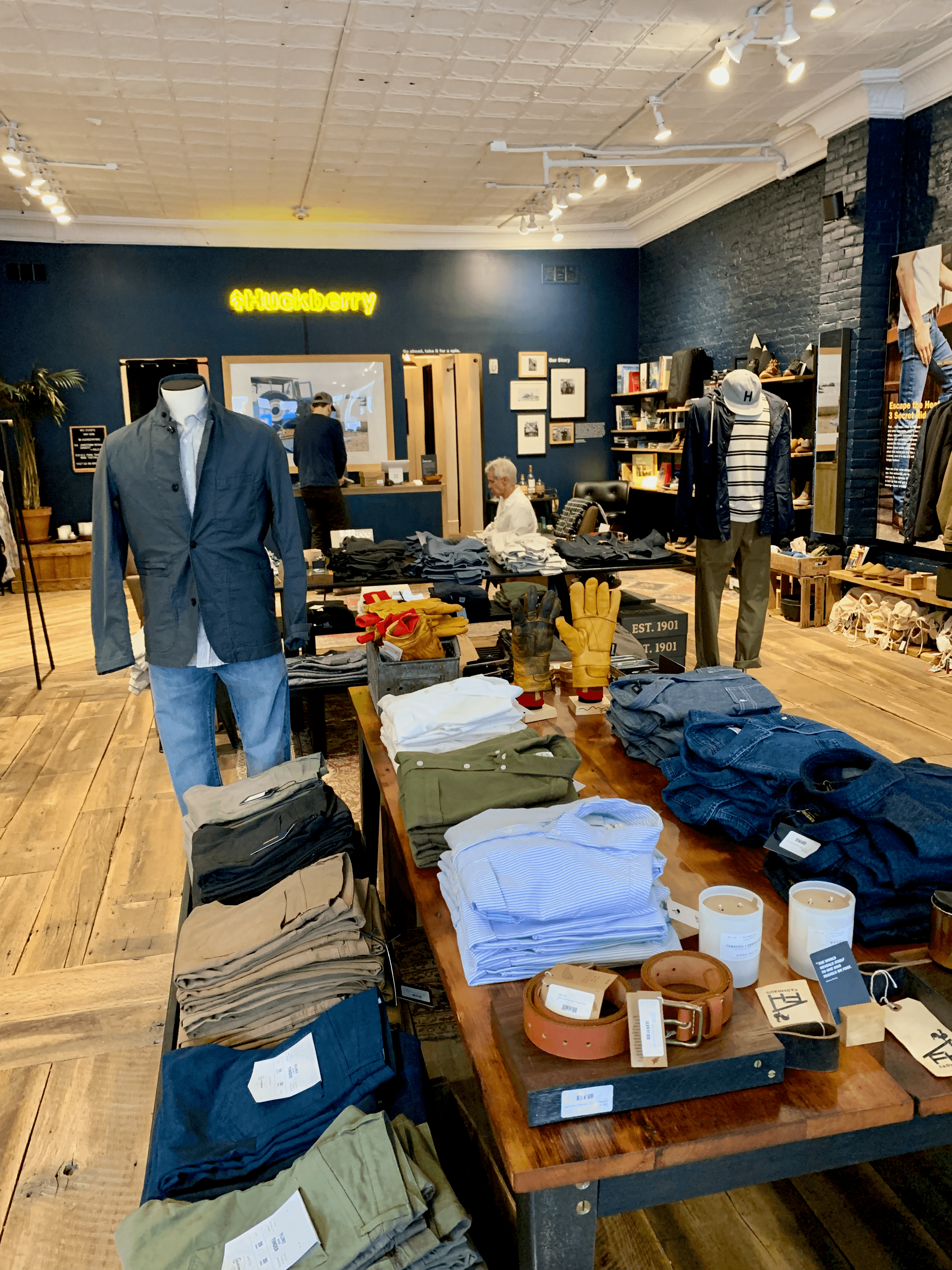 2. Sloomoo Institute 475 Broadway, New York 10013

Founded by three female entrepreneurs, Sloomoo Institute is an experiential retailer based solely on the phenomenon of slime. Their 8000 square-foot space in Soho is filled with experiments, interaction, inspiration, and sensory delights. A pass will run you $45, but you can peek in and see all the fun the kids and their parents are having as well as the slime wall and the retail space with upside-down mannequins. Of course, you can buy slime in a wealth of flavors (!)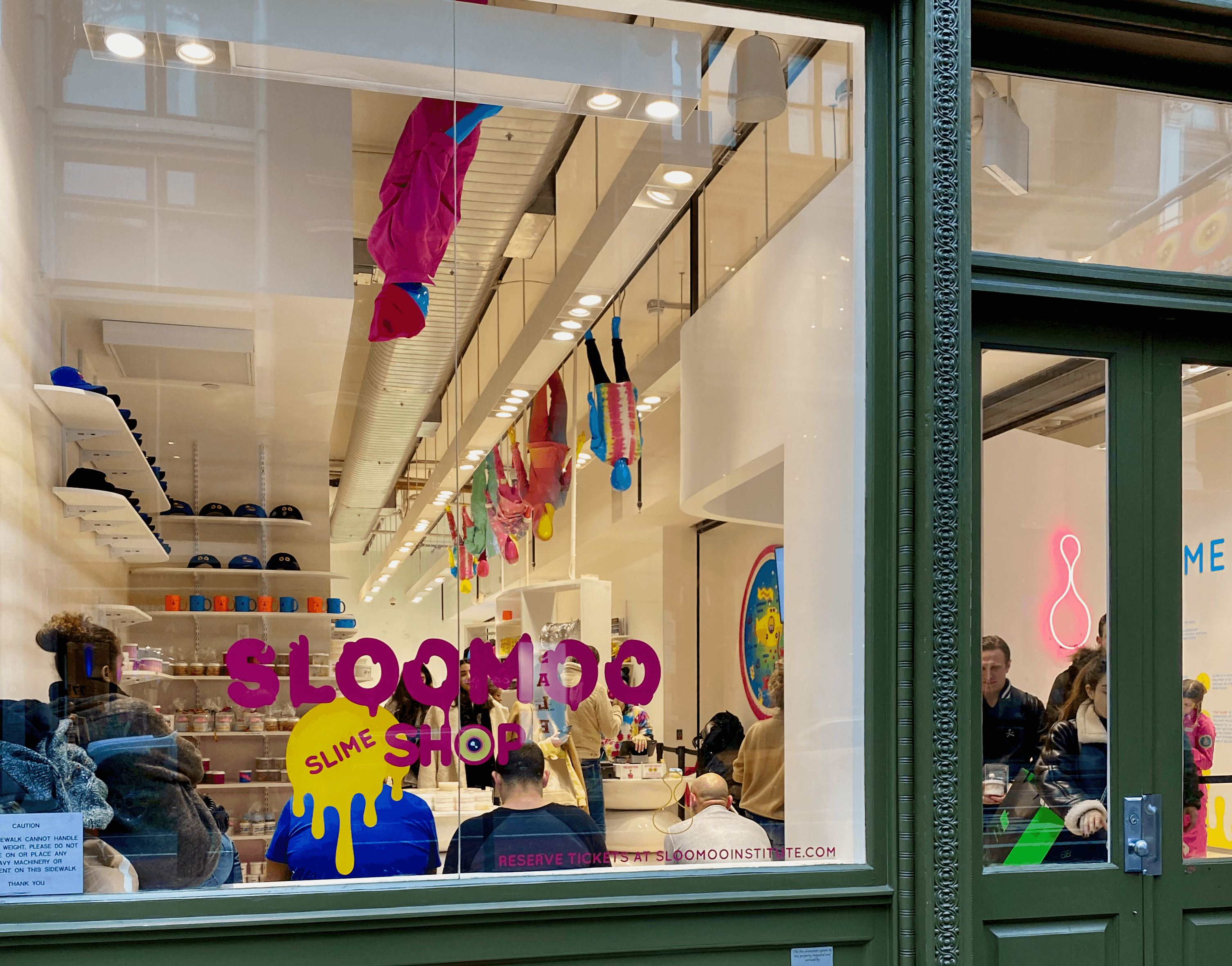 3. Kendra Scott
126 Spring St, New York 10012


Kendra Scott is a bright and airy store. The windows benefit by being about two feet off the sidewalk which lets their strong visual merchandising stand out. Very clean lines, a very curated collection, and delicate fixtures combine to make this digital native a standout. Her signature yellow color adds to the fun and light vibe.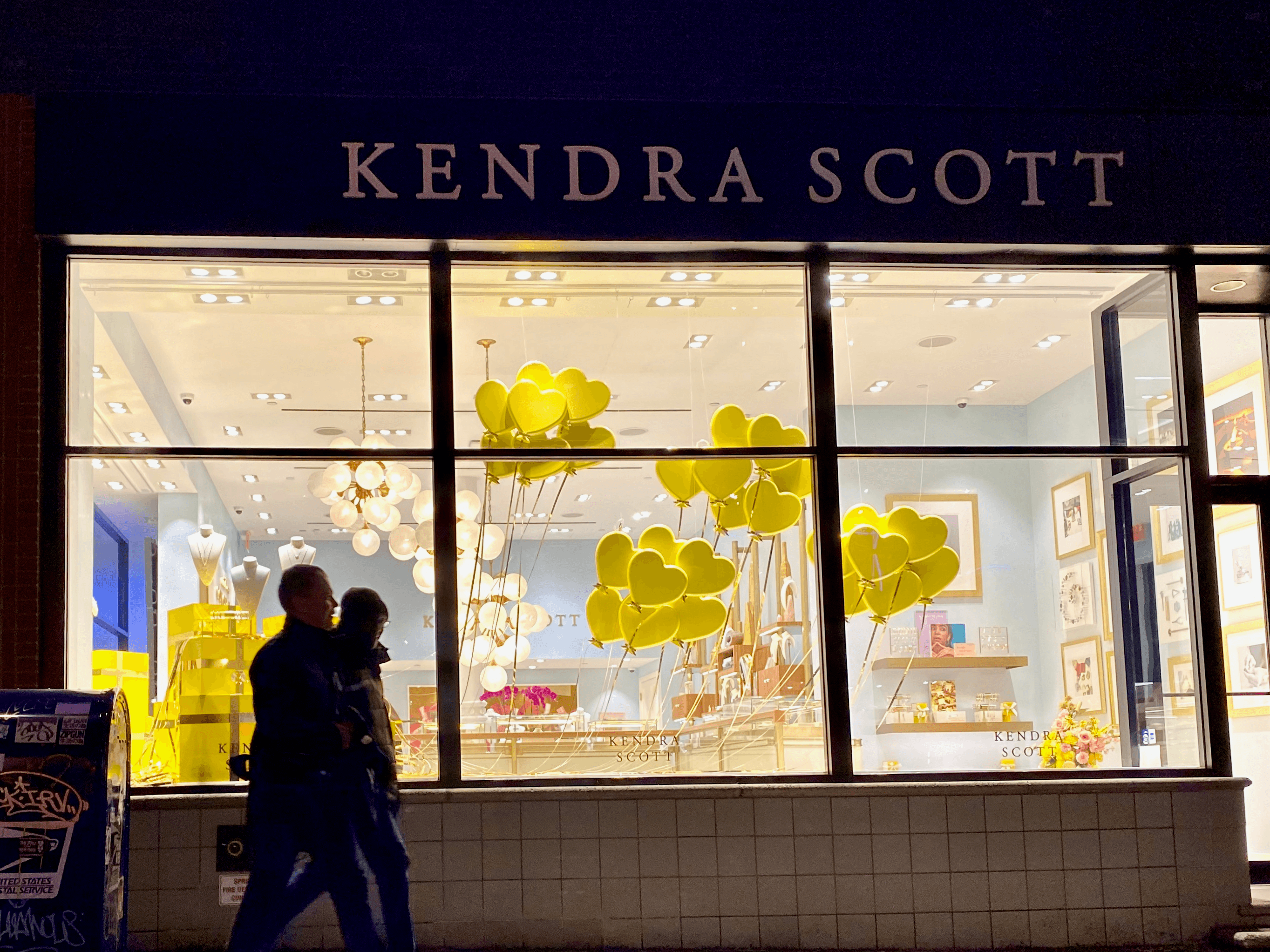 4. Galeria Melissa
500 Broadway, New York 10012


The video screens alone at Galeria Melissa are worth the visit to this women's store! Their use of mirrors is slightly disorienting but totally immersive and features select items on pedestals. Watch the video below to see how their striking visual merchandising, which uses constantly moving video, draws you in from the street and into their space. I dare you not to look!
5. Showfields 11 Bond St. New York 10012
Showfields calls itself The Most Interesting Store In The World. Their four-story building, which houses custom spaces for digital native brands, gives them a brick and mortar presence. While I didn't care for the boho chic, visitors can touch, smell, eat, and test all products and artwork on site. Go all the way to the top to see the event space and record store. There is supposed to be a slide to take you from the top floor to the bottom, but I never found it.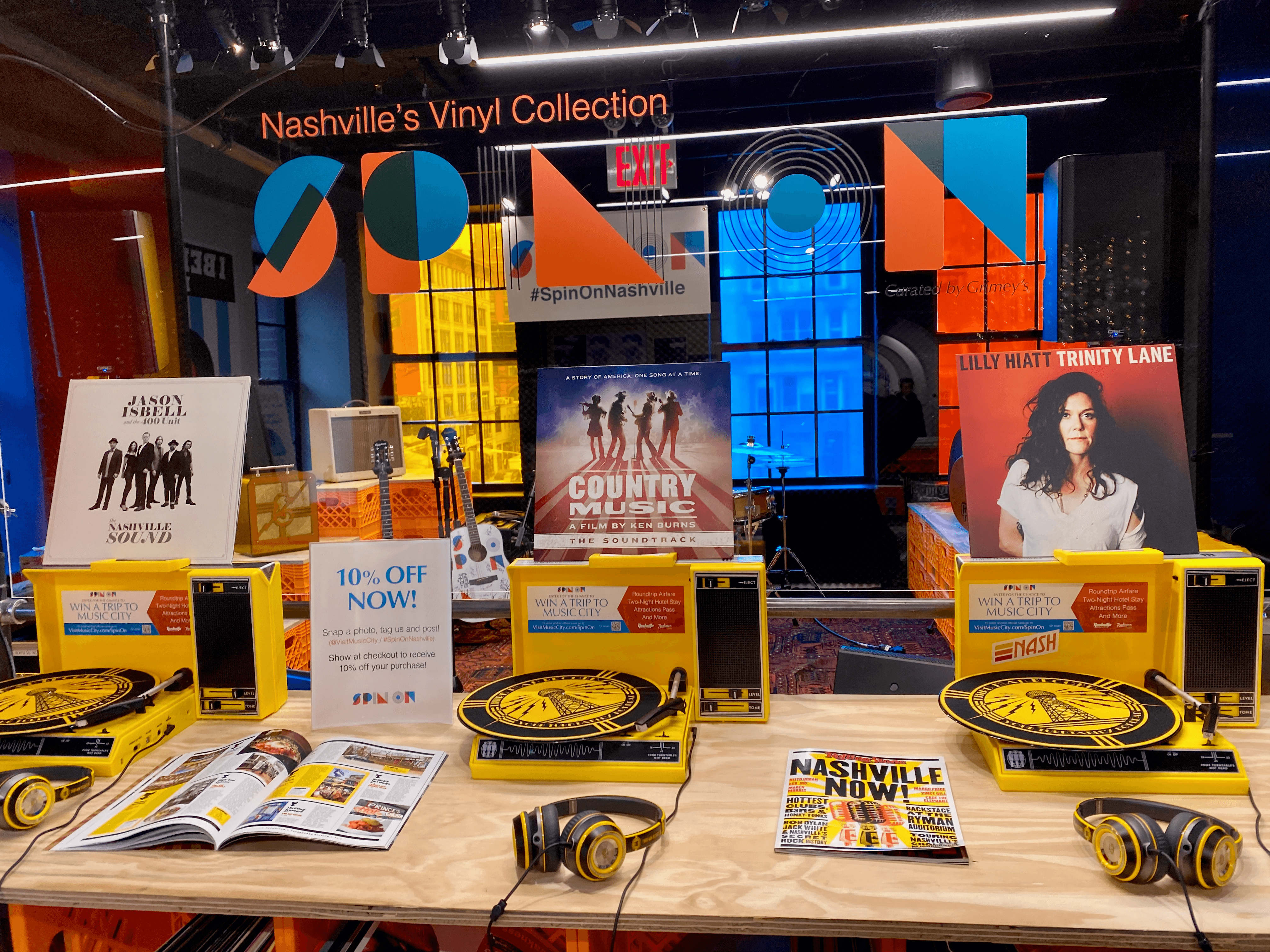 6. RH 9 9th Ave, New York 10014
Restoration Hardware made a splash when they did away with promotions and opted instead to make customers buy a $100 membership to get the best prices. Their next splash was to renovate historic buildings into stores then add lights, restaurants, and their own furniture to make a seamless luxury brand presentation. This store in Manhattan's Meatpacking District features a rooftop restaurant, Line Teriz, a wine bar, and espresso bar. This location also marked the first time this retailer has offered an interior design firm as part of its retail experience. Make sure if you go there to have lunch at the top; get there early as it fills up fast.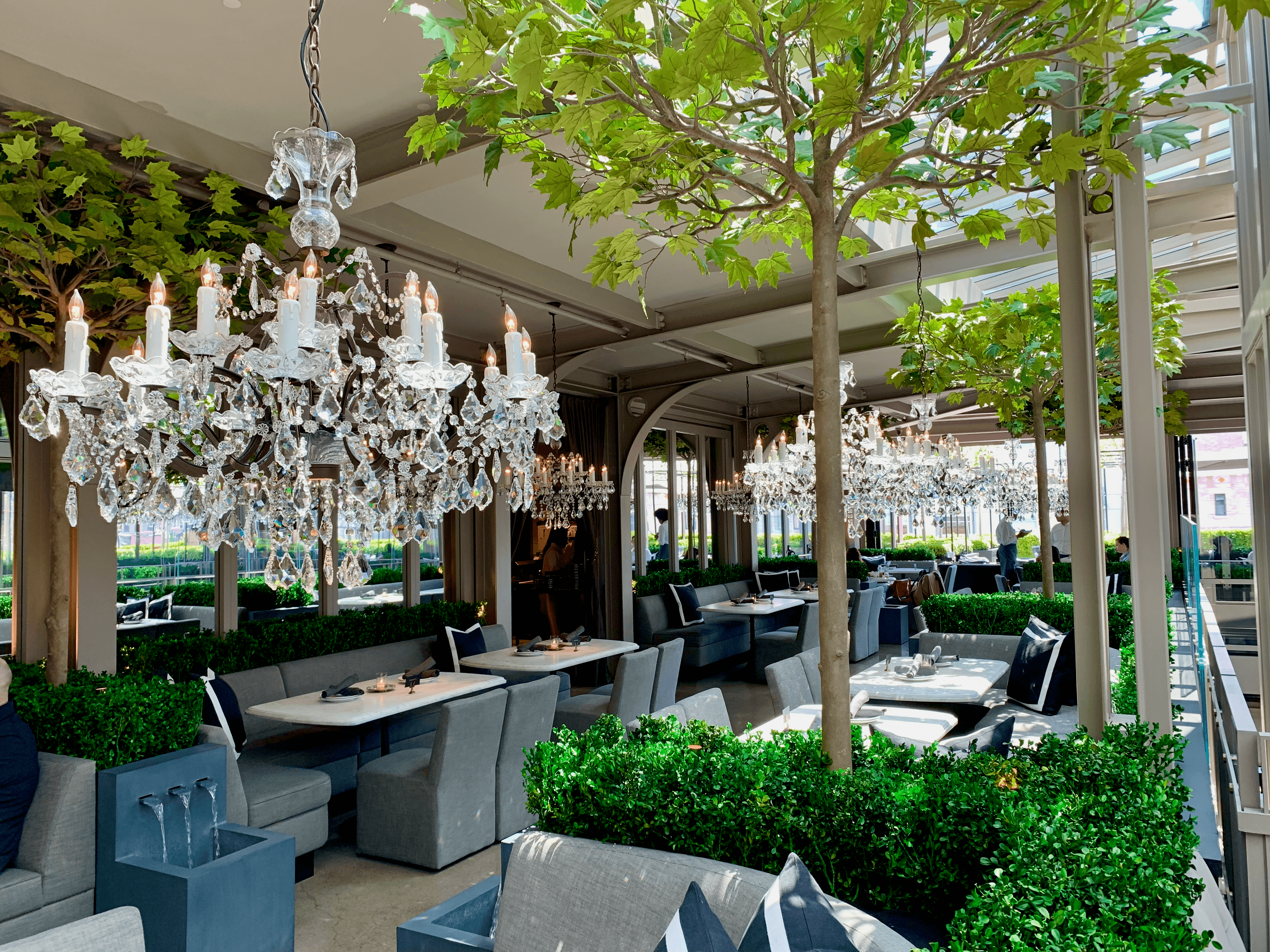 7. Starbucks Reserve Roastery 250 Vesey St, New York, NY 10281
Starbucks Reserve Roastery's massive 23,000 square-foot location in Chelsea is designed as a high end, immersive coffee experience and is one of only a handful of US locations. Coffee beans are roasted in-house and transported by tubes in the ceiling. As they swoosh around, the digital displays lights up A Symphony of Beans. The store also features a bar with tea infused craft cocktails, mythology stations, Prince's baked goods, a giant in-store terrarium below by the bathrooms, and a 2000 pound copper sculpture of the Starbucks siren. If you're a coffee lover, pick up a pound of their Princi blend, only available at this Roastery.
8. Nordstrom NYC 225 West 57th Street, New York 10019
This is Nordstrom's first all-womenswear seven-story flagship in New York City. It combines experiential boutiques with seven restaurants and is the pinnacle of Nordstrom store design. You are moved visually to explore the restaurants, stairs, and lights at the fringes of the building. Sophisticated displays and spaces make this historic building renovation feel fresh. I particularly liked the pink Brannock devices in their women's shoe department, a nod to their family heritage as a shoe retailer. I also took note of the bronze footprints of Blake Nordstrom who unexpectedly passed away while the store was under construction. Don't miss the Shoe Bar in the shoe department on the first floor where you can get a martini or an espresso.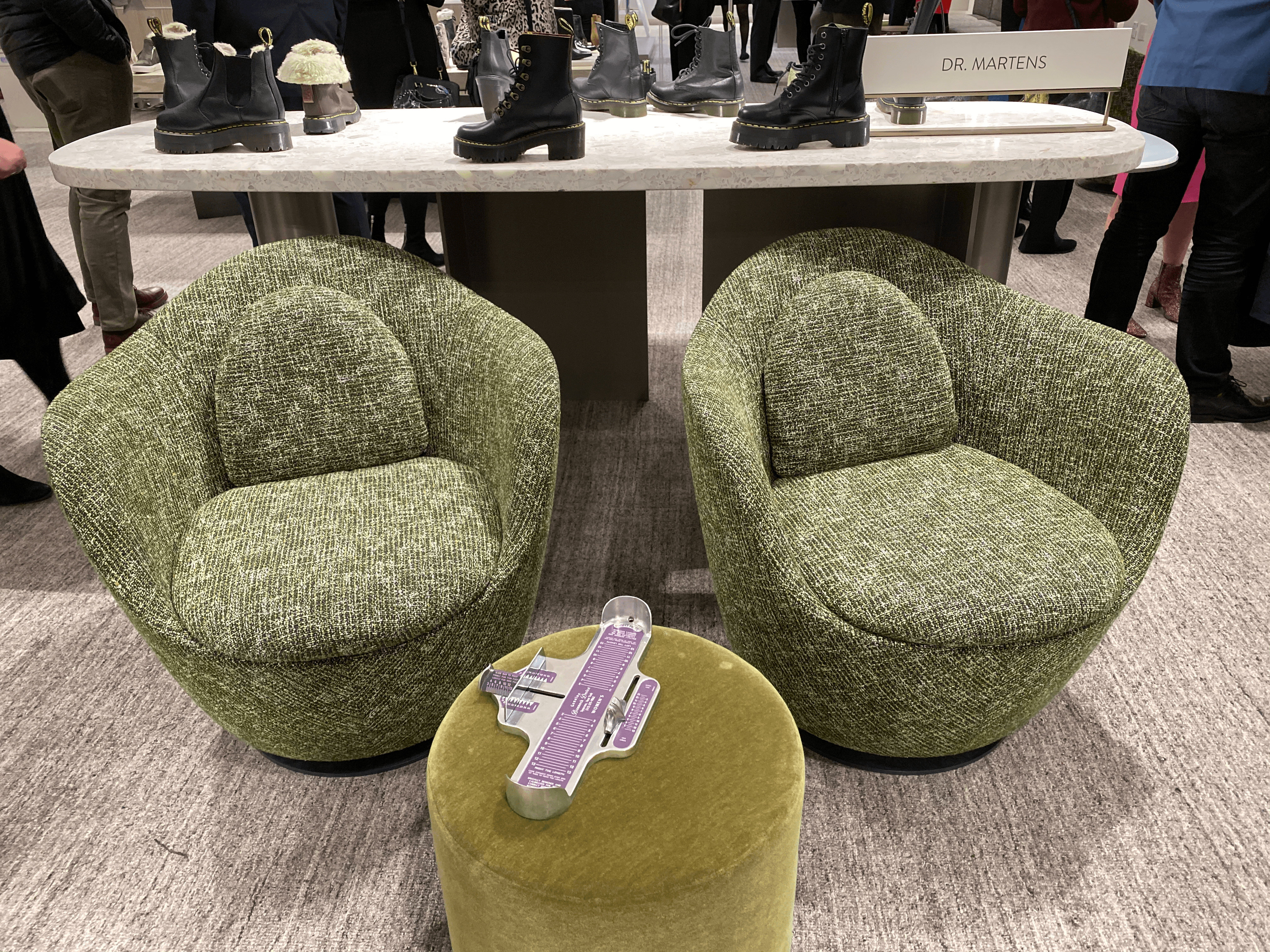 9. R13 Denim 34 Howard St, New York, NY 10013
When you first enter R13 Denim, you don't see any clothes. This punk-inspired women's retailer features five huge LED screens that act as both clothing racks and technical displays. The actual merchandise hangs behind the screens. The videos loop scenes from London city streets of the 1970s and 80s punk rock influence of shredded denim and more.
10. Camp 110 5th Ave, New York 10011
Camp has redesigned the toy store as a family experience that combines merchandise, play, and media to recreate the feeling of going to a summer camp. Things aren't always as they seem so look for the secret door that transports you to an outside world. Each section of the space features a curated selection of merchandise dedicated to a different camp activity, such as arts and crafts or a mess hall. The theme of the store rotates every eight weeks, so you will want to check back again and again. See this profile from CBS:
See also, 9 New Visual Merchandising Trends For Your Store
In Sum
The examples of what is working in retail are not necessarily brand new, but these do all have staying power.
You might also be interested in these innovative retailers and retail trends as well: