While the pandemic has made some retail store owners leery of fitting rooms, remember:
No sale is made until it is actually on someone's body.
When I was in high school, Tommy Smith showed up bald one day.
He had shaved off all of his hair and not just on his head but on his legs and arms and chest.
He was on the swim team, and he wanted to gain the upper hand against our crosstown rivals.
Plenty of other guys on the team had heard about removing their body hair to speed up their times; many had even purchased the razors but never committed to using them.
Apparel shops are a lot like those guys…
They spend money on retail changing rooms only to not use them.
If online stores had retail fitting rooms
I thought about that as I was reading Marge Laney's book, Fit Happens, Analog Buying In A Digital World (Legacy.) She cited an Accenture study that revealed 70% of online apparel is returned due to fit issues.
Let that sink in a minute…70% returns.
You would think brick and mortar stores would see that fit is a huge determiner in customers keeping purchases and therefore devote significant attention to that area to lift their retail sales…
You would think…
Yet employees rarely, if ever, visit shoppers who are trying on clothes in their usually dark, dreary, and abandoned fitting rooms. Fitting room customer service training is non but extinct, yet the most conversions happen right there.
Discover: How to craft a retail merchandising plan with this comprehensive primer
That being said, Laney thinks progress is being made on fitting room designs for retail stores. "Many are now focusing on dressing room design, which is a great first step because it is the highest conversion zone of apparel stores."
"What you want," Laney reminded me, "is a laser focus on getting customers into the room, and servicing them at their convenience – not yours."
Laney goes on to say that, "There is a growing movement to integrate the online experience into the dressing room in the hope of engaging the customer.
Retail fitting rooms are a game of seconds
Social media, marketing apps, and other web experiences are being integrated into the fitting room in the hope of engaging the customer. Customers come to the store to try on clothes and engage with the brand personally not isolated in a small room navigating the internet.
And time is the issue! When a line forms, customers' tolerance for waiting diminishes rapidly causing them to walk away."
I told her that the little bit of service I've received while I was trying on something was a knock on the door.
Laney's findings? That's only effective about 2% of the time. That means that 98% of the time associates are unsuccessful when they check on a customer.
"Think about the last time you were in a changing room struggling into a pair of jeans and suddenly there's a knock at the door, followed by How ya doin' in there? You quickly reply I'm doing OK, thanks. But looking into the mirror seconds later, you realize that you are, in fact, not OK. You need a different size, color, or just an opinion, but the sales associate is helping another customer or has left the fitting area completely, and you have no way to contact anyone. That's a lost opportunity; the fitting room should be an extension of the sales floor."
How to create better customer experiences in your retail fitting rooms
Here are three tips on improving retail fitting rooms across your stores. Invest in making your changing rooms the most accommodating, comfortable, and enjoyable experience you can. That's how you'll win the fight against your online competitors.
1. Design comfortable dressing rooms for retail stores
Make it large enough to hold your customer, their belongings, and what they're attempting to try on.

Provide a bench for holding personal items and a place to sit when trying on.

Provide enough hooks or hanging rods so that your customers can spread out their selections, which will make their buying decision easier.

Make sure your heat and A/C reach the fitting room. Trying on clothes can make you over-heated, to begin with. Being too hot or cold will make your rooms unbearable.

Provide lighting that helps the selling process by making the customer look good in what they are considering buying; backlit mirrors are best and overhead fluorescents worst.

Keep the fitting room floors clean and pin-free. Customers should not have to balance on top of their shoes to avoid contact with dirty floors.

Install good-quality mirrors inside your changing rooms. The more realistic your customers look, the better the chance they'll keep the items.

No louvered doors. If you choose curtains, make sure the location and the staffing provide a private and secure experience.
Unisex fitting rooms? No curtains here! Make sure there is an attendant in control of the fitting area process and making privacy and security a priority.
2. Define your process and train your associates
No matter what type of retailer you are; discounter, mid-tier, or luxury, your fitting room process should be defined and your sales associates should be trained to execute it.
3. Implement technology
Call buttons, occupancy sensors, and real-time room data remove the chaos from the process for both the customer and the sales associate. They enable associates to successfully engage the customers with the goal of increasing the possibility of a purchase. From that, you can capture the data, set goals, and train behaviors to drive more traffic to the fitting area.
Will technology make retail fitting rooms dinosaurs?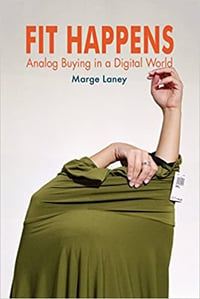 With virtual mirrors and kiosks being shoehorned into stores
With Smart Mirrors that let customers virtually try-on styles and colors
With 3D body scanners that help customers find their best fit for their body type and size
I had to ask Laney if these developments spelled the end to dressing rooms.
She answered, "Absolutely not! That type of blingy tech is meant to inspire and encourage the try-on.
The final decision to keep an article of clothing won't happen until they have tried on an article of clothing, either at home or in the store's dressing room. Apparel retailers need to value their fitting areas for the value they can deliver and establish a service strategy that moves customers from the floor to the dressing room, and exceeds their expectations while there."
See also: What If Home Depot Had A Dressing Room?
Laney's book has more information for apparel stores (download a free chapter here).
Retail fitting rooms give you an edge over online stores
The fitting room is the area of the store many apparel stores have devoted space to, but few realize that 70% of purchase decisions occur there.
Otherwise, like Tommy on the swim team, they would seize their advantage to win the race and devote significant employees and training to serve their customers at their fitting areas.