Podcast Episode 114: Whitney Morgan | Being A Socially Responsible Retailer
Aug 18, 2018 8:34:33 AM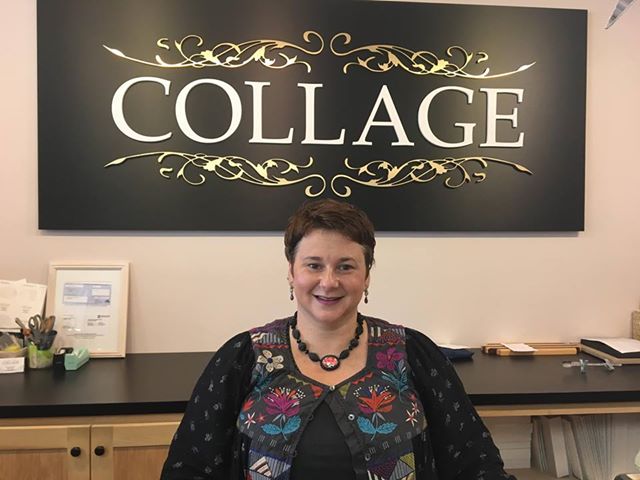 Bob Phibbs interviewed Whitney Morgan, Owner of Collage in York, Pennsylvania who just received the Retailer Excellence Award For Socially Responsible Retailer. She shares her ideas that you can always purchase more so feel free to wait, retail is a lot of time spent figuring things out and being socially responsible is the best way to show your community support.
Three takeaways:
• You can always purchase more, don't buy all at once.
• Being socially responsible demonstrates giveback to your community
• Retail is a game of figuring things out.
You can also listen to it on Apple Podcasts, on Google Podcasts and most other podcast platforms.
Don't forget to subscribe, comment and like on your favorite podcast platform.
Transcript:
Whitney: All right. So my name is Whitney Morgan. I own a store in York, Pennsylvania called Collage. I bought my business about nine years ago, it's a gift store. The store itself has been here since 1983. So it is a staple in York community. I'm a fourth generation retailer. I've been part of independent retailing since I was born, so it's kind of in my blood. And basically, you know, I've been following your podcast, listening to your advice and, you know, just keeping up with modern day retail.

Bob: Good. But you have a big thing that happened recently. What happened the other night?

Whitney: Yes, yes. So Gifts and Decorative Accessory magazine each year holds an Awards Gala called The Retail Excellence Awards. And we were actually...we won the Socially Responsible Retail Award on...

Bob: So what does that mean?

Whitney: That means that over the past seven years, we've actually been working with a local women's shelter for domestic violence. And we've been renovating their rooms at the shelter. And we were recognized for all of our hard work on Sunday night.

Bob: Wonderful.

Whitney: Yeah, it's been an awesome experience and one that I never thought I'd actually win an award for, because it's just a work of passion.

Bob: Right. Well, that's usually the way it turns out, you know. I'll get to the back of that in a second. How did you start out in retail? Because you bought this a few years ago but...

Whitney: Well, my family owned many stores back in the 1980s and 90s, some department stores. And when big box stores came into town, unfortunately, our store went bankrupt. And we kept one store open, which was health and beauty aid store. And I went to college and studied fine art and realized that I couldn't do much with my degree, so I went to work for my dad. And I actually learned his business from the ground up. I started like in the warehouse just entering in...you know, doing data entry work and ended up being a buyer by the time we sold it I guess, in the early 2000s.

So I went to advertising after that and I realized I was walking into a lot of retailers when I was selling advertising. And every time I'd walk in, I'd, you know, wanna be adjusting their shelves. And I felt like a fish out of water, doing what I was doing, and I just really missed retail. So I ended up walking into a beautiful boutique one day and I kept saying, like, if I ever had a store, this is what it would be like. And the woman that owned it was getting ready to retire so I ended up buying it.

Bob: Well, that's great. That's the best way, I think, to really get into retail because it sounds like when you touch all those elements, I think you see all the touch points for the customer. And it's everything from data entry to the marketing of it, to knowing your numbers as a buyer, for example. I mean, I think that's what I struggle with when I read about gift stores and some of the things they talk about why it's tough and it's like, well, do you know your numbers? You can't just buy what you like, right?

Whitney: Right, exactly. And I did struggle with that at the beginning. I think I still sometimes struggle with that but I always have my dad's like, voice in my head yelling at me. He was more of a numbers person and I come from the creative side so...

Bob: So what's he yelling at you?

Whitney: He's yelling at me to think about paying my bills and how we're gonna do that and not to overbuy and you can always, you know, you can always purchase but you can't go back and try and make up, you know, bills.

Bob: I love that. You can always purchase, that's what people forget. Like, there's this window I have two days I'm at the show. This is the only time I'll ever be able to buy anything, I better buy it now. It's not like that.

Whitney: And when I started going to the shows I actually, I did that. I would buy like, you know, thousands and thousands of dollars worth of merchandise. And then I'd get home and, you know, when it would all come in I'd be like, "What did I just do?" And so now when I go to the shows, I do a lot of, you know, just looking and then I'll come back and really evaluate things and then do my purchasing.

Bob: Cool, I like that. I like that. And [inaudible 00:05:20] challenged in the last four years and how did you overcome it?

Whitney: Definitely the economy. I feel like where I am and probably a lot of your customers are, you know, the economy just isn't...like, when I first bought my business in 2009, things were going great, and then all of a sudden it tanked. And it's just, we still haven't come back from that. So I've had to really think about...first of all, think about what I'm buying and make sure that it's just not like gonna be dead weight in my store. And also price point, making sure that I have, you know, multiple price points for everybody, you know, who walks in the store. And also just keeping things really unique and customer service has to be like top notch so that people, you know, still think of you as a specialty shop and, you know, you don't turn into a store that you just walk into and nobody talks to you.

Bob: Right. Or just have a museum. You have so many pretty items. I just love coming to your store. Yeah, well, that's not why you're here, buy something, okay?

Whitney: Exactly yeah, yeah. So, you know, those are some of the things I honestly, you know, still struggle day to day. You know, you're constantly worrying about next season or, you know, even tomorrow. But, you know, I just feel like even doing the work that we did with the shelter, has definitely put our name out in the community and it shows that we're supporting our community who supports us. And I have customers coming in all day long, dropping off donations for them. So it gets people in the door, whether they're coming to shop, you know, they're still walking through my door.

Bob: Well, I think it's so important that... You raise a really good point because I think so many times people come up to us and say, "Can you give me a gift certificate for our...something, something." And the people will say, "Oh, we support the community." That's not supporting the community. Supporting the community is actually just doing it because that's who you are and if someone notices it, then that's great. But it's kind of baked into your DNA. So tell me more about how you got started being socially responsible and any tips you could make for somebody looking to do it. How do you decide on it and what...you know, any things you can add.

Whitney: Something that you just mentioned too, I just wanted to kind of talk because it's helped us a lot. You know, I do have people walking in every day asking for donations to just about every kind of like organization on the planet. And at first I was like, giving out, you know, gift cards and merchandise and...you know, I was just trying to, like, do my best to make everybody happy. But now, you know, because we've chosen this one organization to really focus on, when people come in to me, I tell them, you know, like, this is exactly what I'm focused on. These people don't have, you know, even like...they don't have more than the clothes on their back, you know, at the shelter. So to me, all of our donations are going there right now. And I usually ask like, you know, if you'd like to help me, you know...

Bob: I love that.

Whitney: Yeah, like focus on...you know, do a contribution or if your organization is interested in helping us, you know. That's actually gotten me some really nice donations for the shelter.

Bob: That's great. And how did you pick something like that? How do you...

Whitney: Well, and this is kind of what I was telling the audience the other night, when I bought my store...and this is how I started my speech, I knew that, you know, my store would sell really beautiful things. But what I didn't know and hopefully other store owners see this within their stores is, like how much beauty actually does go on in your store. In my store for example, I have a gift shop, people are always like, buying gifts for each other and putting a lot of thought into things. And for the most part, I knew that my customers would...they want to help organizations but they don't really know how. And they don't wanna just write a check. Sometimes they just, you know, at home they may find some clothing that they want to, you know, donate.

And so I've made it available to them to drop off things all the time. But this shelter was... About six or seven years ago, somebody had come in and asked me if I had heard of them and they're only, you know, blocks from my store. And I said no, and I said, maybe I'll go down and take a tour sometime. And when I went down there, it was just like, in shambles, like the building was barely like, it looked like it had never been touched. And so...it's an emergency shelter for families, you know, fleeing from really violent situations. So, you know, I was seeing like, all these kind of materialistic things going on in my store and then I saw like, a couple doors away like these people really struggling.

So I just started asking my customers to bring in, you know, bags of gently used clothing, toiletries, you know, things for the home that would be, you know, utilized at the shelter, bedding, and that kind of thing. And they started bringing like, every week I'd have two carloads, three carloads of things that people had dropped off. So as I started going more and more to the shelter, I was able to see the different rooms and everything and I thought, you know, what I'll do is I'll take some of my staff and their kids down and we can maybe repaint some rooms or something over the summer. And it's kind of turned into something that we do annually every summer. And this year I had 30 kids help me paint three rooms and an office down there. And, you know, it just gives these dark and dingy rooms like a fresh look and, you know, it brings up their morale definitely [inaudible 00:11:50].

Bob: Yeah, well...

Whitney: It makes us feel good. And the communities really helped me, I was able to raise money to build a playground for them. So, you know, we've just taken this organization and kind of run with it.

Bob: Well, I love that. And how do you balance that with being an entrepreneur? Because on one side, I could see somebody listening to this like, "Oh, this sounds great, but my God, people are dropping off stuff every day. And how do I sell my merchandise? And then how do I...?

Whitney: Well, I think too, like... I've had a lot of people that have come to like, drop off merchandise and then they'll say, "Oh, I'll just take a quick look around." And that can turn into a sale. So I think that it just gets people in the door that might not normally stop in...you know, walk through your doors. Also...

Bob: So the attitude you have about that is different too because I could certainly see, you know, you see people like Toys R Us...not Toys R Us, Toys for Tots or some of that, like, just drop it and get the heck out. And understanding that...

Whitney: I mean, I have people that do that too. But I will tell you that it does...people, you know, are constantly talking about our store because they'll, you know, they'll say, "Oh, you know, Collage did this for, you know, Access York and/or if you're cleaning out your closet, you can just drop that off at Collage." And, you know, so it is advertising too for us which, I mean you want to have people talking about you and it's a very positive thing that, you know, we're doing in the community. And I've had such people, you know, over the last few days after they heard about my award, you know, like, an influx of customers have been like walking through the door. You know, they wanna support you because they know that you're doing something really good.

Bob: Well, I think that's the key that you are able... One, they're able to see what you're able to do, two, you've made it easy for them to contribute, and then three, it brings out the best of why retail exists, I think, which is making a difference in other people's lives through a variety of ways, right?

Whitney: Right. And I'm not gonna say it's easy. You know, it was really hard for me to give up a week this summer and not be at the store and be down inside of a homeless shelter painting rooms. But, you know, it's worth it and I put money into it that I probably shouldn't have, you know what I mean, if I were looking at all my books and everything. But it definitely...I just feel like it's worth it and...

Bob: Well, you definitely knew that you should do that. So there you go. See, that's this that other side of you.

Whitney: Yeah.

Bob: What would you tell a friend that says to you, "Let's go out for coffee?" And you're like, "Okay, that's great." And they tell you "I'm thinking of opening up my own retail store." What would you tell them?

Whitney: Well, I've had that happen many times. And, all right, so...

Bob: Be honest here.

Whitney: Pretty much I would say, "Don't do it." I was very fortunate because I grew up in retail. And before I bought my business, my dad pretty much sat me down in his accountant's office and screamed at me. And, you know, really, you know, wanted me to realize how stressful retail can be, you know.

Bob: Well, it's precarious. I appreciate that though. He's telling you like, you're driving a sports car at 80 miles an hour here, things can go off the rails pretty easily if you take your eye off the ball, right? It's that kind of thing.

Whitney: Exactly, yes. Second of all, you know, I have this genetic thing in my blood that I just can't get out of it. So for me, I felt like it was a whole different ballgame. When I hear people that want to go into it, I really encourage them to work in retail for a long time because you get to know... I mean, we're just not selling pretty things all day. It's a lot of work. It's a lot of box opening. It's a lot of, you know, blood, sweat, tears, and staying up all night trying to figure things out.

And I don't think a lot of people understand that. I also feel like, my business was in a great location, it had a following already. So that to me was really important. If I were just starting over again, I don't believe I'd open up in the same area that I'm in because it's a struggling economy. I would probably, you know, move it to maybe another town. But I am very honest with people when they talk about opening up stores because I see a lot of stores open and close within like five years.

Bob: Yeah, well, even much quicker, like restaurants, you know. You know, people would look at you after a few months so, like, "When do I start pulling money out?" And you're like, "Well, it's not gonna happen in the first few months because you bought all that money." That money is sitting in your store. That's, I guess, what I always go back to is, it's always fun to buy. It's always fun to buy. Especially when it's not even your real money, it's kind of like, "Well, we're buying it for the store." But when it all arrives and you're now looking at it, and to your point earlier, what do I do with all of this? That's not fun.

So I think that's good. I think that realistic, go out there and work at another retail store and see all of both sides of it. And there are some of us that working in retail is always great. I mean, I'm fortunate, I love to be in a store, I love the whole atmosphere, and I love the temporariness of all of it and then the long term relationships I build as well. When you feel overwhelmed or you've lost your focus, what do you do to rebuild yourself Whitney?

Whitney: I think that I do try to take some time, maybe like a day or two off just in... I usually find myself in other retail stores just trying to get ideas. I, you know, like to go to other towns to look around and just see, you know, merchandising ideas. That's also important when you're opening up a store to make sure that your product is merchandised properly. But I think the shows always come around at like the perfect times because I feel like I'm just starting to get burned out before I go to the next show. And that kind of like, you know, gives me a little bit more energy when I walk through the doors and see new product and, you know, new seasons.

Bob: Well, you feel hopeful. That's just like your customer feels when they walk into your store after you re-merchandised it, right? It's that same feeling.

Whitney: Right, yeah, definitely.

Bob: Nice. Well, tell me something good about retail.

Whitney: I think that some of the great things about retail are the...especially being an independent retailer, that you can constantly reinvent yourself. You're always evolving. I've gotten to know amazing people through retail. I feel like I'm much more connected to my community and knowing what's going on in the community through my store. You know, I love the different seasons that, you know, you go into. So those are some of my favorite things.

Bob: Nice. And that's great. If you were to think about like...it's funny, you go around to other stores and that's my occupational hazard when I go outside Mexico City. I go looking at other stores and I find myself in the malls like, "What the hell are you doing here? Let's get outside and do some yells." But it's enervating to me because I do try to look at, why are you doing this and how do you do it? What's your definition of like a great customer service experience? What has to happen for it to be excellent in your mind?

Whitney: In my mind, it's the whole entire visit of the customer. I mean, from when you walk through the door, being friendly, you know, just making somebody feel comfortable. I don't like going into a store where like, nobody talks to me and they just, you know, don't even look up from their cell phone. I really stress to my employees, you know, to be engaged, making sure that you're not overly checking on somebody, but you, you know, make sure that they're doing okay. If they're trying on clothing, you need to, you know, see if they need other sizes, or, you know... And it's the whole visit and, you know, even at the register. You have to, you know, keep the energy going between you and the customer otherwise they'll leave with a bad...

Bob: Well, that's exactly it.

Whitney: You can have the perfect shopping experience and blow it at the register, so...

Bob: That's a great point because people forget the pass off is the last chance you have to wow me. And even if the visit wasn't necessarily great, you can kick it overdrive by looking at my credit card and saying me by name and coming around the counter to help me with the purchase or walk out with me if it's raining, so I don't get the gift wet, or a million things. But that's where, I think, so many smaller retailers in particular tend to kind of give up, "Oh, I got the sale." It's like, no, no.

Whitney: Yeah, I actually had... I mean I'm being honest here, I corrected one of my employees because, you know, even handing somebody the bag correctly is, you know, important. It's from start to finish. And I tell my girls every customer should leave our store with a smile, you know.

Bob: That's great. And that means you have to make sure that they have it, not tell them a joke or something.

Whitney: Right, exactly.

Bob: Well, good. Well, tell me, how do we find out more about you? How do we find out more about Collage?

Whitney: We are on Facebook at Collage Shop. Our website is collageofyork.com. And on Instagram, we are Collage of York.

Bob: Wonderful. Well, it's been a pleasure chatting with you today.

Whitney: Thank you so much.

Bob: And congratulations again on your Social Responsibility Award. It's really exciting to hear all about i
Episode 101: Tony Drockton, Founder and Chief Cheerleader, Hammit Bags

Episode 102: Deanna Renda, Founder, Naples Soap Company
Episode 103: Brian Travilla, Regional & District Leader Petco
Episode 104: Robert Bonoff, CEO, Creative Kidstuff | Everything Is Just A Conversation
Episode 105: Patrick & Imelda Bourke, Owners Patrick Bourke Menswear & The Pantry, 90 Years In Retail
Episode 106: Rachel Doyle CEO, Arboretum Garden Centre | The Glass Is Not Half Full; It's Full All The Time
Episode 107: Ladonna McCarran, Nook & Cranny | Manage Your Business From Your Customers' Viewpoint
Episode 108: Paul LaPonte, Quality Sewing | Finding A Way To Say Yes
Episode 109: Melanie Tillet, Tilletts UK | Building A Vast Online Following
Episode 110: Tony Post, Topo Athletic Shoes | Making Room To Listen
Podcast Episode 111: Patricia Fripp, CEO & Founder Fripp & Associates | Work Smarter, Not Harder
Podcast Episode 112: Jennifer Grimm, CEO & Founder Lux Beauty | Math Doesn't Lie
Podcast Episode 113: Todd Gill, Regional Director | You Can't Overcommunicate
Podcast Episode 114: Whitney Morgan | Being Socially Responsible Retailer
Are you a retail owner, C-Level Executive with a major brand with inspiring stories to tell? Then use the button below and let me know why you would be a good guest for the podcast.
Read More About: