In the OMG what were you thinking department came Burger King's foray into outrageous desperate behavior. Previously they had the subservient chicken where online viewers could type in what the chicken should do and generally the guy in a chicken outfit would do it. We had the odd person with a King plaster cast mask appearing in funny situations.
Both were designed to break out of what we were expecting. Not in the weird Quizno's commercial way with rat puppets which were just plain disturbing.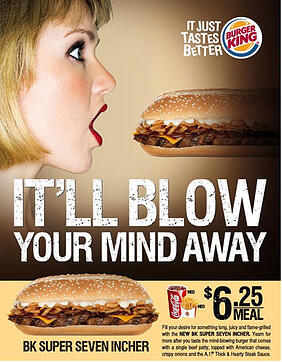 Now comes Sex and the Burger from Burger King's uncredited desperate ad agency in Singapore, (not as reported in other articles from their US ad agency.)
While I could go on and on about the sexism, the apparent reference to fellatio in both pictures and wording, "Fill your desire for something long, juicy and flame-grilled with the NEW BK SUPER SEVEN INCHER. Yearn for more after you taste the mind-blowing burger that comes with a single beef patty, topped with American cheese, crispy onions, and the A1 Thick and Hearty Steak Sauce," you have to ask yourself, besides prepubescent boys, who would this appeal to?
The race to the bottom probably started with the Carl's Jr. Paris Hilton washing the Bentley commercial ad.
As to this BK ad, the blowup porn doll approach seems confused. Go with me here. If this is indeed an ad for a target demographic of young men, and you want them to eat this 7-inch burger, are they in turn like the woman pictured? So should this be an ad in West Hollywood rather than West Madison, WI?
But besides that, we continue to see the dearth of fresh ideas in the fast-food ivory towers including KFC and Popeye's who've thrown freebie after freebie at us, executed it poorly across the board, and done what more often than not? Pissed off their loyal customers.
Don't get me wrong, as CMO of a coffee franchise, I enjoyed coming up with subtle titles that caught your attention including the Score, a drink made with Skor chips featured during football season, and the Woody, a summer banana drink featuring wood-paneled surfer vans.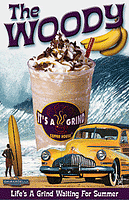 If someone wanted to infer something else, that was fine.
But to blatantly put such trash into mass media, you have admit, something isn't working at the brand level.
An Ad Age article summed it up fairly well, "A big part of Burger King's problems can be summed up in one word: McDonald's. And those problems are beginning to grate on Burger King's notoriously restive franchisees, who say recent efforts from Crispin have failed to drive traffic to their stores and, even worse, are alienating would-be customers who fall outside the chain's young-male target."
There's cutting-edge fun-loving and bleeding-edge pandering.
Compare all of this to the brilliantly executed McCafe launch last month which has Starbucks, Dunkin' Donuts, and others scrambling to stay relevant to a customer base suddenly considering and returning to McDonald's in the morning. McDonald's got it right - grow your audience, don't narrow it like BK is doing.
The trouble with desperation marketing is people can smell it on you and choose to avoid you. It's time for a change at Burger King. What do you think?