Suggestive Selling: How to Train Your Employees in Add-On Sales

By Bob Phibbs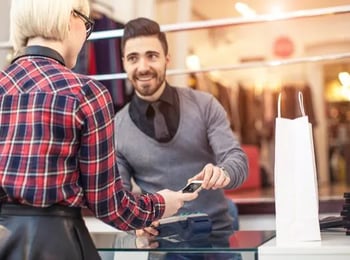 The right add-on sales tactics drive margins and delight customers.
But the wrong add-on sales techniques?
Well, those can send stressed-out customers dashing for the door.
Here's the thing:
Suggestive selling is both an art and a science. It's a science because there's a proven process to follow — one I'll walk you through in this article.
But suggestive selling is also an art. You're painting a picture — creating a vivid world where the add-on purchase will extend your customer's pleasure. And that is where the retail sales magic happens.
Ready to master suggestive selling and train your employees to do the same?
Then let's dive into my proven add-on sales techniques for raving customers and increased retailers' profit margins.
Be sure to have your initial yes
You must obtain an initial yes from your customer before selling add-ons.
Once you get that first yes, it becomes much easier to get a second yes — and that's a very good thing.
You work hard to get shoppers in your storefront. You want to provide the most value for (and see the most return from) each person who walks through your doors.
Let your customer make a firm decision to spend money on the initial purchase before upselling. You'll avoid overwhelming the buyer and gain essential insights for suggestive selling later.
This brings me to another vital point:
A study published by the Association for Consumer Research found that marketers need to be more attentive in managing add-ons in their product strategy. And retailers should take note...
Remember: you are selling wants, not needs.
The add-ons? Those are often your customer's biggest wants. They've said yes to spending money. Now, they're ready to make their investment more personal, convenient, and attractive.
Actively listen to customers as you help them make that first yes. Then, paint the picture of how the add-on product will better meet their unique wants and desires. You'll build trust and close a sale in retail with confidence.
The window treatment example
Here's an add-on sales example I like to use:
Let's imagine you own an interior design shop. A buyer comes in looking for window treatments. You walk them through a few options and soon get that initial yes.
You consider potential add-on products and decide on motorized blinds. They're expensive, though. Maybe the blinds double the sales price. That's okay.
This is where you become an artist and craft the image of what could be.
You begin by asking, "Have you ever gotten out of the bath and realized you want to open the blinds, but to do so, you'd have to step back in the tub and get your feet wet? So you leave the blinds closed instead?"
You wait for the customer to agree and then continue.
"We can motorize the blinds. With the click of a remote, you can open the blinds, see the view, and keep your feet dry. Wouldn't that start your day better?"
You've created a clear, compelling picture of what's possible. No uncomfortable closing techniques — just suggestive selling that provides value to your customer.
Pro tip: Don't prejudge a customer's budget. Master storytelling in retail, then let the buyer decide if the value aligns with their wants.
4 key add-on sales techniques
Now that we've explored the art of suggestive selling, let's look at my proven tactics for add-on sales success.
1. Plant seeds for add-ons during the sale
You're helping the customer with a purchase, waiting for that initial yes. Great!
Here's a secret: you can plant seeds for add-on products now (and have more success with suggestive selling later) without overwhelming the buyer.
Say you own a running store. As you fit a customer for shoes, you start to build rapport. Maybe you chat about nutrition and hydration.
"Do you recover from your runs as well as you used to?" you ask.
"No," they say. You've got a great product you know would help this person, so you casually suggest:
"Once we find the perfect shoes, can I show you something else I think will help you?"
You've demonstrated you have the buyer's interests in mind without sacrificing the sale of the running shoes. Plus, by asking permission, the add-on product feels like the natural next step — not an irritating sales pitch.
2. Choose only one add-on product
Actively engage with your customer, so you discover what's important to them. Then, pick one add-on sales item that aligns with their wants and needs.
Maybe the buyer mentioned style or color. Or, perhaps it was security or convenience.
Even if the customer states a few preferences, start with a single add-on product. Otherwise, you risk confusing the customer with too many options.
We've all been that stressed-out buyer. For me, it was a few years ago. I was at a photography store looking for a Nikon camera.
Once the salesperson knew I was there to get a D70, he began spouting off a laundry list of add-ons: filters, memory cards, camera bags, tripods ...
What was supposed to be a fun new hobby started to feel like a lot of work. Plus, I quickly realized it would cost me quite a bit to get what I wanted! I shut down and only purchased the camera and lens kit.
This salesperson could have gotten a larger sale, and I would have come back again.
But he didn't ... and I haven't.
Don't be like him. Instead, treat your customers like trusted advisors and choose one add-on product that will make their life better.
3. Make your customers think: "I want that, too!"
You can have the best add-on products in the world — items you know will make a difference in your customer's lives and enhance their purchasing experience.
But if your customer doesn't think they want it?
Well, you're probably not making the sale.
Your customer doesn't always care about the bells and whistles. If you want suggestive selling success, you must create a dream world where your product is the shining star.
We purchase feelings, not things. Connect with your customer's emotions, and you'll win buyers for life — and make bigger sales, too.
4. Get the first yes before you suggestively sell any additional items
We've already covered this point, but it's an essential add-on sales technique that bears repeating. Ensure your employees know the importance of listening to customers, too.
How to train your retail workers to sell add-ons
Before you begin training your retail staff on how to sell add-ons, your employees need to understand how a potential sale could play out.
There are three ways to approach add-on sales.
Option #1: Guide customers to an additional product that makes the initial purchase better
This is the ideal scenario. You've helped the customer see so much value in the add-on product that making the upsell is a piece of cake.
Speaking of cake, I like to use this analogy in my add-on sales process:
"Have you ever seen someone make a chocolate cake?" I ask customers. I wait for their answer, then continue.
"It's pretty good all on its own, but it's even better with the frosting. That's what I'm going to show you right now — the icing on the cake."
It's simple, but it sets a clear expectation and makes the decision to purchase feel effortless.
Option #2: Scare the customer into thinking they need something else
Highlighting potential pain points can be a helpful way to show your customer the add-on products they need.
Pretend you sell hardware or project-based items. You could try saying this:
"Have you ever gotten home from the hardware store and, right when you're ready to start your project, you realize you don't have everything you need? So you have to turn around and go back to the store?"
Wait for an answer, then say, "I've got everything you need right over there so we can save you that extra trip."
The buyer is much more likely to purchase add-on products now if it saves them time and energy in the future.
Option #3: Fold the tent
This is what most retail store employees do day-in and day-out. You probably hear it all the time, too.
It goes like this:
After an initial purchase, the seller says, "Anything else?"
What do you visualize when you hear that? Probably nothing.
And what add-on sales do you get with that? You got it — probably nothing.
You've worked hard to get the customer to make a purchase. Don't buckle when it's time to stand tall. Instead, paint a clear picture of what your product can do for the customer.
Think about being in a restaurant. You've finished an incredible meal when the server comes over and says: "Can I get you anything else?"
You see nothing, so you order nothing.
If the server says, "Do you want some pie or cookies?" you might say yes. You've got an idea of what dessert looks like, but it's not a particularly enticing one.
Now the server says, "We have a homemade apple pie fresh out of the oven. I recommend it drizzled with warm caramel and topped with a scoop of vanilla bean ice cream."
Did you see the pie? I don't care if you ordered it, but you pictured it in your head. Maybe you even imagined the smell and taste. That takes careful planning — and it's how to increase sales in retail.
Train your retail employees to paint pictures and raise the average check
Want to improve your retail sales training and ensure your crew knows how to add-on to any sale? Make customers see what you're selling — good or bad. Using these suggestive selling tips will keep your staff from folding their tent.
Take my free 5-part email course to learn how your retail store can outsell any online retailer. You can get started with your first lesson by entering your name and email address below ...