Manager Training Program Pitfalls - Why Your Retail Business Needs An Upgrade Now
May 08, 2018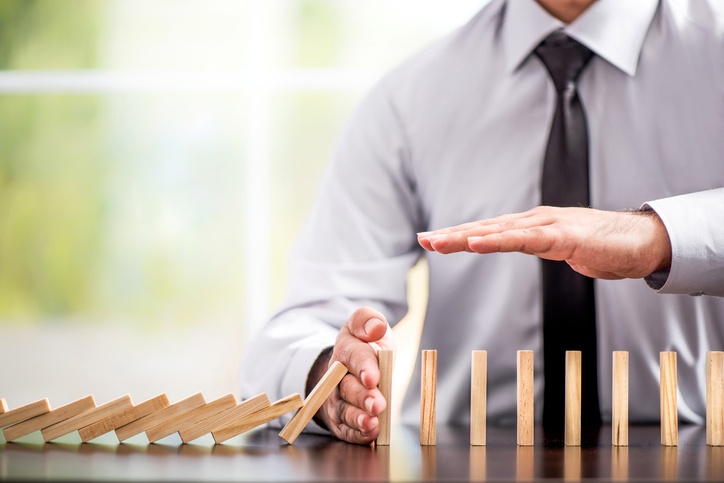 Retail brands are in trouble. Even top brands like Nine West and Bon Ton have gone belly up.
Your retail business needs to be continually upgraded too, so you're not the next casualty. And it's probably in a place you aren't really looking....in your management.
How do you deal with lower footfalls and lower sales volume? It just might be that your management team isn't aware of the role they play. And if your management is in the dark, how can your employees be mindful enough at making your shoppers their priority?
According to a new study by West Monroe Partners , most retail managers have no management training.
Yes, you read that right. No management training.

Why is that you ask? Lots of retail stores say they don't have time to train.
Pitfall #1 - Not taking the time to train your management team
Thinking that you're just too busy to train is like saying you're too busy to ring up a transaction.
Some companies don't put retail customer service training for managers in place because they think it will take too much time. The truth is that training is the best investment you can make for your retail company.
Without training, there are no standards. Without training, your idea of an exceptional customer experience is left up to interpretation between the employee who thinks great customer service is being speedy and efficient at getting the customer out the door with a purchase and the employee who thinks that same customer can find it by himself and doesn't need any help at all.
In other words, your customer service is no where. Which leads to...
Pitfall #2 - Therefore, There's No Training At All
Specifically, there's a lack of retail customer service training for managers. 42% of managers just mimic the previous managers.
The need for training among managers is acute and is one of the biggest reasons retailers have such high employee turnover rates; the old adage still proves accurate, employees quit managers, not companies.
Yet training those managers at the store level seems non-existent in many cases.
The West Monroe Partners survey reported, "For those with less than one year as a manager, 43 percent had no training at all."
And The the U.S. Bureau of Labor Statistics found that "employers with fewer than 100 employees provided only 12 minutes of manager training per six-month period. And organizations with 100-500 employees provided only 6 minutes of training for the same time span."
And that's a waste...
Only managers who have completed a training program customized just for managers can build a strong team, focus on the customer, and support employee performance with tight operating systems. The end result is that management training helps the entire team provide a consistent shopper experience whether the shopper is dealing with a part-timer or a seasoned veteran.
With millennials less drawn to brands and shoppers in general looking for the best price, how your managers are able to build a team is table stakes.
Your training can vary and sometimes focus on retail operations management and sometimes on retail store management. And don't forget district management needs focus too.
Pitfall #3 - You don't know what to train
Your main focus should be on store managers so they know what both they and their employees should be doing in order to achieve or hopefully surpass sales goals and receive positive reviews of your customer service. A basic store manager training program should:
Train the entire shopper journey from online to store to see how customer service fits across all channels.

Train the soft skills necessary so they can train your employees to engage strangers so they become more human and empathetic with shoppers.

Certify that training sticks with employees.

Standardize rules.

Avoid random decisions.

Recruits, interviews, and choose candidates who are a good fit for the store.

Coaches salespeople effectively and tracks performance trends.

Sets the bar high and focuses on getting the team to exceed it.

Strategically plans how to achieve revenue goals and successfully execute them
Pitfall #4 - And then you train like there's no distinction between store managers and district managers
A great district manager can make or break you, but great district managers aren't born. They need to be properly trained to develop the retail culture and sales expectations from a broader approach.
The district manager is the liaison between the corporate office and the individuals working in the stores. The district manager should be able to listen for changes that need to be made to the system from the field; they are not just there to enforce corporate directives. Otherwise, they will simply be feared and ineffective. With district management training, district managers should learn:
How to improve performance of employees who work on the front lines..

How to become partners with store managers.

How to listen to concerns of employees without promising change.

How to be impartial when it comes to conflict at the store level.

How to drive their managers to become high-performing sales achievers.

How to build a funnel of management trainees and to promote those in store to higher levels of responsibility and on to becoming managers themselves.
Whether it's a district manager or a store manager, both are responsible for each employee who touches the customer experience. That's why you can't leave them on their own to figure it out; you must train them.

See also, 9 Sure Signs Of A Rotten Retail Manager
In Sum
If you want to strengthen your retail brand, your managers need to be trained beyond tasks and spreadsheets.
There is a direct correlation between low productivity and a lack of manager training. While you may save money on training costs, the end result of low sales and poor customer reviews isn't worth it.
Don't be penny wise and pound foolish, upgrade your retail management training using these tips. And to see how the Retail Doctor can help you, use the link below.
Read More About: