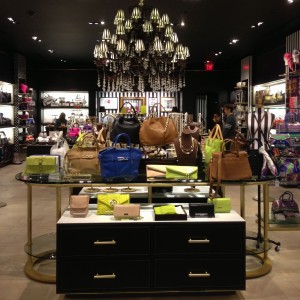 Selling luxury products without a discount goes hand in hand with designing a retail space to accommodate the world's most discerning customers.
As a retailer offering luxury brands and superior service, your retail store is your opportunity to not only present upscale clothing lines, jewelry, or home furnishings, but to do so in a way that evokes the essence of the lifestyle your customers are either accustomed to, or aspire to.
In other words, they want to feel they can afford your most expensive, even if they can only buy your entry-level.
And that luxury experience has to be so compelling, they won't whip out a smartphone and use you as a showroom for an online merchant. That starts with how your customer feels in your store, not with what SKUS are in it.
Creating a successful luxury retail sales environment requires a carefully crafted strategy incorporating cutting-edge style, an elegant and understated atmosphere, and an amazing customer service that creates an exceptional experience for everyone who enters.
If you are a jeweler, your counters must look totally different than a J.C. Penney's or a cookie-cutter mall store. Your customers should enjoy a seemingly effortless and completely fulfilling shopping experience that is carefully crafted.
Elegant and Eco-Friendly Interiors For Luxury Sales
Many of the top names in luxury sales are embracing the current green and organic movement with their choice of interior design color, textures, and store fixtures. Green, steel, glass and wood characterize today's luxury sales environment.
When Prada opened their new Kiev, Ukraine store, they included a palette of natural greens for wall colors and furniture fabric choices. This contrasted nicely with the steel and glass display cases, and the checkerboard marble and mirrors that inject the trademark glamor of the luxury name.
The natural and green trend is also reflected in Salvatore Ferragamo's Fifth Avenue location. This Manhattan flagship store that is synonymous with luxury sales was recently renovated and reopened this past spring. The wood framed clothing racks, glass shelving, and taupe walls provide a backdrop for the punchy hits of color displayed in the season's clothing lines.
The recessed lighting, hardwood floors, taupe walls and sand-colored floor coverings keep the interior light and airy. You notice the individual gown or top due to the incredible amount of space around each item - a hallmark for luxury boutiques.
You can join the green trend by choosing paint and accent colors in keeping with nature when redecorating your own retail space. Selecting natural floor finishes and textures for simple pieces of furniture and introduce glass and metal shelving for a fresh, modern look.
Keep It Simple and Serene
A key ingredient in developing a luxury sales environment is an atmosphere that is peaceful, soothing, and far removed from the high-pressure and hectic sales floors so common in chain retailing.
Luxury Customer Relationship Management
The luxury sales market is ahead of most mainstream counterparts in terms of customer relationship management (CRM). While other retailers struggle to learn about relationship marketing, upscale and luxury businesses have long been aware that building long-term relationships with clients is a mutually-beneficial endeavor.
Today's technology and CRM software combine to give sales personnel the tools required to create the right environment for luxury sales. Providing your sales professionals with information provided by a CRM program creates a unique and personalized level of customer service. This goes beyond their name and address but includes past purchases stored in a virtual closet, their social media profiles and more. Only your best salespeople will be able to even get this information, but it is the mark of providing an exceptional experience.
Some additional tips for a luxury boutique makeover include:
Choose quality furniture with simple lines incorporating natural materials and steel
Keep everything impeccably clean, organized and interesting
Limit your inventory and displays to create a spacious feeling
Use small, carefully lettered signs
Play appropriate music that fits your luxury brand in the background
While natural lighting is best, use low-lighting as a rule so you can highlight special features or items.
Get a CRM system that integrates a customer's online and offline information
Hire the best salespeople you can and use the best retail sales training program to create an exceptional experience.
See also, How To Justify The Expense Of Training Your Retail Staff
In Sum
Cater to the luxury customer's desire to participate in a full experience of the lifestyle of your brand rather than a simple, single transaction of a purchase they can, in many cases, purchase from multiple retailers.
Having the best, most current decor, a serene atmosphere, and the best sales professionals, your sales success is sure to follow.