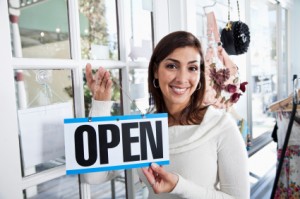 I had been hired in my business consultant role by a guy looking to open a new store.
After assessing the location and merchandise ideas, I turned to the would-be retailer and asked, "Who is your customer and why is she shopping with you?"
He replied, "I want everyone and everywhere, from old to young, guys, women, straight, gay - all of them." That sounded familiar - every beginning retailer thinks they can just put their arms around an entire town, region or state and be successful.
I have news for you, your arms aren't that wide. You have to narrow your focus...
The best retailers know who their target customer is and why those customers are shopping with them...
If you don't enjoy putting your own furniture together or you have the wherewithal to buy a couch someone else put together for you, then IKEA is not interested in courting you.
If you think a cup of coffee should be fifty cents with free refills served from a hot plate that keeps the generic liquid warm all day, then you are not Starbucks' target customer.
Do you know who your customer is - and who they aren't? You need to.
That is my number one strategy for your store's success: Know who your customers are, and who they aren't. Knowing that keeps you from overestimating demand and helps you create a vibrant niche for your shop.
Whether you are an experienced retailer or brand new, here are seven more proven strategies for your success.
Court customers who can pay full price. The temptation is to chase the cheapskates - don't do it. You are buying their loyalty with your own lost profits. Yes you can buy closeouts and last year's items but there's a reason they are cheap - low demand. Retail exists to answer shoppers' one question, "What's new?" Good customers will pay for that. When you give care to what you buy for your store – once you really understand who your customers are – they will buy from you.
Attract new customers with great windows, a great website, a blog and social media. The logical step when you want to go after full-price customers is to give them a consistently high-quality experience. That means killer window displays that tempt desire with one grouping, rather than trying to hardsell everything in-store. That means paying for a website that mirrors a high-quality experience with your hours, directions and what customers will get from coming to your shop. It means a blog that continues to help your customers do more with the items you carry. And it means a compelling social media strategy that includes Facebook, Instagram, YouTube and the rest.
Pay more to your employees. There's a reason many small businesses stay small - they think small and try to limit every cost. When you pay employees more, you can expect more. Retailers who pay higher wages with more full-timers have lower turnover and higher profitability. You have to see the hidden costs behind everything. Never compromise your store's ability to create an exceptional experience for your customer due to hiring who will work for the lowest wages.You are known for your compromises more than your successes in business.
Train Better. The siren song for many retailers is hiring competitors' former employees because they're already trained. I would challenge you that they are trained - probably on the job with little followup - to work in that other store. That means they have a "right" way to do something - whether it's your way or not. That means you inherit a system often at odds with your own. Take nothing for granted when it comes to how your employees answer the phone, greet a customer, sell your merchandise - even take out the trash.
Curate the best stock. More lines, more models, more choice is not what customers are looking for. Your customers are looking for the best choice. That means you want to be a curator that organizes and presents a collection of products customers can clearly see have advantages over the competitors. (Signage can help you a lot here.)
Engage the customer. Notice I didn't say greet the customer. Retailers who station a greeter at the front of the store to parrot, Hi, how are you today? are not engaging, they're annoying. The best retailers, the ones who hire and train better, know the game is to engage the customer in a conversation. That doesn't mean to badger them with 100 questions or direct the customer to a kiosk but to encourage employees to find a way to engage the customer in a back-and-forth dialogue. To be helpful. To be handy. To be human.
Invite them back. The last thing your customers will take with them is how you sent them back into their own world. Thank you is fine but the best retailers find a way to come around the counter, thank the customer again for their purchase and invite them to return. Friendly, engaged and memorable.
Get these eight proven strategies right and you'll be able to compete with showrooming, big boxes and a landscape where there are simply too many places to buy too much of the same thing.