14 Small Business Saturday Marketing Ideas For Retailers

By Bob Phibbs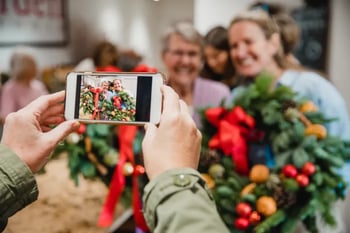 Updated August 4, 2022
Looking for ideas to help your small business and community thrive this year on Small Business Saturday?
When Small Business Saturday (SBS) began over a decade ago, thanks to American Express as a marketing campaign for cardmembers, few retailers took notice or were looking for marketing ideas.
With $23.3 billion in sales attributed to that day in 2021, smart retailers are looking to stand out and capture more of the Buy-Local Movement the day after the traditional Black Friday date.
Unfortunately, many recommendations are aimed only at creating storewide promotions and deep discount sales. That's not what I recommend for smart retailers as it squanders the reason shoppers come to you first instead of going to big-box stores.
here are some of the best ideas I've seen.
14 Small Business Saturday Marketing Ideas For Retailers
1. Bundle your merchandise. It's as easy to offer 20 percent off your entire store as it is to swipe your customer's credit card. Resist the urge. Shoppers will be out spending their money, and you want to attract those looking for something other than a cheap price. There's always someone cheaper, whether online or down the street. Instead, find products you can bundle together as one purchase. Even if it is just a gift card to your retail store, that is a much better promotion than a generous storewide discount because it gets customers back into your store to spend it.
2. Buy from other small businesses. It's fine to ask for donations, but why not patronize other small businesses? Halley Jones at The Purple Goose in Verona, WI, went around town and purchased $10 gift cards to other local businesses and put them on her prize wheel for SBS. She spent about $300. When the businesses heard about it, they were pleased as well.
3. Give back to a local non-religious charity. Collect donations. Have your Main Street fund new uniforms for the high school choir, plant a park, trim the trees - you name it. Customers feel good when they see businesses making their local world a better place.
4. Band together with other small businesses. Meet with your other local businesses to create a fun marketing strategy. You can see how Canyon Main Street in Texas held a scavenger hunt. You can create a passport as they did one year in Detroit or discover more retail marketing ideas here.
5. Get shoppers' names. Use this opportunity to get those who visit you to join your Facebook page. Have them sign up for your newsletter on a dedicated iPad by the register. Getting their names and social follows is critical as you need to stay in contact with these shoppers long after the Thanksgiving leftovers have all been eaten.
6. Lose your cynicism. Let me be frank here, small retail business owners; it doesn't help the shopping experience or your local businesses when you bemoan the weather, the foot traffic, or politics - especially within earshot of consumers. It's called the holiday season, not the headache season.
7. Create and share positive energy. Share stories of someone being kind, something a customer is doing for someone else, or maybe a positive interaction you had with a shopper the day prior. This helps create a shopping experience that looks for the good in everyone. That is essential when trying to turn harried shoppers into loyal customers.
8. Train your employees on how to sell your merchandise, not just clerk it. See any of my books or my online retail sales training program SalesRX.com.
9. Use social media marketing to help shoppers give you user-generated content. Choose one or two social media channels like Facebook, Twitter, or Instagram and create a short hashtag you can track like #shopsmallJennysGifts for your gift store. By including a custom hashtag in your social media posts, you'll easily be able to find them by searching for your hashtag.
Post a couple of times now on your social media platform and throughout the days leading up to SBS to prepare your followers to be engaged.
Encourage them over the weekend to share stories about their shopping in your store or community using your custom hashtag. As a bonus, you'll have many more pictures showing how exciting your place is to shop, which will help your marketing next year. Lauren Crews with Heart Strings Gifts in Princeton, WV, has each visitor check in on Facebook, tag her account, and then take a selfie of themselves with their Christmas wish from her store.
If you really want to help spread the word, Jill Reicks with Inspired to Sew in Cedar Rapids, IA takes a selfie of every visitor with a team member and a sign that says, "I love making This Small Business Thrive...Thank You for Being Inspired To Sew."
Loring Kohrt with Belmont in Phoenix, AZ, advises doing Facebook Live videos and Instagram Live videos as well as TikTok and Snapchat to show what they have in stock waiting for their lucky customers on SBS. Make sure you boost your posts too!
10. Feed your shoppers. It's no mystery that many Chamber of Commerce stroll and savors or First Friday events used to feature free food; shoppers are drawn to it. Last year Tammy Clarke-Organ with Madison Mackenzie Home in Grand Falls-Windsor, Newfoundland, served mimosas and bagels from a local bakery and thanked everyone for Shopping Local and Supporting Small businesses. Serve in single-serve containers, score higher points if you go plastic-free, or use products with an eye toward the environment. And you can check with local restaurants about safe food protocols to get ideas. I know a few years ago Tammy Beideman at Sweet Elizabeth Jane in Ellicott City, MD offered a hot chocolate bar that she could adapt to today's etiquette. The point is that food gets people to linger and relax.
11. Give them a chance to win something. Kerry Witbrod with Chic and Unique Boutique in Burlington, WI, served wine and locally made cookies, with a free entry into a drawing for a highly desired item (a Coach handbag). Mary Ann Hanlon, owner of Mary Ann's Dance in Easthampton, MA, hosted her annual Ugly Sweater Party, which involved a Facebook contest.
Even giving everyone gifts like tote bags is a marketing idea that can go a long way to being remembered.
12. Get your in-store signage up and make sure it ties into SMB. Use the Shop Small Studio event kit from American Express to create free, customized posters, emails, and special signs for your brick-and-mortar store.
13. Entertain passersby. It's always tough to attract potential customers to your store. Using your display windows effectively, rolling out a red welcome mat, and using planters to define your doorway are all good ideas ... but nothing attracts like music. Owners Rusty and Drew with the Green Monkey in Clayton, NC, would have a small band quartet playing Christmas carols on their sidewalk.
14. Make shoppers smarter. Find fun ways to teach your customers, so they become raving fans. Patric Richardson with the Laundry Evangelist in the Mall of America in Bloomington, MN, would do laundry camps throughout the day. Staff would help by answering questions about getting out stains from the holiday. They'd teach how to wash the unwashable and how to take care of your clothes and textiles at home. Michelle Crompton Renda at Trading Place in Dublin, OH, likes to give demos on tree trimming and garland design.
These ideas are not limited to just one day. Let me emphasize they can all be used throughout the holiday season and with variations all year round.
In Sum
Small Business Saturday is a great Main Street event that kicks off the shortened holiday shopping season. It can be a time to help bring bright lights and positive emotions to your community.
Once you have your game plan, even if it is last minute, reach out to your local media and give them a hook on how you are using social media channels to market smarter or how you are building your local community with other merchants and even pop-up shops.
Your customers want to be seen supporting small businesses, and not necessarily just because you had special offers or a giveaway. During the pandemic, the media are hungry for positive stories about people coming together. Make sure to spotlight that.
Use this event so your independent businesses appear bigger, attract more customers, and deliver an exceptional customer service experience for everyone who gives you a chance at their patronage.
Even without a lot of holiday preparations or extensive research into your target audience, every retail business owner can do many of these free marketing ideas right now to boost the fun in-store and help compete with online retail bandits.