It's Time To Embrace The Virtual Retail Salesperson

By Bob Phibbs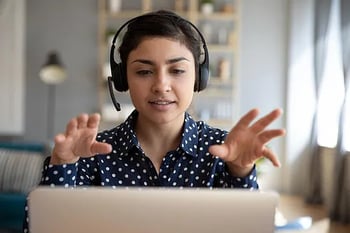 Retail stores are closed. Employees are being furloughed. And I haven't seen a toilet paper roll in my local grocery store for three weeks.
On top of that, the vast networks of physical brick-and-mortar stores, warehouses, and distribution centers sit idle. Their once shiny new spring merchandise is aging like fresh milk left out in the sun.
It's not pretty.
Make no mistake, retailers...
You are going to have to sell your way out of this
And when it comes to apparel, a massive glut of products is about to hit the market. I predict much of it will have to end up in landfills as there isn't enough demand or off-price retailers can quickly get rid of it.
And while shoppers may not be clamoring to buy something to show off on Zoom, make no mistake, their demand is still there. For some, yes, demand is dead, but for others, demand is just waiting.
And let's be honest, it won't be possible to unlock your doors and return to the way things were.
We must embrace that virtual is the way forward in the short term and will become more important in the long term.
Virtual is the way forward
I have spent my professional life honing the art of getting a stranger to drop their guard, see me as a friend, tell me all their hopes and dreams, feel they matter to me, and then buy more than they may have initially asked about all while making it sound natural, familiar, and in the moment.
Now, you have two options: stores closed to browsing or just plain closed.
You can hunker down in a corner in the fetal position and wait for the virus storm to pass, OR, with your knees shaking and your heart racing, you can step out to fight for your business - however and wherever you can.
I'll fight for my business, and I hope you fight for yours as well
I heard about a woman with several gift stores. She has furloughed her associates but using spreadsheets and offline processes, she's figured out how to continue to allow them to drive sales and to capture how much each associate sold virtually.
Essentially, she's made it possible for her former employees to become independent sales representatives, similar to drivers who pick up rides with Uber.
They can use the relationships they have to engage customers, make recommendations, and be directly compensated for it.
She's going to either make it up to them when this is all over or cut them a check. She is enabling her crew to act as affiliates to help her sell her way out of this crunch.
Retailers should be spending their time virtually connecting to customers
Use whatever you can - FaceTime, Zoom, Skype, Google Hangouts, Instagram, and Facebook.
They could give styling tips when using virtual meetings for clients working from home. They could be helping people get the right height for their paintings or to move a chandelier, they could be helping fix something, plant something, or cook something. The list is endless.
Now, here's the catch: you have to have a website that can let them buy products or this doesn't work. You don't want employees writing down customer's credit card information to be entered at a later time.
And if all of your employees are gone?
I guess it is up to you.
How to save a sale?
I'm reminded of the story I heard at NRF earlier this year, about how a company called Salesfloor began. One of the founders was working at Best Buy.
He was touring stores and met a retail associate that was earning 5 times more than the average employee. He worked in a smaller suburban store, in the appliances section (one of the lowest volume-selling categories at the time).
Management was baffled
The store associate explained that he looked beyond his job and treated his role like his own small business.
While colleagues waited for customers to walk into the store, he was hustling, working his network, and finding the demand for his products within his own community. He was even contacting local condominium developers to provide appliances for new construction projects!
Then, he casually mentioned a novel idea to management:
"Instead of waiting for inbound traffic in store, what if I could give my customers a way to buy from me online 24/7? I could be having dinner with my family at home while my customers are buying from me."
According to Ben Rodier, co-founder of Salesfloor, this was one of the main ideas that led to the creation of their mobile platform for store associates some 5 years ago.
And while the majority of their users today use the platform for clienteling, assisted selling, and mobile POS in a store, the original concept was to empower associates who can work anywhere.
The virtual salesperson is essential for retail right now
Fast forward five years to this Covid-19 crisis, that forward-thinking Best Buy salesperson couldn't have been more right.
Salesfloor's Virtual Associate Program is able to track online sales from associate's digital interactions and then provides the retailer with a reconciliation of who sold what at the end of each month.
Before Covid-19, retailers used Salesfloor but owned the responsibility of compensating their employees for online sales. But now with stores closed and furloughed associates, retailers can use their app to help associates continue to sell and pay them too.
Salesfloor pays the virtual salesperson their monthly commission, like an Uber driver, and the retailer pays Salesfloor.
What I like about this is that the associates, those most trained and engrained in a brand, can still be earning money from Salesfloor as they continue to represent the brands that they've helped build.
Ben showed me how Saks has already been using it there.
Here is an example:
A virtual salesperson with his own online storefront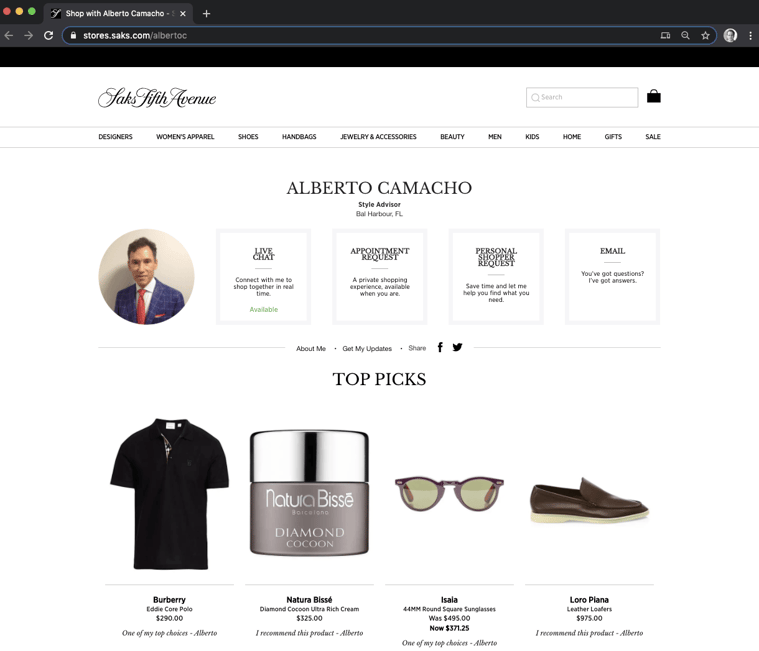 Alberto, the virtual salesperson, has his own storefront online with comments on each product individually and using the Salesfloor app, he can rearrange the page as he wishes.
His customers are still going to the Saks website but shopping with their trusted advisor Alberto. Each customer can interact with Alberto via live chat, email, or text so that they can ask him questions as they move through their shopping experience.
Do these jeans fit tight?
Does it run long?
If I'm a 36 on these pants, should I get the same size?
It's a real-life interaction with a real-life person. If the shopper comes back five days later and makes the purchase, Alberto will still make the sale.
To be clear, Salesfloor did not pay me for this. I want to lift up the fact that we will have to lean on virtual selling sooner rather than later if we want to survive.
This app is a good example of a company that may be the way to help you do this.
Where this really becomes powerful is that every morning, associates see daily tasks that Salesfloor suggests based on retailer's data to help them sell more.
For example, if someone purchased a chandelier two years ago, the Salesfloor app might suggest you contact them today.
It takes the inappropriateness out of a follow-up conversation, which without training or schedule, can be random reach-outs, "Hey, you want to buy a couch?"
No one wants to be reached out to like that!
But they might want to hear:
"Hey, you bought a couch three years ago. This marks the time where you might want some help fixing it, altering it, or replacing it."
So, there's an appropriate time and person to reach out to you.
All retailers must embrace technology that connects them virtually with each stranger who visits their website. That visitor doesn't know your associates but should be able to see which store associates are in their neighborhood.
If the association wants to make themselves available for live chat because they aren't just waiting for someone to walk in the door, they need to be able to do that.
The key takeaway is looking at your go-getter employees, your best-style advisers who are working because they want to earn money. They want to earn a commission. It doesn't matter if their stores have closed. They can use an app like Salesforce to drive sales online like it's their own business.
HR could throw the whole thing off
There are a lot of processes and systems that could get in the way. Someone at the top has to be visionary, and instead of saying, "We can't do that," say, "We have to look at any and every way we can to stay alive. Find a way."
Questions you'll have to ask and answer for yourself before any of this can include:
Can we make it okay for associates to access this technology remotely?
Do we want to give associates access to the customer data on their own personal devices?
Will it be okay for employees to work from home?
This is the time when you need to take a bold stance on policy to start with. Your mantra has to be "we need to survive". It needs to be... "We need to sell our way out of this."
Get your associates to access remotely
If they must sign a waiver that says they're doing it voluntarily, so be it, but figure it out. Some companies can help guide you in that process.
Now if you're a small shop in SoHo, Salesfloor will not deliver for you. You probably don't have the web traffic to support it.
But don't let that stop you. Virtual is still the way forward in the short term.
You have to leverage the online opportunity.
For any retailer who has a good CRM and knowledge of who their customer is and what they have purchased, virtual selling could be the lifeline you're looking for.
An associate with in-store relationships will need retail sales training on how to use new tools to connect but make no mistake, you do not have to be dead in the water.
Anyone can figure out how to pivot to virtual
And if you don't, your competitors will.
Let's face it, many retailers will not make it out of this crisis because they stopped looking for possibilities. They never left their comfort zone to find a way out.
I used to think I could never do virtual retail sales training. I felt the only way was in person. Except it doesn't scale, which is why I'm now virtually training over 10K people around the world with SalesRX on how to sell.
To start selling virtually, maybe you start with baby steps by holding your own Facebook LIVE program modeled like HSN with specific products/brands featured with shoppable QR codes placed on the screen so people can instantly go to your website.
Maybe you have virtual sales meetings for your associates.
Maybe, if you get hundreds of thousands of visits a month, you add live visual chat to your website, if not, maybe you pivot to launch an affiliate strategy with a company like Salesfloor and make it available for your full-time employees.
Virtual sales is the winning short-term strategy
I hope you walk away not hopelessly but instead with the attitude and ability to ask more "How can I" questions than "Why can't I". And then find a way, whatever you need to do, to make it happen.
The speed of the COVID-19 spread is the enemy right now. How fast it is moving makes it hard for every retailer to react.
The good news, as Jim Scheinberg with North Pier Search Consulting reports is that:
"Italy continues to see the rate of new COVID-19 cases decelerate. If this continues, it supports the theory that China and South Korea were not anomalies-that although the severity of isolation measures may shorten or elongate the timeline somewhat, COVID-19 cases may begin to slow and then retreat just two to four weeks after meaningful social distancing occurs in an outbreak community."
One thing is clear, we have to find a way to get digitally face-to-face like we used to get face-to-face in person. In the short-term, this is important but from now on as well.
Use this post to get you thinking about how to do that and begin to see the upside of connecting to your customers in a new virtual world.
Take my free 5-part email course to learn how your retail store can outsell any online retailer. You can get started with your first lesson by entering your name and email address below ...