Why I'm Thankful For Retail
November 21, 2012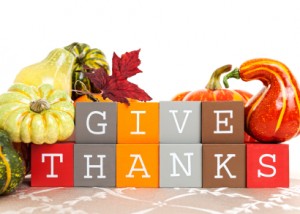 As we begin to fill our homes with the aromas of the holiday season, I'm reminded that ancient spice routes were the basis of retail sales.
As travelers came through the various encampments, they told of their tales and exchanged stories of where they found their items. Customers then purchased those goods as a memory of the story they heard.
The basic function of great retailing, whether you are a large conglomerate, an upcoming franchise or a single store mom and pop, hasn't changed much.
The best retailers of wine, coffee, and luxury goods spend a lot of effort making sure customers know where their items come from, how they are made, and what makes them so unusual.
Let me tell you why I'm thankful...
I'm thankful for Independent retailers
The best independent retailers are the personification of the "can-do" spirit America prides itself on. I have several thousand retailers engaged with me on Facebook and one shared that he had somehow triple-ordered from a vendor. Two different employees as well as himself had placed the same major order. There was no way to make the vendor take any of it back. The owner had to accept responsibility and find a way to sell that extra inventory. I'm thankful he had learned to suck it up and had learned ways to sell it rather than stay stuck.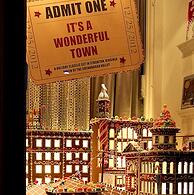 I'm thankful independents love to give back to the community. I wrote about a small retailer who spent months creating windows worthy of any Macy's or Higbees, and they continues to delight and surprise their customers every year. Their personal pride in their community shows. You can see their most recent update here.
Independents are thirsty for knowledge about retail sales. Many found their part time job morph into a career – just like I did.
I am thankful they are hungry for the right way to grow their retail sales business, whether that is hiring the perfect employee, taking a personality quiz to understand their employees better, or new ideas on merchandising and marketing their retail business.
I'm thankful independents are willing spend money on their stores so that customers will be wowed. Their holiday decorations may not be the easiest to put up and take down, but the best still go all out to make their store a unique, magical wonderland.
I am thankful that the independents who follow me have learned to work with their employees as equal human beings.
I'm thankful for franchises
I've never understood why some people feel franchisees are not as important as independent businesses. The individual franchisee usually has much more on the line due buildout location requirements, store design and the ongoing 6-10% royalties.
As a former COO of a startup franchise that grew to over 125 locations, I saw the value of having a franchise system. The franchisor had to codify what made their initial few locations' success duplicatable. With various owners coming into the franchise, franchisors need to provide guardrails for an individual owner to protect the system, but still give them enough options so they can drive their own sales.
I'm thankful when I walk into franchises that have their system so well taught that it delivers the best of what an independent business offers in a genuine way– a real person talking to another real person.
I'm thankful for malls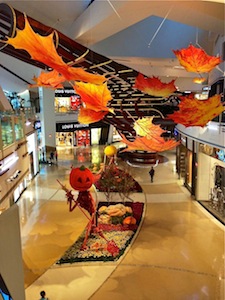 I walked into the Crystals Mall in Las Vegas a few weeks ago. It had stunning architecture, an amazing selection of upscale stores, and inventive common spaces. They had created a wonderful space.
The best mall developers have created some of the most wonderful shopping environments throughout the world. I'm thankful there are places where customers are insulated from the noise of their surroundings and, whether they buy or not, can feel like they are living a lifestyle of success.
I'm thankful for big chains
Somebody's got to push the envelope and that takes big money. Whether that is in the online retail arena or creating mobile apps – someone has to be the pioneer and they've done that. I'm thankful for their deep pockets that are able to adopt cutting age technology in a way smaller retailers simply can't. The larger chains are then able to bring the cost of things like digital signage down and that creates a new model for other retailers.
I'm thankful for luxury brands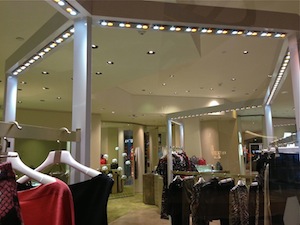 Let's face it, if there's no Better or Best the world is a fairly boring place. I'm thankful that there are still brands who fret over the 1/32 inch difference between their product and a competitor's.
I'm thankful for the luxury brands that trace their lineage back centuries to a time when few would ever see, or could much less, afford their goods. The ones that constantly look to show off their goods in the best way possible and to redefine luxury in a good enough world. Check out these high-end fixtures at a retail luxury brand in Las Vegas.
Summary
In a world of stay-at-home-on-your-couch in your torn underwear and shop on your iPad, all of these these retailers have focused on creating a space where the age-old process of meeting customers and engaging their senses in order to exchange money for products is alive and well.
All retailers whatever the size are just trying to figure out what the customer wants.
Trying to figure out what merchandise customers are looking for.
Trying to figure out what type of an employee will be welcoming and want to work there.
Trying to figure out what marketing statement will get people to walk in the door.
Trying to figure out the right location that people will flock to.
I am particularly thankful that, through retail, I found my own voice. And thankful for all of you who are listening today...
Retail gives us all, old or young, gay or straight, man or woman, poor or rich; the chance to practice our skills at talking with strangers. It allows us that chance to indeed be human beings, every day, every week, every month with hundreds of customers.
For that, I am thankful.

Read More About: