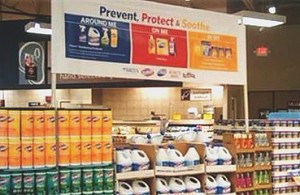 Ever wonder if great displays can really affect sales?
We all do.
This past week AMG Strategic Advisors released the results from Clorox, one of their clients, highly targeted display. Consumer Goods Technology covered the story in this month's issue.
What they did holds true no matter what size of business you manage and whether it is a grocery store, apparel store or other brick and mortar retailer.
Do Your Homework
According to the article, "Clorox first identified a gap between consumer beliefs and behaviors about disinfecting surfaces, and calculated that it represented $400 million in potential sales. The marketer next sought to understand shopper behaviors around preventive health products.
They discovered that most shoppers prefer to buy these products together and expect to find them in or near the pharmacy."
Takeaway: Don't just make a display but see if the need is there and calculate what it might represent to your bottom line.
Decide the Timing
During cold and flu season Roundy's supermarkets in Wisconsin, the Twin Cities and the greater Chicago area were looking for a way to increase sales by driving foot traffic to the pharmacy area.
Takeaway: Seasonality can make a big difference.
Select Your Products
AMG Strategic Advisors helped them combine a bunch of preventive health products within the Clorox brand including Clorox Disinfecting Wipes, Clorox Clean-Up Cleaner with Bleach, and Clorox Bleach. Clorox separated products and services into four categories: On Me, In Me, Around Me, and Help Me.
Takeaway: Find the main components of your display
Come Up With A Great Sign
Clorox knew they wanted a banner of Prevent, Protect & Soothe. Clorox does not have a lot of products in the In Me category, which focuses on food, and it used other well-known consumer products to fill out that category. With that sign and four areas, Clorox was able to promote additional items from different categories that complimented their own; they included Campbell's soup, Kellogg's cereal, Burt's Bees, Brita water filters and Dial soap.
Without the sign Prevent, Protect & Soothe, a customer could have looked at the display like some type of Highlights puzzle or wondering, "Why the heck is bleach with soup?" (see example at end of this post.) With the sign, it all makes sense.
Takeaway: Signage makes a display register with the casual observer.
Put Your Display In The Right Area
Shoppers had an easy-to-shop destination near the pharmacy area around the themes of preventing illness, protecting the health of family members, and soothing them if they did become sick.
Takeaway: A secondary role of a display is to get people to see things from around your store, not just the closest aisle.
Look For Your Proof
Clorox brands were up 16% during the program, led by Clorox Disinfecting Wipes which were up 154%. Higher sales for the other brands also meant higher sales for Roundy's.
Takeaway: Great merchandising creates displays that sell more merchandise.
Don't Do This
Contrast the AMG Strategic Advisors / Clorox example of a targeted display based on a lot of research, to this one at a supermarket that offers no rhyme or reason why Lucky Charms, Langer Juice and Reese's would be together except for a "2 fer $5" sale on the juice.
Geez...
Discover more tips how to merchandise your store with The Retail Doctor's Guide to Growing Your Business (Wiley.) Download a free chapter here.