"Coupons were a drug," - Ron Johnson, JC Penney CEO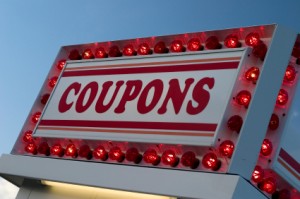 Beginning over ten years ago I was the lone voice saying coupons don't work to market a profitable retail business in my first book, You Can Compete.
When Groupon and the rest came in a couple years ago, I shouted even louder.
Still a lone voice.
But were my fans listening?
Sadly, not all of them.
One of them complained to me a few months ago, "Customers just won't come in unless we heavily discount." Today she told me that her store was starting the liquidation process and will soon be gone.
Could this same story happen to you?
The Drug of Coupons
Like some crack dealer in a dark alley, are you beckoning your customers into your store with coupons that bring immediate satisfaction, only had by "getting a deal?"
You gave them their first shot in the vein with a 10% off coupon, then more with 20% off, then even more with 40% off and the hybrid "Save 20% off our already 50% off discounted sale items."
The urgent need to bring customers back led you to offer more and more coupons.
Just like the addict, you refused to realize your system could not survive with such an unhealthy habit.
But the curious came. And they shopped. And you told yourself they came back because of you.
But it was really the drug of the coupons.
And as you offered them more and more, customers used them again and again. They relied on those coupons to make them feel smart at not "overpaying" the full price markup.
In order to offer so many coupons, didn't you increase your prices to offset the discounts?
JC Penney acknowledged they did by saying, "No more 'fake prices."
The trouble with drugs, besides their addiction, is that some day, somehow the addiction has to end. Either there is an intervention or a death.
JC Penney Reveals the Reality of Couponing
While you may have read my 7 Reasons Coupons Shouldn't Be Used For Your Marketing, you might have thought, "Yeah well, since coupons bring customers come in, I'll keep using them to market my retail shop."
That's what the management team of JC Penney must've thought for the past many years, as the lackluster brand seemed stuck with their coupon-based marketing.
That is until Ron Johnson came to JC Penney last year and found 590 promotions had been run for the brand, mainly through coupons.
Johnson's bold idea was to make Penney's customers go cold turkey, and he discontinued coupon use as their marketing tool.
His evidence seemed sound: Each promotion cost Penney's around $2 million and only brought in an average customer four times a year. Before Johnson took the realm, nearly two-thirds of products were sold at a 50% discount.
Hence, turning off the steady spigot to coupon-addicted customers.
Instead, JC Penney would now be a chain with Every Day Low Prices (EDLP). They reduced prices about 40% to the level where most of its couponed sales occurred anyway. That's because they realized they had essentially trained its shoppers to never buy anything at full price.
They launched a big ad campaign to explain that every day every customer could now get "the deal."
In essence, every day you could get the coupon price, without the coupon.
The media heralded the news, the stock jumped and the new ads ran.
Only one thing was missing…. JC Penney's loyal customers.
This past week Penney's shared the shocking results of their coupon-intervention:
Traffic down 9% during the week.
Foot traffic down 12% on the weekends.
Sales down 20% from the previous year.
28% decline in Internet sales.
Loss of $163 million for first quarter versus $64 million profit same time last year.
Ron Johnson's explanation? Our customer just doesn't understand our pricing.
And who's fault was that?
Squarely JC Penney's, that's why Standard & Poor's lowered the company's corporate credit rating to "BB-" from "BB" and placed it and other Penney ratings on CreditWatch with negative implications.
Without the coupon to give them their fix, customers have no immediacy to come into the store. So they weren't coming.
Hence the sales tanking.
And here's my point to retailers…
You have to remember how much money you have to make up to offset coupoining .If you never make full price on your merchandise, there is no margin to support the business.
Something's got to give.
How long could you last with your sales dropping 20%?
Looking at the merchandise in your store, could you reprice it to be 40% less? Would that attract enough people to stay in business? Would you be able to keep the quality of your inventory, your marketing and your employees?
Probably not. Something would have to give….
Listen to me, couponing is a dangerous drug. If you're using them, wean yourself off and give customers reasons to shop your store for full price.
Stop now to avoid saying later, "They won't come in unless I offer a coupon." That's the first step towards liquidation.
Don't say I didn't warn you...
To discover how to build your business without coupons, check out a free chapter from The Retail Doctor's Guide to Growing Your Business (Wiley.)
What say you? Are you addicted to offering coupons? Using them? What would it take for you to pay full price?