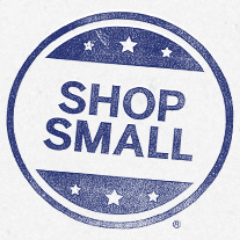 Small Business Saturday is here! Wondering where to find who is participating, how to register your card or other information? Here are your shop small answers:
Where can I find out which retailers are participating?
Merchants did not have to register to participate in the Small Business Saturday but those that day can be found in this interactive map based on your location or zip code found here.
How can I register my American Express card for the $25 credit?
You must register your American Express card here prior to your purchase and the promotion may have reached its limit so don't delay.
Are only merchants who take the American Express card part of Small Business Saturday?
No, this is a national movement and many small businesses are rolling out the welcome mat today November 24, 2012
Is there a Facebook page I can find out more?
Yes, go here https://www.facebook.com/SmallBusinessSaturday
How can I find out latest updates on Twitter about Small Business Saturday?
Merchants are encouraged to post their updates, offers, news about the day on Twitter using the hashtag #SmallBusinessSaturday.
The hype around Black Friday obscures the fact American Express has made shopping small and local an event in communities large and small across America. It has burnished smaller retailers and boutiques image in the minds of consumers.
And it has done all of it without expecting the merchant to offer disastrous coupons and Groupons and discounts - AMEX picks up the entire of cost of the credit to cardmembers who preregister.
Millennials in particular want to shop smaller retailers. This event brings them out and into merchants' doors...
According to the 2011 Small Business Saturday Consumer Survey by Echo Research, last year's Small Business Saturday drew over 100 million people.
And while AMEX did not pay me to endorse this event, I firmly believe every brick and mortar retailer should be taking their card.
For more on why I think Small Business Saturday is so important, go to my post from last year.