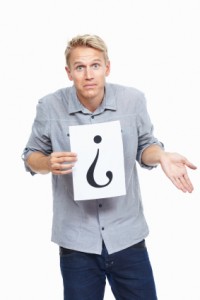 When we think of retail sales training, we rarely think of the most often asked questions of an employee. But the worst place to learn is in front of a customer where an employee is shamed for not knowing.
Here are six common questions posed to your employees, the thought behind the customer's question, how to correctly answer it and what to avoid so your retail sales training delivers.
1. If I buy this and I don't like it, what is your return policy?
What they're really saying is, "Can I get my money back?"
So start with that. If you do it, say it first, then clarify if there are any restricitions. No one wants to hear bumbling on this point so make it something like, "You can get your money back within 30 days with receipt, 7 days for all sale items."
2. Do you match price?
What they're really saying is, "Are your prices negotiable?"
If you do, be very clear how and when as they are looking for loopholes-particularly to get brick and mortar retailers to match online. You might say, "Yes if it is the exact make and model with printed proof of price and their restrictions, not online offers." Whatever you say, make it airtight as they can be demanding. You might even have your policy printed and laminated so if a customer keeps trying to find a loophole, the employee can state, "Here is our full policy so all your questions can be answered." You don't of course, want them to just hand it over and say, "Here, read this" with a snide comment or glare.
3. Can I speak to the owner?
What they're really saying is, "Who's here now that I can complain to or ask a favor of?"
Again, be clear of who is there now that can deal with them-don't put them off. You might have your retail employee say something like, "Jane is the person in charge right, I will go get her now. So I can brief her and save you time, may I ask what this is regarding?" No matter what they say, still get Jane. Otherwise the customer won't feel they received the respect they wanted.
4. Can I get some help over here?
What they're saying is, well, I need help - now.
Tell them what you truthfully can do about it – without excuses. So script your retail sales training to answer something like this, "As soon as I'm done ringing this customer up, I will be right over." If the employee can't, be honest and get their name by saying, "I'm sorry but it will be a couple minutes. Can I get your name? I'll be over [customer name] as soon as I'm finished. If for some reason I get sidetracked, please feel free to come get me." Why the customer's name? So they make a connection in a quick way. It's much harder to be demanding if you as a customer are being treated in a personal manner.
The dangers of asking, "Is it a quick question?" and answering, is that you just don't know – it could be a long explanation making the customer you are already helping take a backseat to the new person. That doesn't breed trust - in fact- just the opposite…
What customers don't want to hear in response to this question? "I'll get someone," or "Hang on," or "I'll be over when I can," or "We're shorthanded due to someone calling in sick."
5. When's your next sale?
What they're really saying is, "I don't think I can afford you and don't want to pay more for items that might be on sale next week."
Tell them something specific, "We have a twice-yearly sale for customers on our special list – you can signup right here for notifications in June and January." Then hand them a pen and a sign-up form.
If you have a rotating sale each week be specific, "We have about twenty items on sale each week but do not receive advance notice. We post those on Facebook the day they go on sale."
What they don't want to hear is, "You just have to catch us."
6. Are you hiring?
You should always be hiring.What they want to hear is the process, not simply "Yes" or "No." Remember, these could be potential customers some day so the way you treat them now should align with the way you treat your customers.
Train employees to say something like, "Yes, you can fill out an application here with your availability schedule on the top. Our manager reviews them each week. They will send you an email to acknowledge receipt and if they want to interview you, will call you."
What applicants really want to know is that their application gets reviewed so the additional step of emailing cuts down on applicants calling to "check up" on an application.
These six questions are by no means the only ones your employees should know how to answer but ones which, when well trained, will save time and treat customers properly and consistently. To find out more ways to create an exceptional experience, pick up a copy of The Retail Doctor's Guide to Growing Your Business (Wiley.)