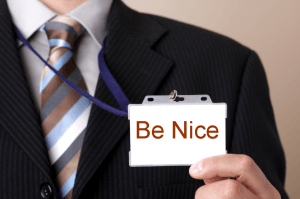 A sales representative at a trade show is first and foremost known for their knowledge of their products, but the really successful ones are equally known for their knowledge about their retail customers.
Increasingly, I'm hearing about how hard it is to sell to retailers - particularly at trade shows. So I asked a group of retail owners and retail buyers what their pet peeves were and what made a sales representative they would buy from. This is what they said:
DO
Care about the retailers who come into your booth or your showroom. Stand up when they come in and stay off the phone.
Follow their stores on Facebook.
Be nice.
Tell them how your product will solve their problems.
Ask questions about their businesses before making any recommendations.
Give them an opportunity to look around.
Say "thank you" and show appreciation for their business.
Know your territory. Knowing where your retailer's closest competitors are in their area.
Know about pricing and markup.
Take a stand and tell the retailer why a product would sell in their shop and be able to say why another wouldn't.
Be realistic with deals. If a retailer tells you that your product won't sell in their store, then offering them 3 free with a purchase of 6 doesn't change that.
Come prepared and with the right sales materials (price lists, available dates, opening orders, etc.); don't just tell them to go to your website.
Tell them how your product is different from the competitor at the table next to you.
Be sincere. Actually listen to what they say.
Know their margins on your products - including shipping.
Make a point of following up with a call every month, otherwise they forget about your product.
Respect their time. When you're making follow-up calls after a show, always ask, "Is this a good time?" and keep the call short.
Make them profitable before yourself. Loading them up with a large opening order can poison a new account if it doesn't sell. Remember, you want to see them next year at the same show needing more of your product.
Keep your promises.
Take it back if it doesn't sell within 30 days.
DON'T
Ignore the smaller accounts. They may surprise you and turn into one of your biggest.
Turn your back on them (literally), when you discover they are a "small independent." Just like any retailer, you have no idea what type of buying power a customer may have.
Just show the best sellers.... let them make up their own mind. They like to be treated as a unique.
Make assumptions about age. Millennials may be young but they are entering retail.
Make assumptions about ability to pay.
Tell them that everything will fly off the shelves. It won't.
Tell them they have to decide today.
Speak too much. If you can't explain your product in less than thirty seconds, learn how.
Be an order taker. Listen to what they need, then match your products to that instead of just following them around the booth with an order iPad.
Presume that you know more about the retailer's customer than they do.
Sit down. Professionals stay engaged with their products and their customers.
Call a retailer after the show and tell them you are upset that they ordered direct because your commission was reduced. Remind them at the show to call you directly to place an order.
There you have it, a window on what your retail customers want and don't want from you as a sales representative.
These retailers' answers should help any newbie or seasoned retail sales representative make more sales. And while it might seem easier to sell the big retailers, remember this statistic - 95% of retailers have just 1 location.
I know it can be tough to work a trade show floor, but the hallmarks of great customer service always revolve around what the individual … not the product… brings to the interaction.
Sales representatives, here's the overriding principle: You are being held to the same customer service standards that your brick and mortar retailers are. Be nice…
What do you think? Did I get it right? What would you add? Please comment below