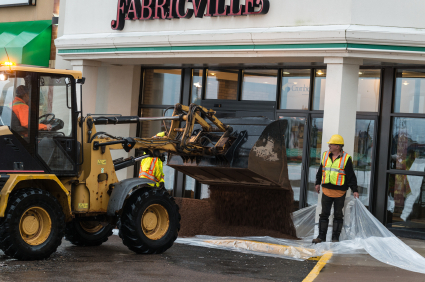 I was at the airport last week waiting for a flight, when I received this email …
"I've been following you for awhile and generally like your stuff. Could you consider running a series of helpful posts that tell people how to best recover from Sandy. You must have some constructive advice... what to do when your store is trashed, there is no flood insurance, and you're already hocked to the eyeballs and Christmas season is now. You pride yourself on helping retailers... here's where the rubber hits the road... let's see you pull your big boy pants on and get some seriously helpful postings from you. When the dust has settled, people will remember this info a shitload better than your usual 'types of personality' and unhelpful employees."
Wow.
While I appreciate the challenge, I'm not a miracle worker.
There are three types of businesses affected by Sandy…
1) The big-box or chain. While disaster may have closed their store location, they can draw from others to quickly restock and re-open. They have access to capital via the stock market and can do a lot of philanthropy at the same time.
2) The independent small business that may or may not have flood insurance, who has access to capital, friends, connections or a strong family network that allows them to rebuild, restock and re-open.
3) The independent small business who is hocked to their eyeballs, who has no access to additional capital, or alternatives for additional financing.
#3 is the most unsettling to see in the news. Like the small business owners interviewed here, I don't think recovery is about loans.
These small business owners may feel the costs are insurmountable, and for some, that may be the case. They were limping along prior, but now have no legs to stand on.
What small businesses fret most about is not having enough customers to offset their expenses. After a natural disaster, this is amplified.
These are the things I advise clients to do after any disaster:
First, if roads are open, make sure everything is clean and free of snow, water and debris both inside and out. Your store has to look inviting as ever.
While it may have been painful for you to not be open, it was also painful for your customers because they weren't able to shop. Remember you need each other.
Now more than ever customers will be harried, hurried and possibly harpy. Don't take your own bad mood out on them.
Consider using the hours you didn't pay employees when you were closed to stay open a bit later or open a bit earlier to help ease shopper anxiety. Update social media with what you are doing.
You're welcoming them to your home- remember that. If anything, the demands for an exceptional experience have been upped because they have less options to shop around. When they do purchase, get their contact information so you can keep more of your loyal customers updated on what you're doing to help them.
That said, Christmas is only seven weeks away…
This could be a golden opportunity to upgrade your store, your systems and furnishings, but that will have to wait until insurance comes through with the check.
After Wilma, Katrina and the great snowstorm of 2009, businesses that were able to re-open experienced sharply higher sales over the next twelve months as demand had been created to restock homes, closets and garages.
But you have to re-open to enjoy that.
There is no easy answer to my follower's email but here are my suggestions...
You have to look at what you can do to move forward. What will it take? Who you can ask? What contingency plans can you make?
Call on your trade association for advice and help. Could members outside of your trade area be willing to help you get merchandise in quickly? How about your vendors, can they assist as well?
Call on your Chamber of Commerce members to see if you could share space in one of their stores until you are up and running.
Whatever you do, don't get on TV talking about how you are ruined. People want to help people with the can do spirit behind them. Talk about your plans. About rebuilding. About getting your employees back to work. About taking care of your neighborhood. Even if you have to fake it, your customers want the hope in the story.
The focus clearly has to be, once your own home and your employees' homes are secure – getting your business up and running again.
Again, I'm not a miracle worker, but we really have only one choice – either we choose to look at how we can look into the future and make it work – which energizes us; or we give into despair which devastates us. Americans are known for picking ourselves up again and again - with the help of community.
And there's no better time to develop and nurture community than after a disaster. Don't try to go it alone.
What would you say to help Sandy-affected small businesses? Please enter in comments below.