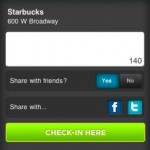 The Wall Street Journal recently ran a story, Mobile Apps Draw in Shoppers, Marketers. In it were highlighted successes such as this, "On the Monday after Thanksgiving, for example, Shopkick offered triple the regular number of reward points to its users at one retailer and found a 68% increase from the previous day in people using the app in participating stores."
Just more checkins is a success?
But if those checkins don't lead to additional purchases, what's the point?
Yet the story concluded with Martine Reardon, executive vice president of marketing at Macy's saying, "We think mobile is going to be the end-all and be-all of how we are going to communicate with the customer."
So mobile is the answer and not employees?
Terry Lundgren, CEO of Macy's reminded the audience at the National Retail Federation's Big Show in New York a couple weeks ago that retail was responsible for 1 in 5 jobs in the US. And yet Reardon said mobile is going to be the "end-all and be-all of how we are going to communicate with the customer."
That cold mobile app is a great way to make a store interesting but no way can it replace a warm, interested employee.
Dacher Keltner, author of Born to be Good says that rooted in our nervous system is a desire by humans to connect to one another. In a talk to Sustainable Brands he said, "In the study of human relationships and social networks, the prevailing view is that we connect to others because of a fear, an anxiety of isolation, of dying and the like and that moment of connection brings us a calming of that anxiety."
C-level executives need to take a hard look at mobile shopping and its implications: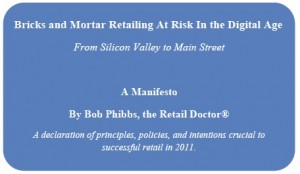 Technology will take the shopper out of your physical space.
Technology only works if you train customers to ignore their surroundings and shop solelessly.
An app can't react to a customer, an employee can.
Average check is bound to go down as customers only purchase a need that is popular- not their wants.
Technology is making stores into a live catalogue or worse...a car showroom.
Do you already see your store as a point and click app rather than a great retailer?
If that cold world is not where you want to be, view the introduction and download the full manifesto: Bricks and Mortar Retailing At Risk in the Digital Age: From Silicon Valley to Main Street now.