Marketing Won't Help If You Don't Know Who Your Retail Customer Is [Case Study]
July 17, 2016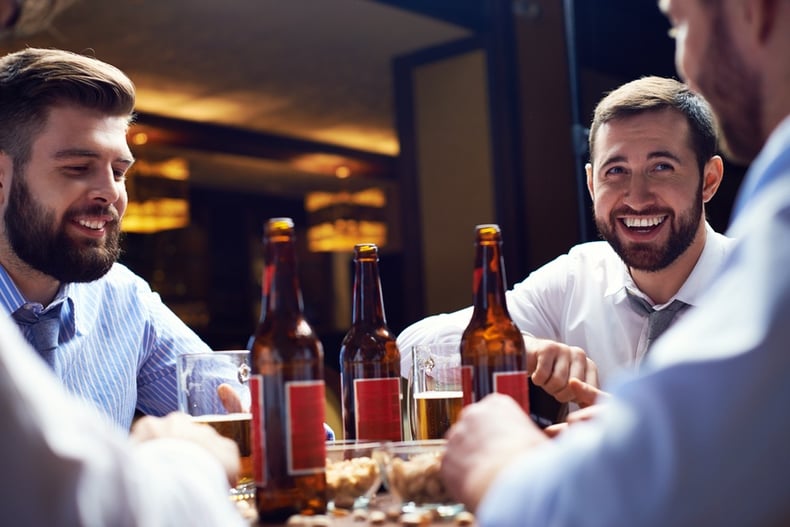 Imagine shooting an arrow at a target with your eyes closed and a hurricane wind blowing. I doubt you would hit the target, much less hit the bullseye.
Marketing is a lot like that because until you zero in on the bullseye of who your customer is, you will miss your target audience.
You have to have a very clear idea of who your customer is and who she or he isn't.
Everybody is not a target group.
Everybody is hard to reach.
You're most profitable when you know who your customers are and who they aren't.
Many years ago the Los Angeles Times asked me to a business makeover of Haute Links. The owner had written in for help because he was frustrated by the long lines he saw at the fast-food joints in his strip center. When I met Bryan in person, he asked me, "Why are they passing up my healthy, gourmet sausage sandwiches and premium microbrews when they don't have to wait?"
Those potential customers just didn't do what he expected.
He had plastered his walls with nutritional analyses that proved his private-label links made with ground turkey had less fat than the burgers, burritos, or subs available next door.
He advertised discounts in the local PennySaver and distributed coupons regularly. He offered $8 dollar combo prices to lure the deal conscious. But sales were flat. "Nothing has worked as well as I thought it would," he told me.
Mind you he didn't even use the word sausage on the menu because he was afraid it would scare off his potential healthy customers.
You'd think he was marketing cod liver oil.
Fortunately his sausages tasted great. And his average check was just south of $15.
I had to rather bluntly inform Bryan he had wasted marketing dollars on people who would never try his product, no matter how cheap, low-fat, or high-quality it was. He'd lost sight of his most important selling point: taste.
I asked Bryan to give me a description of Haute Links' target customer. Just so you know, that is a surprisingly difficult task for many business owners to answer correctly.
"Everyone," he said.
"No," I replied.
We took an informal survey that showed 90% of Haute Links' customers were men. Bryan had operated under the assumption that he could make a sausage eater out of anyone if he could just prove that his gourmet links had little to do with the fatty, snout-ridden sausages of old.
But that assumption was false. Haute Links' very factual approach to marketing, with its focus on health, nutrition, and deal didn't fit who his existing customers were.
To create a true marketing plan, Bryan needed to know more about his customers than just that they were men. I told him he had to get out from behind the counter and start asking each one why they came in, how often they ate there, what they liked or disliked about the experience, and what the business could do to improve.
He learned his current marketing lacked a focus on guys treating themselves to something they liked.
Now I'm sure his coupon had gotten the occasional woman who saw his discount coupons in the freebie throwaways to come in, but those $2 off coupons did not reach his target audience, the guys driving BMWs, Mercedes, and Lexus automobiles that drove into his parking lot daily.
There was no acknowledgement this was the only place within 15 miles that could give those guys what they wanted. No mention that Bryan flew in the special buns from Long Island every day because they were the right amount of sweet and topped with sesame to perfectly complement his sausages.
Once he understood that his real target audience was local businessmen who lived in the affluent neighborhoods nearby, everything clicked into shape.
We created a new marketing plan that focused his advertising on local businessmen, the taste of his sandwiches, and how close his business was to local business complexes.
He learned from one of his local businessmen, a top executive at a nearby company, how he could get Haute Links in for a tasting at his large, gated business complex.
Bryan liked that tip so much that he asked his frequent customers for the names of people who could approve a tasting in their company's cafeteria or an outdoor sausage barbecue in their parking lot. Business jumped by 20% that month.
Once he understood who his customer was, he focused his attention on finding more like them rather than wasting advertising trying to attract a different clientele.
Once you understand who those customers truly are and what they truly value in your place of business, you can do more with those who love you.
This owner had been trying to attract customers who had no interest in sausages rather than focusing first on those customers all around him. He came to realize it was worth it for his customers to pay almost $15 for a five-star lunch, rather than try to chase those paying half-that at the burger and taco franchises next door.
And how did understanding his customer first work for this business makeover?
Despite his initial skepticism, after he implemented my marketing recommendations sales rose by a dramatic 60%. Bryan was so pleased he said it was time for a followup article in the Times.
See also, Best Retail Consultant Case Studies Worth Reading
In Sum

Find out who your loyal customers are and then work to get more of them.
Never assume you know what your customers want, or worse, never expect to be able to educate them into something they are not.
Talk to those who are paying for your goods or services. It's an opportunity to create a valuable relationship that can result in more than the sale of a widget that day.
To really know who your customer is can be as simple as taking a quick inventory by brand of cars in your parking lot a couple times a day for a week.
It could be as complex as drilling down into your POS data to find out what are the top categories and consistent types of products sold at full price.
It could be as simple as asking your customers why they buy from you.
It could be as complex as looking at spending profiles of each of your top 100 customers.
It could be as simple as sending an email or posting on Facebook that asks questions or as complex as looking at which pages are seen on your website before purchasing.
But you can't fly by the seat of your pants thinking everyone is your customer.
Until you are willing to say, "That's not our customer," you're wasting your money trying to chase the deal seekers who hold little loyalty.
Unless you have a clear vision, you'll create a store only you and a few others want to shop. Customers vote with their feet. If they don't buy at full price often enough, businesses close.
Don't make assumptions about your customers when data is oftentimes staring you in the face.
Put your target customer into a couple of sentences and keep her or him in mind whenever you think of offering a new product, an event, a promotion.
You want them to show up first because they love you, and second because you love them back.
Read More About: