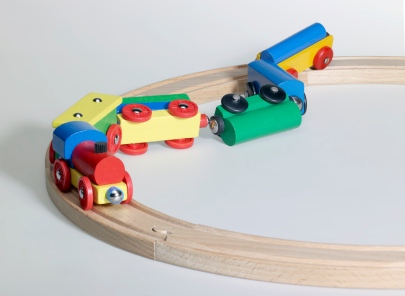 J.C. Penney, led by CEO Ron Johnson, warned yesterday it may be hurt after it fired employees while others left voluntarily.
"We now operate with significantly fewer individuals who have assumed additional duties and responsibilities and we could have additional workforce reductions in the future," Bloomberg reported J.C. Penney said in a recent filing. It continued...
"Combined with the company's newly decentralized management structure, the changes 'may negatively impact communication, morale, management cohesiveness and effective decision-making, which could have an adverse impact on our operating efficiency.'"
HOLY CRAP!
As you may know, when Ron Johnson outlawed drug-like coupons from J.C. Penney earlier this year, I was thrilled for the message to other retailers.
That said, I had known many older women who looked forward to coming to Penney's a couple times a month with their coupons and who enjoyed the thrill of the hunt. The brands may not have been cutting edge but for many, the merchandise was quite serviceable. Both the stores and online were doing fine. The company knew their customers and embraced them.
Because J.C. Penney had started as the Golden Rule Store, I wanted the transformation to work. I had written about and counted on them for great service and value.
And I'd read all the Ron Johnson's "it's working" press, seen his famous quote, "Lots of people think we're crazy. But that's what it takes to get ahead," I'd read the blogs saying it's working and giving assurances. All despite JCP's jaw-dropping losses.
That's why, when I began remodeling one of the rooms in my home recently, I thought of Penney's. I'd just painted over the funky grey-striped wallpaper, the drab grey wainscoting and the water-stained plaster.
This was a temporary fix before a whole-scale strip-to-the-studs next year. I had looked at new window coverings at Pottery Barn and Restoration Hardware but $150 a panel was too much.
Enter J.C. Penney...
Even though they reported their online sales down 37% in the last quarter, I went online, found the panels I liked at a store about an hour north of me, but since I didn't really want to drive that far to pick them up. I hit the order button. I received an email saying I'd receive them in 4-7 business days.
Hmm, not great but, OK. This was November 24. Sad to say they still haven't arrived, but I'm supposed to get them today.
So when I met a colleague for dinner last week, we toured the local J.C. Penney which had a few of the new shop-within-a-shops. Store Christmas decorations looked like something you'd find in a Rite Aid or supermarket.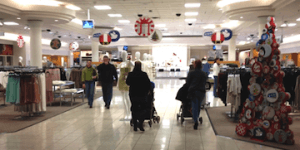 The giant paper plate graphics didn't make the store look merry.
At the front of the store was what appeared to be a purposeless abandoned cart. Try as I might, I couldn't figure out what it was doing there or what it was related to until I'd gotten past it. Apparently they were trying to provide free blow outs like the popular franchises. And to make things even worse, there was no one manning this very out-of-place cart in the highest traffic area of the store.
No greeter. No salesperson. No stylist. Nada.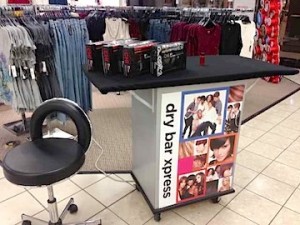 White mannequins dressed in unremarkable women's clothes were unpinned and looked frumpy with huge out-of-line price tags everywhere.
They were noticeably stationed in what were once the main arteries through the store. As obstacles, they took up (potentially) much needed room in the middle of the aisles, which would make moms with strollers have to navigate around them.
Compare that to Macy's. You notice the look, intrigued with how they put it together, there's something going on and a certain confidence. Don't we all aspire to look better? Price is not even shown.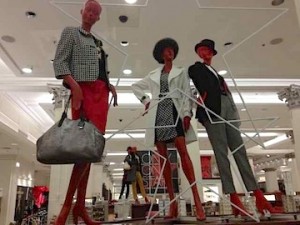 We walked past a dozen employees, who offered not one word of hello or welcome.
And everywhere -even though Ron Johnson had said that Penney's would be a place without sales and discounts, were signs showing exactly the opposite.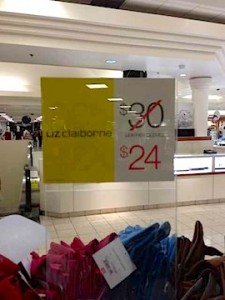 And still the merchandise sat sadly unsold.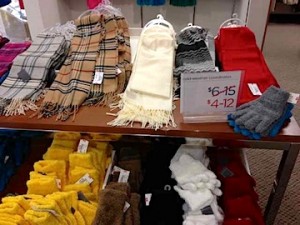 There was no one manning the new Levi's shops within a shop or Liz Claiborne shop - maybe that's why I found few people with JCP shopping bags in their hands showing they'd purchased something.
Update Saturday Dec. 8, 2013 JC Penney emailed a 20% off coupon this morning according to the Dallas Morning News. See the picture they posted on Facebook below. Notice the bottom, "This is not the actual coupon. Follow link to print coupon."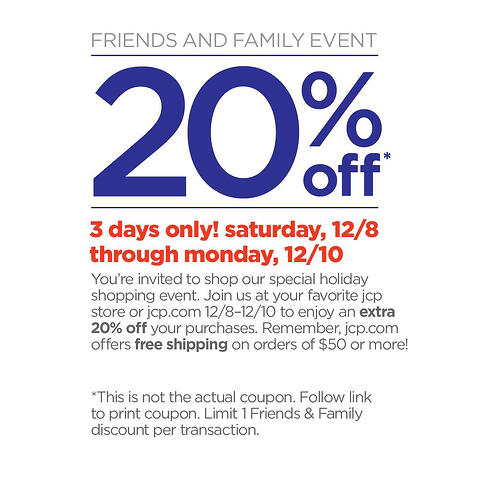 Geez...
And here are the lessons every retailer should be learning from the J.C. Penney train wreck...
This miserable transformation from one of rural America's bedrock retailers has all been about what Ron wants, not what JC Penney's customers wanted.
It's the hubris of having an untested vision that is built on oneself, not on those one serves – the customer. That results in the risks outlined in their recent filing. It's the people...
You need to find a way to be welcoming in the aisle.
You need to find a way to make your customer want to shop and buy and feel good when they are in your store.
You need to know that you can't equate bright colors, promotions, cheap decorations, technology and PR with a memorable, positive experience.
That comes from people and atmosphere and proper merchandising.
And that creates the interactive energy that makes customers want to buy and want to return. That makes a store that turns a profit.
What say you? Please enter in the comments section...
Want to learn the secrets of training your employees to interact with customers, sell your merchandise and like their job better?