Many times, when it comes to exceeding customer expectations and failing miserably, we can't see the forest for the trees.
With over 700 posts on this blog, I always have to find new ways to help you attract new customers, train your employees, and ultimately make more sales and more profit.
Today I'm covering luxury spas as a microcosm of what's right and what's wrong with most retailers, just like I've done for nursery centers and jewelry stores in the past.
That's because you can learn a lot by looking at the customer experience in a store or business foreign to you.
I'm hooked on the indulgence of getting a massage at a luxury spa after every speech; I need something just for me to help me unwind and relax.
If there's one type of business sorely in need of an upgrade, it is the luxury spa business.
I've had just about every type of experience at various spas...
Everything from a tiny old woman who stood on my back to work out the tension, to a young woman who just rubbed my skin and I believe mistook me for a turkey because it felt like she basted me with a gallon of massage oil.
The problems usually start when I call for a reservation and someone who does the bare minimum answers the phone. What kind of massage do you want? When do you want to come in? Male or female therapist? This person usually tries to book the shorter appointment by default. They seem distracted and afraid of the price of their services.
Nevermind mentioning their premium packages or unique benefits of their spa, they just want to get off the phone.
Those types are one step up from a cashier at a pizza joint. Scratch that, maybe a half a step up…
In general, I have found them to be the least welcoming, the least understanding of what they are selling, and the least interested in connecting with a client or anyone in the spa area.
Suggesting additional services? Fuhgettaboutit.
When I walk into the spa for my appointment – and I'm talking about world-class luxury hotel spas – there is usually no one else in the lobby. It's just me and counter clerk.
How am I greeted when I arrive? Can I help you?
Just like every bad retailer...
Now wouldn't you think someone walking into a spa lobby around the time of their appointment should hear Welcome, are you checking in for your appointment or are you considering one of our relaxing services?
Especially if they are a guy on a weekday afternoon?
But no, What's your name? How do you spell that?
Seriously? How many spellings could there possibly be - Fibs, Phibs, Phibbs - at that exact time?
Regardless if it is my second or fifth time at the spa, there is never any recognition.
I've learned that's because most spas don't run on a CRM that integrates with the hotel's. Or if it does, it only has the basic functionality to charge the room.
Big mistake.
If they did integrate, they could say something like, Welcome back Mr. Phibbs; I see you were with us a few months ago with Tony, and we're glad you chose to return.
It would help humanize the experience.
The goal of the front desk is to start the process of building trust and making the client comfortable.
I mean let's face it, you're paying a lot of money to lie naked under a sheet and have someone touch you.
That's not to say everyone who works at the front desk is bad.
I called a spa in an Atlantic City hotel and during the reservation, I told the friendly guy that I wanted the best masseur or masseuse they had. He paused for a few seconds, then said, "I've got the perfect one. Man, he's awesome."
I kidded him back, "He better be," and he shot back, "I pinky swear," which made me laugh.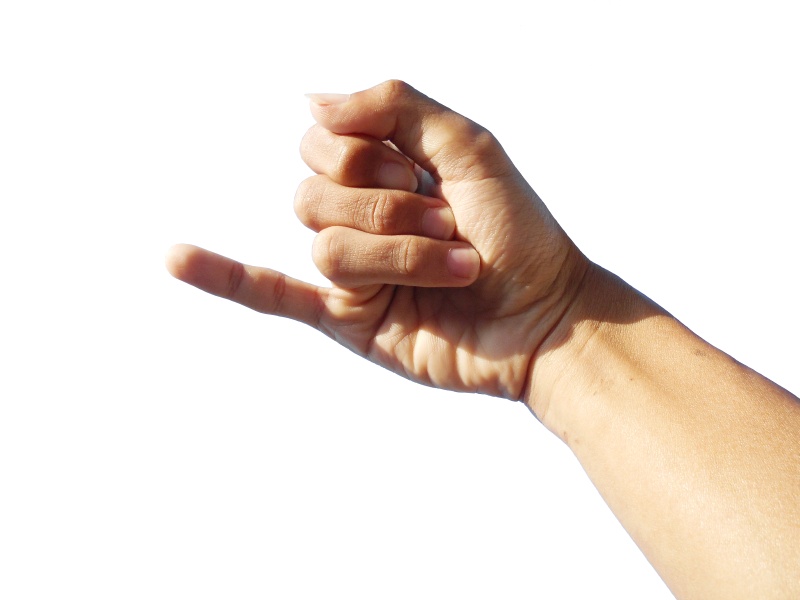 When I got out of my treatment, he was at the front desk and asked how the masseur did while holding up his pinky.
Perfect.
The best spas have a dedicated attendant who shows you around the lockers and amenities. But not a one of them ever mentions the take home area. Neither does the front desk.
The time to get people to consider your retail area is before they go in for treatment - when they have the choice of waiting and looking into the palm of their hand or at your carefully curated selection of upscale merchandise.
But that takes retail sales training for your front desk agents that includes some simple scripts.
By and large, the service providers are excellent. I mean really excellent. Most have been doing their jobs for years and have a loyal local following as well. Yet in all my years of going to spas, I have had only two therapists who mentioned the products they were using and had them waiting for me at the checkout desk. One was at the La Costa Spa in Carlsbad, and the other was the Pan Pacific in Vancouver.
I purchased everything that was waiting for me.
None of the rest did and their average checks suffered - not to mention their clients who could get more relaxation between visits by taking care of their skin at home.
How you finish the sale is one of the least respected parts of the sale. That's because...
How you finish the customer interaction determines how your customers will judge their entire experience.

Just like you want a retail salesperson to come around the counter and invite you to return - ideally by name - so too with a spa. It should never be just pay your check and get out.
And there's a new trend now that makes you charge your customer's credit card in full prior to their service. I've been told this is so people don't just walk out without paying. That lessens tips and assumes they won't purchase any products before they leave.
Which brings me to the abysmal retail section of these spas. It is appalling how little care is given to lighting, display and signage. See this one from a recent visit.
Some spa managers have candidly told me the therapists and front desk don't make any commission if they sell the products, so they don't bother to try.
No wonder the products sit; no one gives a darn whether they sell or not.
No one has set expectations.
No one is accountable for moving the product.
And in most spas, displays are confusing and hard to read anyways because vendors are charged with merchandising and setting up their own product line displays. Most display their luxury items close together like they were Axe deodorants at a WalMart.
Good sales training can help anyone sell the heck out of even the worst, dark, cluttered displays.
But poor visual merchandising pales to the lack of marketing most spas do.
I speak to large conferences at luxury hotels that have spas. Hundreds of dealers and vendors sit in terrible seating or stand all day on their feet. They would be obvious targets for the hotel spa to market to, wouldn't you think?
But no. Nothing.
Near every registration area, they should station their most friendly and engaging ambassador to encourage these soon-to-be-tired dealers and vendors to schedule a spa visit. Or they should give away a couple of massages each day. Or do a hundred things that speak to their customer service ethic... but spa managers don't.
And no, having a card in a hotel room for 10% off is nowhere near as effective.
So these beautiful world-class facilities sit mostly empty at the very time they could be hopping. The front desk attendant stands bored waiting for the call from a bridal party to book a spa getaway.
The retail gathers dust and no one notices, so the product expires. Then those creams, lotions and oils go on clearance sale in a basket looking decidedly dollar store and down market.
It doesn't have to be that way.
See also, How To Sell Luxury Brands, Products, Services
In Sum
In spas, as well as in most retailers, hotels and other customer-facing businesses, the customer experience most frequently goes off the rails in three areas: who we allow on the salesfloor, how we greet a customer on both the phone and in person, and at the conclusion of the sale. The products and the services are usually fine.
Take time and train your staff to understand what it's like to be a customer in your spa where a single service could cost more than the hotel room.
I've trained several spas how to deliver an exceptional experience. The customer is a visitor to your foreign planet. They may not speak the language. They may not know what you offer, and they may look a little like deer caught in the headlights when presented with too many options.
There is a new hedonism taking shape where people from all walks of life are spending on themselves today rather than waiting for tomorrow.
You've invested a lot in your facility, but you have to drive the customer experience and make it exceptional.
And before you can do that, you have to work to get them there.
Otherwise your beautiful spa in a remarkable hotel, on a spectacular property is a ghost town full of pretty products.