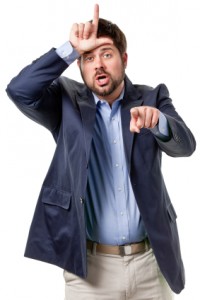 "How do you approach a customer?" visitors to my website often ask.
Not like this, I hope…
I had finished a speech to about 500 retailers and wanted to treat myself to a great meal. In the hotel where I was staying was a Ruth's Chris steakhouse.
Perfect, I thought.
I went up to the hostess station where two twenty-something women were standing. They broke conversation and one turned to me, Dinner? "Yes."
Just one? "Um, yes."
Taking another look at me she said, "Do you want to just eat in the bar?
"No."
Oh, OK. She led me back to the dining room (which was deserted by the way) and set me at a two-person table in the middle of the room.
"No, that's not going to work. Can I have this booth?" I asked as I moved towards it.
Uh, sure. I'll get your server.
I almost walked out.
I went from feeling invincible to feeling like a loser because a hostess – the one most responsible for embodying the spirit of hospitality – made me feel like some kind of loser going to a Denny's late on a Friday night.
When the server – who was great - asked about my experience at the end of the meal, I told him what had happened. I ended by confiding, "I almost walked out and that means your tip would have not been here tonight."
He said he'd talk to the manager then added, "I know we have a new girl who's only been here a couple weeks…"
I interrupted, "Do I care as the customer?" No, you're absolutely right.
This is a restaurant that caters to business guys. Whether alone or with others, we are the ones who are most likely to patronize their white, linen-covered tables, and order wine, desserts - the works.
What should have transpired?
If two hostesses are necessary and talking, they should never do it side to side so a customer can walk up and not be noticed.

The first thing the hostess should have greeted me with, "Welcome." Bonus, if she added, "Glad you could join us for dinner."

She could continue, "Will you be dining with anyone else tonight?" When I said no she could then say, "Excellent. We're fairly open right now, so you can have your choice of seating. Would you prefer a booth or a table?"

Bonus would have been to ask if it was the first time at the restaurant, where I was from, what brought me to the city, etc. as she was showing me to the table.
I share this story for those of you retailers and restauranteurs who still think marketing is where it's at. Those of you thinking we just have to get more customers in the doors. Those of you telling yourself, Our customers love us. Those of you trading on your history.
All of that brought the customer to your doors. But... a customer's opinion of your business can turn on a dime.
Your employee either welcomes the customer without judgment, without attitude, and without trying to peg them as being worth their time – or not.
There are too many places to buy too much of the same thing. Traffic counts are down across the board.
The best place... the only place you can differentiate yourself is within your four walls. Blow that and you blow all the years you've been in business and all the goodwill that has accumulated as a result.
See my SalesRX.com if this rings a bell with you.