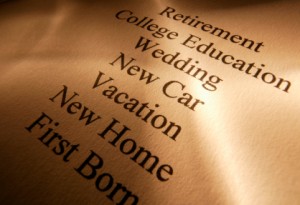 While customer numbers are down in many stores, retail is not a number of visits game.
Talk to any C-level executive and they'll tell you the most important number for retailers, the Holy Grail, isn't foot traffic, but "conversion rates."
Simply put, conversion rate is the ratio of the number of customers who visit a store in relation to the number who actually purchase.
While bigger outfits enlist technology companies to count foot traffic, you can do it in a very low-tech way by having someone keep an eye on the front door for one hour and make hash tags on a piece of paper for everyone who comes in. Keep it simple. A family of 5 is 5 people; even if only one is the real shopper. Then run a POS report for the same hour and divide the number of sales tickets by the number of people in the store.
How to boost you conversion rates? Learn and train what events in your customers' lives spark a visit to your store.
Here are 10 events that spark a need for your customer to visit your store:
1. They just moved to your neighborhood and are looking to replace their favorite retailer.
2. The item they had been using wore out.
3. They read about a new product and are looking to see it in person.
4. A friend had a positive experience and told them to check you out.
5. They received a promotional offer from you, from a brand or supplier,
and are looking to redeem that offer.
6. Divorce, marriage or death has meant the customer has to start over.
7. They have an occasion where they need a gift.
8. The season has changed.
9. They are treating themselves to a reward.
10. They have become dissatisfied with their wardrobe, vehicle, home, etc. and want to experience the thrill of a new purchase.
Are Knowledgeable Store Employees The Canard of Retail?
Here's the thing about Spark Events - your employees must be able to approach your customers with an open heart, with the goal of connecting, or else they will never learn your customers' spark events.
Why?
Because most people don't willingly volunteer such information to strangers.
My mom recently went to a new doctor. As she was telling me about it, I asked her, "Did you tell him everything that was wrong?" She replied, "I did not! I don't know him that well." Even though it would be in her best interest to give that information, she chose not to share it with him because she didn't trust him.
That's the case with most of us because, since we were very little, we were told don't talk to strangers.
And yet most employees assume asking, "Can I help you find something?" is an acceptable question to ask customers, who are essentially strangers, as they walk in the door.
That's why, when I do my retail sales training seminars, we brainstorm different questions that will lead customers to share their Spark Events.
One right question will elicit clues from the customer to help the employee–the salesperson–solve the mystery of what the customer is open to purchase that day.
We've come up with everything from, "What's your project today?" to "Where are you off to?"
You want to turn foot traffic into profit? You want to convert lookers to buyers?
It all starts with that one question to discover the Spark Event in their lives that brought them into your store on that one day.