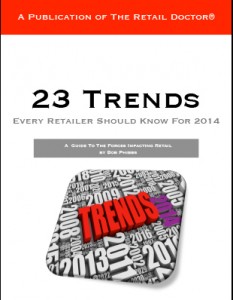 As the go-to expert for the retail industry, I'm keen to keep abreast of retail trends and share them with readers every year.
Here are five of the 23 larger trends. Since I don't work for a mobile provider, deliver POS or digital shopping solutions, or have any skin in the game as they say, it is an unbiased list.
If you want to read all of them as well as my insights about them, download my free special report 23 Trends Every Retailer Should Know For 2014.
The nation's economic outlook has vastly improved in recent weeks with signs of stronger job growth, bigger gains in personal incomes, and an improving housing market. Because of this, sales will continue to grow in 2014 for many stores.
Last year we saw how extended store hours mean practically every holiday will be a shopping day and with the UPS delays due to last-minute shoppers, online merchants discovered just how vulnerable online retailing can be.
That said, here are the first five trends you need to be aware of …
If you are a supplier, expect retailers to push for free shipping. If you are a merchant, expect your customers to push for free shipping too.
Mobile access will continue to be the topic of most retail news articles. But the hype still won't match the results. Yes, you will see many of your customers using their phones in your store, but only if you communicate with them will you know if they are shopping a competitor or just checking with the babysitter. According to IBM's recently released Digital Analytics Benchmark report, the trend of consumers using smartphones to browse but tablets to purchase showed almost 12 percent of holiday sales came from tablets while smartphones were only at 5 percent. 5 percent my friends...
Webrooming will offset showrooming. Customers are browsing online more and more at home and coming into a local store to purchase. This practice called webrooming is the opposite of showrooming where customers come into brick and mortar stores but purchase online. The danger to most stores is that the more you become a destination for pickup, the less important you are in the purchase process; you are a warehouse who happens to have their specific item. The opportunity for the smart merchants is to realize customers may have done the research online but what they have found isn't necessarily the best product to fit their needs. Again, engaging customers in conversation is the key to finding the right product for them and increasing sales for you.
Online training of employees will expand. Human Resource departments, C-level executives, and managers already know that trying to train every employee is too expensive. That opens the door to virtual video training which can give the same training over and over again until the learner is certified. Therefore smart retailers will upgrade their bandwidth speed to be able to deliver online video training seamlessly.
Big Data will struggle to be relevant. There is too much information streaming in and it doesn't point to a clear predictor of future purchase. Until the promise of connected data is able to be useful and not just interesting, let someone else be the pioneer.
Privacy gets fashionable again. Take Big Data's reach, the NSA spying case, and multiple network breeches, and customers will be looking for greater control of their personal information and who sees what. They will expect merchants to explicitly tell them in advance how that information will be used. If you are tracking customers' smartphones for example, be transparent and put a small sign that states what you are doing and how you will use the information to make sure you have the products your customers will like. Make sure you make it clear you are using their information to improve your store and not to invade their privacy.
These were just five of over twenty trends for brick and mortar retailers I've covered in my whitepaper, 23 Trends Every Retailer Should Know For 2014. You can download the rest below.