Exposed: Groupon For Small Business No Deal The Final Review
September 14, 2010
[This is an excerpt from my new book, Groupon: Why Deep Discounts are Bad for Business]
I believe discounting, couponing and the like whether through Groupon, LivingSocial, citywide365 or any of their clones are killing the freedom of private businesses to operate competitively for profit.
I believe these sites are the worst thing since Wal-Mart because they reinforce customer beliefs they need a deal to open their wallets. They're even more insidious; at least you could see Wal-Mart coming. While Groupon is only in major cities now, they are one of America's fastest-growing companies and they or their clones will be in your market soon.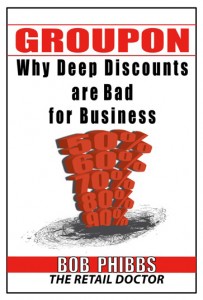 Every day as a business owner or brand manager, you can voluntarily cede control of your own destiny by settling for customers who either demand a discount – or say they will leave.
If you sign on with Groupon or their clones, you will be chasing those who said they would leave but have never spent a nickel in your store, perpetuating the mindset that "discounts to people who don't know you" actually works to grow your business.
This only proves there are cheap people out there – all at the expense of your business' profits.
You will you then have to make up your profit loss on the backs of your loyal customers.
Instead, tell those customers insisting you match a price, offer a "deal" or a Groupon,that you had a choice a while ago to either pursue price or quality and you chose quality. Its a choice your customers have appreciated for years. "That's because we've discovered, as I'm sure you have, that you truly get what you pay for."
You might even put that in an upcoming email along with the message "No Groupons - Ever." That way your best customers know no one gets a better price than they do.
Then go out on your sales floor with a new attitude, a new direction that says you won't settle, and I promise you, you'll find your way without discounting or couponing to people who don't know you, aren't interested in your success or who are trying to make every interaction "a deal." But you will have to look at your sales floor and change those things that may be keeping customers from returning.
You won't do that by playing Santa Claus, happily handing out your profits in the hope customers will return to you.
Or getting your brand loyalty hijacked to an online coupon site or blog.
Or chasing those selfish individuals who might profess to "shop local" but expect a 20% (or more) discount to do it.
Profit is what makes your business, your franchise, your very future work.
I want you to have more of it so we can stop reading about how America has lost our way or that our best days could be over.
That's baloney bullshit!
What we've lost is a respect for selling ourselves and our wares. And along the way, our self-respect as business owners. That's why so many businesses have become a target for the online coupon sites ready to have you give your all to their cause.
Wake up!
Your local retail, your main street, your downtown, your brand is being commoditized, swallowed whole and left wounded as more merchants sign up for Groupon and the rest.
You've all been through what happens when a dirt-scratcher competitor moves in. Like a neutron bomb, they low-ball your window fashions, your vehicle, or other business because they underprice and receive a much lower margin.
Even when they're gone and out of business, they've changed customer perceptions of your pricing structure. Inevitably they've also left a lot of problems because they didn't do a good job. When it goes bad, those upset customers come to your business. Since they know you also sold that brand they expect you to fix for free when you received none of the profit for it.
Or they'll expect you to lower your prices to what the competitor did because the business that went out made people believe theirs was the "fair" price.
Look at your numbers; you'll need to make 20% more sales if your margins drop from 50% to 40% just to replace the lost profits.
It would mean you'd have to increase traffic 40% if you sold one out of every two people who came in. Most businesses' closing ratios are a fraction of that; you could potentially be working twice as hard for no more return on your investment.
And whether you are a big-box retailer, a mom & pop or a major brand like GAP, if you continue to trade your prices down, only the online coupon sites will be profitable.
But do you care if its your competition?
A Nasty Tip To Use Against Your Competitor
Sign up for Groupon and all the rest in your local area.
Yes, you read that.
Then monitor their "deals of the day." When your desperate competitor's offer shows up, buy it and tell your friends to get as many deals as you all can.
Call or use them up whenever demand will be greatest - thinking busy Saturday or the holidays
Be as miserable as you can as a new customer.
Demand more for paying less.
Wave the Groupon or whatever discount around and tell everyone in line what a "deal" you are getting.
Accelerate their learning curve that coupons and discounts destroy profits.
In all seriousness though...
My Challenge For Your Business
Will you stand out in your market today?
Be the restaurant everyone wants to go to because the food AND service are so great?
Be the spa that gives the very best massage and follows up better than anyone else in your neighborhood, city or state?
Be the retailer with only the best of the best of your merch?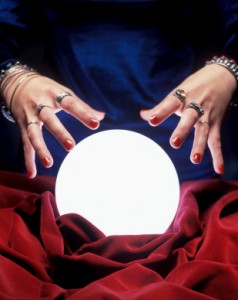 Be the hotel that reclaims the hope and spirit of hospitality that got you where you are now?
I hope so because the future of the retail industry is in your hands. If you're looking for a speaker for your next event that can focus attendees from online discounts like Groupons and other coupons to creating an exceptional experience and selling their merchandise, I'd appreciate the opportunity.
I'd also appreciate your tweeting or FB ing this final review to your association or other partners in your success.
Thanks for spending the last several weeks reading my thoughts.
Now I'd like to hear yours...
This is an excerpt from the new e-book, Groupon: You Can't Afford It-Why Deep Discounts Are Bad For Business
Bob Phibbs, the Retail Doctor®, has helped hundreds of businesses in every major industry, including hospitality, manufacturing, service, restaurant and retail. He is a nationally recognized expert on retail business strategy, customer service, sales, and marketing. With over thirty years experience beginning in the trenches of retail and extending to senior management positions, he has been a corporate officer, franchisor and entrepreneur.
[Update 11-4-11 Checkout my new post The Groupon IPO - Bad News For Main Street? ]
Read More About: