Groupon Review For Business: Fallacy of Converting Users To Profitable Customers
September 07, 2010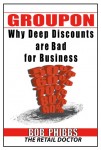 [This is an excerpt from my new book, Groupon: Why Deep Discounts are Bad for Business]
In the first blog of this series, several people commented it was incumbent on businesses that used the Groupon, Living Social and Restaurant.com, and other online coupon companies to have ways to capture those customers.
And how exactly do you expect that to happen?

After they've used their $125 worth of men's clothes for $50 "deal-of-the-day" you're going to ask them, "Do you want to be on our mailing list to get first notice of sales and special deals?" You're sure to hear, "No thanks, I'll wait."
Yeah, wait for whoever has a better bargain. That's because the bigger the discount, the harder it would be to convert them to your regular prices.
Why? Because you've taught them that $50 is really the price of your $125 services. Anyone can infer from the recent GAP promotion that their margins are so high they can "afford to do it."
The fallacy of trying to make Groupon or other online discount program users into your customer is the fact they are already someone else's customer. More about that in a minute...
So if you want them to be your customer, you're going to have to do a better job to capture them than the first. That means an even bigger discount.
Look no further than Groupon's own case study on The Sporting Club in La Jolla, CA that gave a $425 value for $29. (It appears $425 is arrived at as a four month plan since their website says a month is $104.)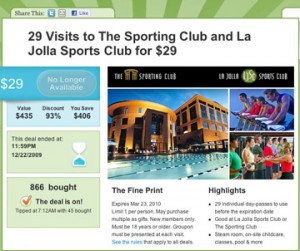 To get Grouponers to stay, The Sporting Club gave them an additional month free $104, and waived the $500 initiation fees if they signed up for a year-long membership. (Health club industry has more about how these deals have caught on and listed out the figures.)
The Sporting Clubs great "conversion" was $16,000 for 23 memberships. That is an average of $695 a year or about $58 a month. Normally, by their own admission of $104 a month this should have been $1248 + the $500 initiation fee + the free month = $1848 or $154 a month.
That is a 63% discount!
Even in a gym where your fixed costs are much less than a retailer, is that a profitable deal?
What are the owners paying salespeople to sell exactly?
The club's Membership Manager Kelly Tobey was quoted in the Health Club industry article, "Most of the 2,500 members at The Sporting Club didn't seem to mind having new people in their club, Tobey says, even though they paid far less for the discounted memberships than the current members. 'Some members made comments, but they understood it was for a short period of time,' she says."
Right. I'm sure when its time to re-up they'll "understand" as well. According to their discussion board, Sporting Club has used Groupon more than once.
Anyone paying more than $695 would be a fool - wouldn't you think? And what will that do to the fitness club's long-term financials?
Groupon's Their New BFF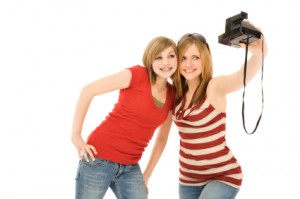 Another aspect these online discount sites are banking on is they can use your local premium brand and your own customers will say, "Hey that's a great deal."
And they're going to tell their friends all about the site – not you - because they have to tell enough of their friends to get the "deal-of-the-day."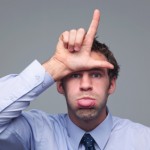 And suddenly you've been usurped, lost, moved to the back of the bus, seen as a loser because their new BFF gave them a deal you wouldn't.
Follow Groupon in your city and you'll notice most are spas or salons. The deal may change but if you want a cheap massage, haircut, tooth exam someone will give you one tomorrow if you miss the one today.
Commoditization
These merchants and service providers have been commoditized. It's no longer a brand, its an interchangeable generic service or product-fulfiller.
It is amazing that several merchants who've signed on to these sites put "new customers only." That only magnifies the stupidity...
You're going to alert and punish people who are already in your database for making you successful enough that you can reward other people who don't know you and who have never given you a dime?
But wait there's more...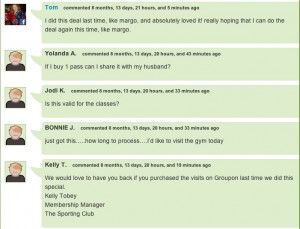 Checkout the Groupon discussion board for the Sporting Club's offer. People are saying they didn't signup for full memberships after the last one, could they use the new Groupon offer again?
The club's "out of the box" marketer Tobey replied, "We would love to have you back if you purchased the visits on Groupon last time we did this special."
Crazy!
Tomorrow: Part 7: The Need For Immediate Rewards
This is an 11-part series on Groupons and their ilk, discounting and couponing in general and why they are all so damaging to your business. That's whether you are a large brand like GAP or a regional chain or local independent retailer. Here are the previous posts in case you missed them:

Bob Phibbs, the Retail Doctor®, has helped hundreds of small and medium-sized businesses in every major industry, including hospitality, manufacturing, service, restaurant and retail. He is a nationally recognized expert on retail business strategy, customer service, sales, and marketing. With over thirty years experience beginning in the trenches of retail and extending to senior management positions, he has been a corporate officer, franchisor and entrepreneur.
Learn how to improve your business with The Retail Doctor's Guide to Growing Your Business.
Read More About: