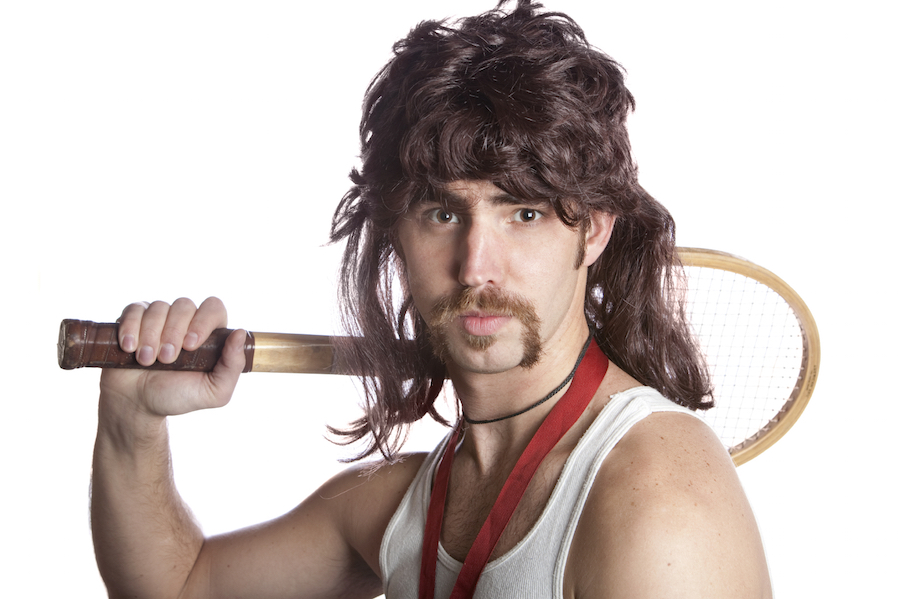 Are you doing everything you can when you are marketing your small business?
If you still use Hotmail or other free email providers, I would suggest not.
Most people use a @Hotmail.com, @Yahoo.com, @AOL.com or similar account because it's free and they've had it a long time.
And while you may have had a happening mullet hairstyle in the 90's, just because you got it then, doesn't mean you should keep it now.
The idea for this post came from someone who was trying to download a piece of content from my site, and when it wouldn't let her register because it was @hotmail.com account, she complained, "What do you have against Hotmail? Why should I incur yet another expense for my small business if I can get email for free?"
"First off," I told her, "it is hardly just another expense, it is your brand."
"But I get it, email is probably the last thing you think of when it comes to your marketing. But it shouldn't be…"
Your customers are 9x more likely to choose a business with a domain-based email address over a free domain.
That's Nine Times.
If you already have a business domain name, adding email to it might cost, at most, $50 more a year.
And if you don't have your own domain stay with me...
When you look at the advantages of using your domain name for your email address, you'll see why you cannot afford not to have one.
Here Are Three Reasons To Have Your Own Domain Email:
You'll look like a business #1. Although an AOL or Hotmail address might technically work, using one for your business makes you look as outdated as a fax machine. You look less established and less serious about your business. In addition, many companies block Hotmail, AOL, Gmail, because of spam issues.
You'll look like a business #2. When your email address is your domain name, it helps market the name of your business every time you hit send. You want to put your brand out in front of everyone you send an email to. Right now you're marketing another company.
You'll look like a business #3. Customers you've contacted by email don't always remember how to find you again – especially if they are new customers. But if they have your business name in the email, they can search your business online and then contact you.
How do you get a personalized business email address? If your business has a website, then just ask your ISP to set up your email address within your domain name.
"MyCompany@yahoo.com" always looks less professional than "someone@mycompany.com," but what's even worse?
People who use what appears to be a family email address like allourkidsareblonde4@hotmail.com or something they created when they were in high school in the 90's mulletsforever21$@aol.com.
If you want to be taken seriously as a business and not as a hobby, understand...
Having your own domain name is even more important than your email address.
Heck, even a 9 year-old with a lemonade stand has her own domain and email.
But here's one of the biggest reasons to have your own email address on your domain…
Your emails can look like spam.
Approximately 69% of receivers decide whether they will report an email as spam or junk based on the subject line and sender's email address.
Final thoughts
Email is still the primary way business people communicate.
So if you are using email marketing for your small business and sending out a monthly newsletter but receiving low open rates…
If you are complaining about how to get your name out to your community…
If you are trying to attract customers on the web with limited results…
Consider it may be from the simple fact that you are using a free email provider because you don't have your own domain.
What's important is you can simply fix it ... once and for all.
And when setting up your email, make your email address something easy. If you're a small company make it something simple like firstname@domain. If you are larger, then a first initial, period, and last name always looks professional.
Oh and one more thing, a number of studies have shown sending emails from an actual person increases both the open and clickthrough rates. And that makes sense, recipients feel more of a personal connection so don't use info@ your domain or donotreply@ if you want to carry through your personal service on your salesfloor.
And one final point about domains...don't be stingy and buy your domain name for only a year. Search engines want to see you as a stable business, so buy your domain for at least two years and set it up to auto-renew.
See also Don't Make These 5 Email Mistakes Like I Did
I expect most everyone who reads this email has their own domain with accompanying email address, but if you know someone who is still using a free email address for their business, forward this post to them or share it on Facebook.
And no, I do not have a vested interest in any of these companies. I do however have a vested interest in making my readers the most successful they can be…