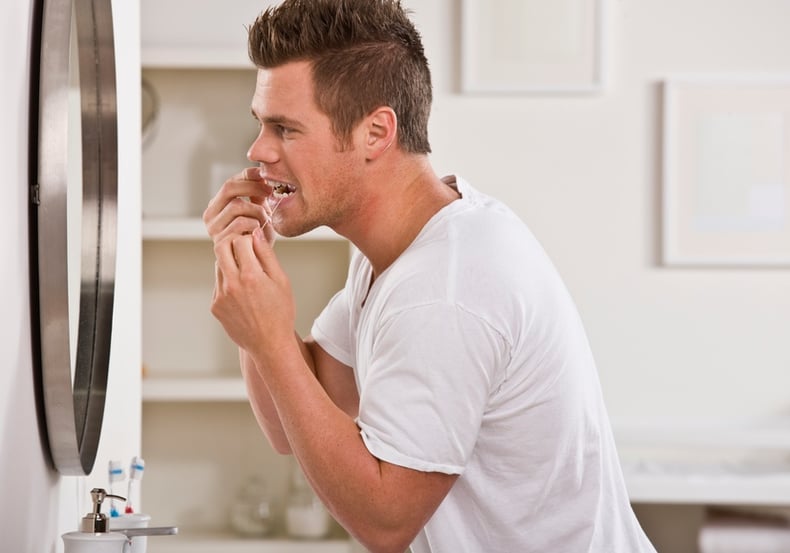 Customer service training and dental hygiene, what's the connection?
I'll get to that retailers…but first…
Do you floss your teeth?
I doubt it. Yet you've heard all your life that you should do it; your dentist scolds you each and every time he sees you.
That used to be me.
I thought it was normal to have my gums bleed. I got used to the discomfort.
Until four years ago when I met a dental assistant…
She put it to me bluntly, "You have developed pockets between your teeth and your gums, and the bone is beginning to show. If you don't floss, you'll have to have surgery to correct it – or lose your teeth."
That's when I started to floss.
After all, my livelihood was derived from my speaking to audiences. If I was in pain, I'd be distracted. If I lost my teeth, I would look bad. That's why I started to floss.
It was that or lose my teeth. And lose my business.
I had to fight human nature where we hear something, understand it and still don't change.
That's why when you are training customer service or sales, that you must be vigilant.
It's not so much we need to be taught, as we need to be reminded.
We are constantly evolving. Our needs change. Our focus changes. Our minds only let in what we are ready to let in.
That's why every day, you need to have some kind of service or sales training focus to share with your crew.
Otherwise, they focus on tasks, not shoppers – the ones who pay their salary.
And they'd never be able to make someone's day like the young lady did a couple weeks ago at the Pan Pacific hotel in Vancouver…
The story
I had done a keynote for the Canadian Independent Grocers the day prior and was having breakfast in the restaurant.
The server had been efficient throughout the breakfast buffet and, seeing I was about to leave asked, "Would you like an iced tea to go?"
I said, "That would rock my world." She came back with my iced tea in a generic beige paper cup. I entered my room information, added a tip, signed the slip and returned to my room to make a call.
While I was on the call, I glanced down at my cup and discovered the server had written me a note. It said, "Rock your world."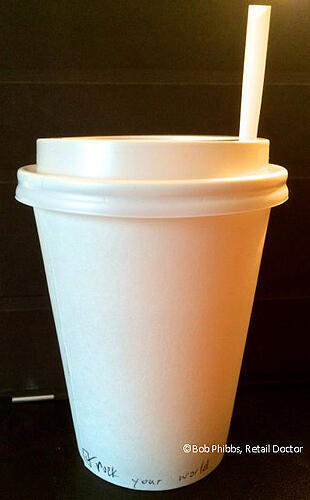 I finished the call and went down to tell the manager how surprised and delighted I was with customer service from the server.
He shared with me how he trains his staff every day to make their guests happy. I asked if I could praise her in person. He said, "Of course, I'll get her."
When I told Natalia how wonderful she was, she first apologized that her writing was a bit sloppy.
You can build a brand on a woman like that.
One who works daily to create an exceptional experience for visitors to your store.
One who smiles while doing it.
One who 'gets it.
But that doesn't happen by accident.
Yes, you can hire smarter.
Yes, you can and should train smarter... like use my SalesRX.com... just sayin'.
But it takes the daily focus on a stranger - how to craft an exceptional experience for just them.
So many retailers are anxiously saying their shopper counts are way down, conversions are way down, and their employees aren't hustling.
Their teeth are bleeding…
They know they need to train their employees to sell and give great customer service.
They've read the books (like mine).
They've gone to the conferences.
They know in their heart of hearts it is the only way to get ahead.
And yet they don't do it.
It's human nature.
But the time has come to do what you know you should do, or figuratively, you risk losing your teeth.
See also, Ten Retail Selling Tips
What to do…
Each day, not just once a week when you have a meeting, share a positive customer story, a salesperson story, or something real about exceeding a shopper's expectations.
The story doesn't have to be earth shaking.
Doesn't have to be you doing all the talking.
Doesn't have to be life-changing.
But it does have to occur each day if you want to improve your conversion rates and get your employees to give great service.
It's not so much we need to be taught as reminded what is important.
And now maybe, you'll also floss...