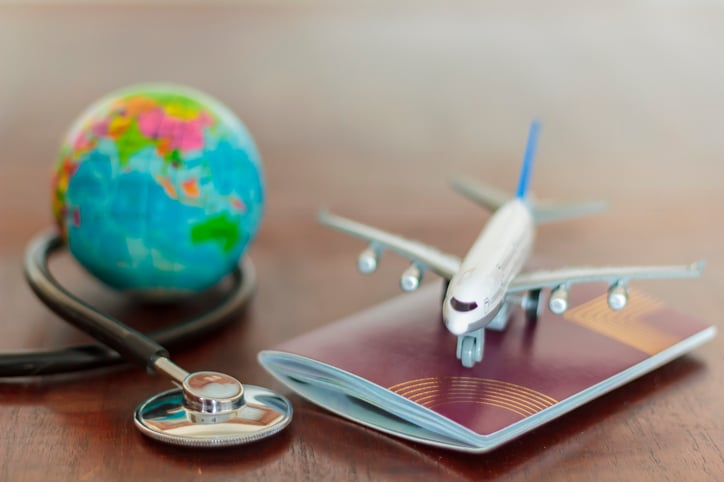 How to deal with virus outbreak? Most retail store manager training includes have to have sales meetings but when was the last time you talked about personal hygiene and cleanliness in your store? I'll bet never.
But with panic over the coronavirus, it is time you have that meeting. You need to allay concerns, calm fears, set out procedures, and take care of your people. The more time we spend focused on what we can control, the better we'll all come out of this.And before I get to that, the World Heath Organization noted that 90% of the worldwide cases as of Thursday Mar. 12 were confined to four countries. Yet the important thing is we are all trying to flatten the curve or spike of cases so the hospitals have time to react and not be overwhelmed.
To that end, the prudent thing for any retailer is to control what you can control and have a meeting devoted to health now. It's called leadership. Use this as your guide.
Here are 5 things any retailer should be covering with staff:
1) Panic. We are in the midst of a global health crisis panic and now officially a pandemic. Every social post seems to amp up the fear which has the potential to derail hospitality, food service, travel, and retail. If we allow ourselves to stay in fear 24/7 it builds stress which can impact our immune systems. It seems everyone will be hunkered down in their homes more and looking at co-workers, clients, and strangers as carriers. In some years, the flu kills more than 30,000 people in the United States but as the New York Times reports, we don't have an irrational fear of the flu because we understand it, have experienced it, and gotten better; we feel we know that threat.
To deal with panic, arm yourself with the facts. There is a lot of misinformation and scare tactics out there. You are the one your crew will look to so look to the WHO and the CDC for up-to-date information.
2) Personal hygiene. This virus, like the common cold and flu, enters the body through the eyes, nose, and throat. The most common way of allowing entry is by touching your face, your eyes, and your mouth.
Stop touching your face. Consider a scented soap so you smell it when you bring your hands to your head. If you must touch your nose, eyes, or mouth, use a tissue instead and throw it away. If that doesn't work, use the back of your hand.
Wash your hands with soap for 20 seconds. I know that feels long, but if that's what it takes, that is what it takes.
Wash your hands frequently.. Have an accountability partner to remind you to do this a couple times a shift.
Use hand sanitizer. Yes it works. Use it often. Make sure it's alcohol-based. It is still better to wash with soap.
Cover your sneeze. Use a tissue or sneeze into the crux of your elbow.
Use a towel. If your bathroom sinks aren't automatic, shut the faucet off with a paper towel as well as opening the door with a paper towel to stop the spread of germs.
3) Personal space. Don't go in for a handshake or even a fist bump anymore.The prudent thing is to allow personal space more and more.
4) Cleaning. Institute a daily checklist of cleaning and using a combination of household cleaners and disinfectants. You are much more likely to catch the virus by touching something that someone else touched after coughing into their hand. Keep sanitizer at all POS check-out systems. Check to make sure they stay full. At the end of all shifts everything should be cleaned using your usual checklists. Add extra time to your employee schedule and close ten minutes early so they do a thorough job. Wear gloves and throw them out after you clean the following:
All phones including your smartphones and "high touch" items.
Door handles throughout the day.
POS system. Most importantly, your cash drawer. Turn off the terminal before cleaning. Clean the outside frequently, clean drawer front, media slots, keys, locks and and manual release buttons. Remove the till and wipe down all bill hold downs, media storage, and bill compartments.
iPads, kiosks, credit card readers, printers, and anything customers routinely touch.
5) Sickness. I get it, many retailers are so understaffed to begin with that it's difficult for them to handle when someone calls in sick. But the days of telling people they have to come in are over. Yes, there's a fear it might open you up to people saying they're sick for their own gain, but public health and the health of your own staff mean you need to consider paid sick leave too.
Many employees come to work sick because they don't have anyone else to work the shift. Many employees may also come to work sick because they need the money.
Trader Joe's sent out a memo telling workers to familiarize themselves with symptoms of "many cold, flu, and other viruses (including COVID-19)," such as coughing, sneezing, fever, and shortness of breath. "If you develop a fever and symptoms of respiratory illness, such as cough or shortness of breath, call your health-care provider right away," the memo states. "We are encouraging Crew who are exhibiting any of the above symptoms to see a medical provider and not come to work."
The grocery chain is encouraging employees who have symptoms or do not feel well to stay home until they have been symptom-free for at least 24 hours.
At a minimum you should set the policy: Don't come to work sick. If you have a fever, you are too sick to work.
Consider a note on your social pages as to what you are doing in the face of the virus with training, cleaning, etc. You probably have gotten an email already from a large chain like this one from Starbucks, consider emailing your own list.
Knight Watch Games posted a message to their customers on their Facebook page which said in part, "We have discussed limiting the spread of the virus within our walls and have closely monitored the CDC website for protocols. Any employee or customer displaying flu like symptoms will be asked to leave. If you are looking to pick up a special order, but you're worried you might be sick, please stay at home and we can hold your merchandise for as long as is needed. If you absolutely want to pick up, we are willing to do "curb-side" service in which you can pre-pay for your item via web or phone. Then, just let us know when you arrive to the store and we will bring the game out to your car."
Consider limiting your hours too. With less shoppers coming in, this could be a great time to do a deep cleaning of your entire store. That way you're ready to welcome customers when this panic eases.
What we don't need is more fear, we need to know how people are managing the situation.
As of this writing, the virus has infected at least 127,863 people and caused at least 4,718 deaths as of Thursday, the US has 1000 cases of the coronavirus. Tom Hanks and his wife have been tested and show they have been exposed.
As a bit of perspective, the CDC has reported 13 million flu cases thus far in 2019-20 season with the percentage of deaths attributed to pneumonia and influenza at 6.9% mostly from the elderly and very young.
But everything is changing rapidly about this disease and you can't just poo-poo it and wish it away.
Your customers are going to be much less inclined to shop with you. Your employees will be afraid of standing too close to anyone. Your city like New Rochelle could be quarantined or even your entire state like Italy.
And while it may sound draconian, I've heard some say the best thing to do would be for us all to essentially stay indoors for the next two weeks to flatten the curve.
But what does someone do who needs your job to pay their bills? What do the retailers do if they can't sell their goods?
As retailers stop selling things, people stop using things, and people stop making things. You can see how once you go down that rabbit hole, you see how precarious it could all quickly get.
In addition, limit your watching the news to 15 minutes a day.

Don't dwell on it. We can't go back from this, we can only move forward. It's a new normal. We know personal hygiene, distancing yourself and limiting trips outside your house are what is now needed.
I have no easy answers and I am not a doctor - if you want medical advice, talk with your medical professional - but again, the time for saying none of this will impact your business is done.
In Sum
Hindsight is always good, it would be nice to think of having an antivirus vaccine, of steps we could have taken weeks ago, etc but it is what it is.
We'll get through this, but until then, it is prudent to change the way you do business. Remember, you are the leader of your store. How your crew reacts is based on your calm and reserve.
If you have only looked at cleaning when something looks dirty, consider adding the invisible – even after this virus passes, which it will.
And as Disneyland and all sports franchises have announced indefinite closures, leaders are saying to avoid going out and meeting people, it won't be long until malls and other shopping areas are closed as well for a start- two weeks.
In effect, your store is closed, you may just not know it yet.
But you still need to market to new customers, you still need to train staff, you still need to look at creative ways to get them to return more often and spend more once this pandemic retreats.
On an upside, I have to believe all this attention will ultimately make all of us much healthier in the long run.
And don't think I don't realize you are in fear of losing customers at this time. Know I'm there for you and we'll get through this too. Together. We always do.