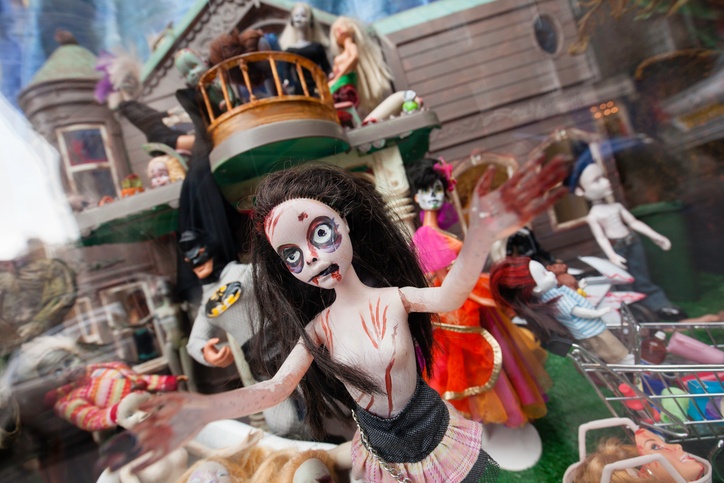 You can't open a webpage, a newspaper, or turn to your video channel without someone somewhere coving the story that Sears went into bankruptcy Monday morning ahead of a $134 million payment due today.
The easy narrative to write is they couldn't compete with Amazon.
Let's get this straight from the start…
Sears should have been Amazon.
They had the distribution network, vendor relations, brick and mortar stores, catalogues, relationships with vendors and most of all, a sweet space in the hearts of their loyal customers.
In my Facebook Live poll this past week, fully 90% of respondents said they had gone to Sears with their families when they were kids. The Sears Wish Book arrived in the fall with everything you could want for Christmas. All of our appliances and tools came from Sears. Sears wasn't always a zombie retailer, in fact far from it.
A bit of retail-relatable history…
Richard Sears was a railway agent. He received a shipment of watches that a local jeweler didn't want and then sold them to other station agents up and down the rail line.
Just like entrepreneurs in 2018, Sears saw an opportunity and connected his opportunity with a new market. Brilliant. By selling those watches, both he and his customers prospered.
Sears was one of the engines that established a middle class across the US through their employment opportunities, their being able to sell mass-produced goods in huge quantities, and their reach into both suburban and rural areas.
Sears was our store.
In the 20s, a new Sears store opened on average one every other business day.
in 1935, Sears built their Glendale, California store from the inside out. It was a groundbreaking approach that concerned itself with all elements of the store - tables, fixtures, space requirements for the different merchandise lines, customer flow, and width of aisles. Essentially, the store shell was built around the selling floor plan.
They were always innovating.
This is a picture of my dad in 1942. As he was getting his master's degree in Chicago, he worked in the Sears cafeteria and repaired small electronics.
Sears is also responsible for introducing the Discover Card, originally as a way to offer credit to catalog shoppers. The card's high credit limit and lack of an annual fee shook up the credit card industry, and it was eventually spun off into a financial company worth billions.
Many don't realize that Sears also revolutionized the insurance industry through their creation of Allstate, now one of the largest insurance companies in America. Following the success of Sears' Allstate brand of tires, they formed the Allstate Insurance Company and offered an entirely new way to purchase car insurance – through direct-mail.
Sears acquired Dean Witter and Coldwell Banker and together with Allstate, they were able to market a whole range of services under one roof for their customers who visited in the 80's.
Most importantly, Sears was considered the cream of the crop when it came to sales training. Beginning in the 40's, their employees had selling down to an art and were exceptionally skilled at helping customers purchase not only what made sense for their lifestyle, but also what was profitable for the store.
For example, if a customer wanted to buy the cheapest promotional washer, the salesperson would quickly run through the array of options at all price points, showing them how little they get on the low-end and how much more of what they really needed they get with the high-end. The promo model was called the golden spike because it was not there to move off the floor and if a salesman sold it, he was quickly gone.
Salespeople were trained to start at the top and use the benefits of the top-of-the-line model to show customers how the next model down would lose some of those convenience features. Sears made a profit, the customer got what they wanted, and everyone was happy.
Their catalogue pickup allowed shoppers with small children to order by phone or catalogue and pickup at their counter - decades before we called that BOPIS.
In the 80's Sears reinvented their beauty category by featuring photos of their own employees in all of their more upscale materials.
But when was the last time you heard of Sears doing anything new and innovative? Their most recent attempt at creativity was the laughable idea of letting people buy tires through Amazon and pick them up in a Sears store.
Oh right, and that dreadful Ship Your Pants promotion for Kmart where old ladies were saying "I just shipped my pants" quickly enough for you to think they were saying they did something in their pants. Viral? Yes. Sales generator? Nope.
If you're 16 you're still laughing and sharing it…
It's been so long since Sears has done anything noteworthy that most people don't even know that Sears was behind some of the most interesting advancements in customer service, insurance, and credit cards in the 20th century.
We can barely remember a time when customers used to flock to Sears because they knew they would get what they needed at a good price with help from a store employee.
Unfortunately, Eddie Lampert's long reign of poor leadership has steered this once revered retailer into the ground. Lampert was the mastermind behind the Kmart deal, and choosing to merge a company in decline with one that had already hit bottom may not have been the smartest move. He became landlord, manager, bank, and vendor. He parceled out the company into dozens of divisions and created an expensive, massive bureaucracy.
Lampert's legendary focus on making money off Sears' real estate had nothing to do with what the core function of the business should have been – selling to customers. Number of employees per location were halved, registers were moved towards the doors, and employees were told not to move. Service went out the doors along with shoppers.
And that brings us to where we are today...
Like Glenn Close's character in the movie Fatal Attraction, Sears will likely attempt some sort of last minute resurrection, but the damage is done. Sears customers are already at Target or Walmart, or they are ordering from Amazon.
Those older shoppers who felt Sears was their store found other places with a wide selection of affordable products that makes them feel good when they leave the store – something that Sears has long neglected to do.
Which brings me to you…
The danger of saying it is Amazon's fault you aren't more profitable today or they are the reason you have fewer shoppers walking through your door allows you to think things are out of your hands.
Not so.
Here are five questions to ask yourself based on Sears' cautionary tale:
Sears stopped thinking about their customers. The foundation of their culture was built on customers' aspirations and their desire at having the good things in life. Their salespeople were there to help them achieve it. When was the last time you had a sales meeting where you talked about the customer and helping them do more with your products?
Technology won't save you. Sears started a social shopping site, Shop Your Way, that tried to incent people to shop with them. They also put iPads in to almost 450 Sears and Kmart stores for associates to bridge the online/offline. At its core, technology can help assist but it can't substitute for knowledgeable, friendly store associates. Is the technology you are using in your store helping improve customer service or is it there to allow your employees to be lazy?
You have to invest in your physical store. No gimmicks can make up for an unwelcoming, dirty, tired, old store. USA Today reported that Sears spent just 91 cents per square foot in capital expenditures, while Best Buy invested $15.36 per square foot in the same period. When was the last time you took your store down to the studs?
Marketing won't save you. You don't invite people to a party that's no good. Sears had some very smart marketing people present an altered reality of the brand that was pretty funny as in this commercial. They have a YouTube channel – who knew? – that actually has some good information. What shoppers found in store though were too few employees, more discounts, and too many out-of-stocks. Have you done mystery shops to see if the image you are marketing is the actual reality in your stores?
Products have a shelf life. A recent shopping trip to Sears found boomboxes that took CDs and speakers that could only connect to iPhone 4s. You can't hang on to old merchandise just because you have it. When the market for items you once sold moves, your buying needs to not only change, but you must get out of that market. When was the last time you combed your category report for laggards and acted?
And let's not forget, Sears was struggling before Lampert grabbed it by the neck.
The retailer was known for its Diehard, Craftsman and Kenmore brands that catered mostly to men shopping for home-building products. In the 80s, Sears tried to go after female shoppers with their Softer Side of Sears campaign to change their shopper and attract more women. It didn't seem to mesh with the appliances Sears was trying to sell as shoppers turned to GAP and others instead for their apparel needs.
It is always better - and far less expensive - to go after more of the people who already resonate with your brand rather than try to go after an entirely new one.
See also, 10 Ways To Sell More and Increase Sales in Retail
In Sum
Finally, the Sears bankrupt retailer story is all about hubris. It seems Mr. Lambert wants to take the pieces of the company for himself, even now as it stares into the abyss of bankruptcy after he has shuttered more than a thousand stores over the past decade.
And how about its 68,000 employees? Their fate and the 100,000 former employees still receiving a pension remains uncertain as bankruptcy could trigger one of the biggest pension defaults ever since Sears' has gone underfunded for years.
The very people who built the brand to become our store will be hurt the most.
No brand gets to the top or stays there without visionary leadership, not Sears, not Toys R Us, not Target, not Amazon, not you. Since 2012, Sears losses have topped $10 billion. You can't turn a blind eye to your losses and operational failure; it's like rearranging the chairs on the Titanic. Eventually the deep water overtakes and capsizes you.
But success can be yours if you are looking at the core of your offering. Do you hire people who are trainable, who are willing to go out of their way for a shopper? Are they trained in a way to engage the person who drove 10 or 20 miles to visit your store? Is your product assortment fresh? Are you innovating with new ways to remove friction from your selling process and convert more lookers to buyers?
And if you can't answer some of these questions, can you at least take responsibility that what is happening is happening on your watch, and then do something now to correct it?
If so, you won't be claiming it is anyone's fault but your own and you know the upside of that?
You can change it with the next shopper walking in your doors.
Get to work. Know who your customer is and who they aren't and rally your team to become our store.
The clock is ticking…