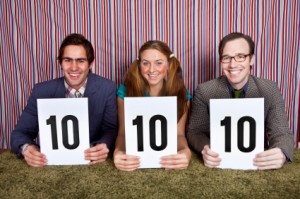 Your retail business is important and you want employees to do the job you need them to do.
With the right retail sales training skills, you can have a better staff, higher profits and better customer conversion rates.
So, what can you do to have better retail sales training?
5 Foolproof Ways To Boost Your Retail Sales Training
Hire a trainer.Don't hire just anyone; make sure this trainer knows what he or she is doing in the areas that you need to educate your employees in. This trainer should be used distinctly for training purposes, which means he or she will not be a normal employee. Training should be his or her only job and only purpose. This way, he or she will be educated and trained to teach your employees the jobs they need to do, not concerned about doing 200 other things on the job.

Make sure your trainer is qualified. Your trainer needs to be able to prove that he or she is capable of doing the things he or she is telling the students about. If your trainer is trying to teach something he or she doesn't understand, it's useless. Your trainer also needs to know how to teach sales. Knowing how to work and teach are two completely different areas.

Change your focus and your budget. If you're trying to work at the same time as you're trying to train employees, you're in for a rough time. You're kidding yourself if you think OTJ (on-the-job) training works. You can't properly teach while you're working, since you won't be focused on helping your students learn - neither customers or trainees get the attention they deserve. Hire someone who can do the training or be sure to have extra staff on hand while you're busy.

Don't try to train the untrainable. Make sure new employees can follow directions by teaching them to do basic tasks first. These can include cleaning skills, stocking skills, and other areas that need to be done but don't need a lot of training. If they can't clean a shelf, a display or a window well, let them go. They won't comprehend the subtle soft skills of selling to various personalities.

Get help if you need it. My online sales training program SalesRX.com is ideal for those who want to add a sophisticated retail sales training program without adding an employee. The certification programs make sure your associates know what they are doing before they are out on the floor with customers, which helps make sure there are less accidents or problems.
The good news is you are considering making training a priority in your business. Download all of the benefits of SalesRX below...