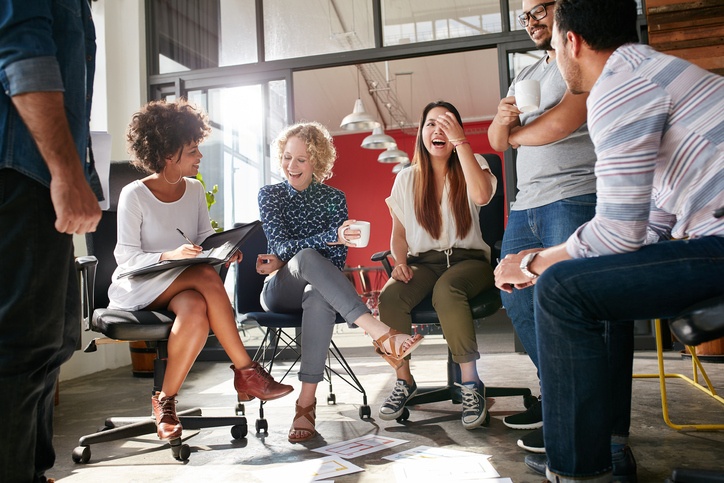 Holiday preparations for stores should be in full swing this week. Twenty-six years ago today I was planning the most important last minute detail - getting my employees motivated for a great holiday season. I held a breakfast meeting the Friday after Thanksgiving to get them pumped to meet shoppers with a sense of urgency and authenticity. Maybe that's part of the reason I received the highest increase in sales from South Coast Plaza, the nation's #1 mall.

Here's why I did it...

After every Black Friday weekend, there are headlines announcing that there were not enough shoppers in the stores, that Black Friday sales were disappointing, and how that spelled trouble for the holiday season.

It's the same story every year - trust me.

The problem for you is that your loyal customers and your employees will also see the accompanying stories advising shoppers to demand a discount.

They'll read in their Facebook news feeds and social media stories that advise shoppers to get all their questions answered in a store and go to an online sales app to buy.

They'll witness firsthand the rudeness caused by articles telling customers to forgo engaging with the associate to build customer service. Instead they'll feel compelled to haggle, that the employee is merely an obstacle to them getting their deal.

They'll discover news profiles of people who are struggling in retail who've tried lots of promotions that haven't worked which highlight their fears and concerns about having to close their retail shop.

For those reasons, you need to control the dialogue and get the energy right in your store if you want to build your store traffic. Your store can't just be fulfillment centers for merchandise shoppers come in and ask for.
Now is the time your associates have to be able to suggestively sell products that augment gifts as well as deliver a customer experience that encourages potential customers to buy for themselves as well as friends and family. And to do that...
Hold a special holiday meeting to craft the joy of the holidays.
How many times have you told your crew what kind of holiday spirit you wanted in your store? I doubt many.

People buy feelings, not features.

Let's back up a bit…

How much time have you spent looking at your own attitude concerning the holiday shopping season?

None?

Here's the thing...positive energy and thus higher retail holiday sales starts with you. Telling people you hate Christmas music or other petty annoyances contributes to a grinch-y atmosphere employees will dogpile on their own hates about the season.
That makes the energy in your store toxic and one that shoppers avoid. Christmas Eve shouldn't be looked at as the thankful end but the disappointing end to the holiday season.

Work on yourself to uncover your unhappiness and deal with it honestly. Everyone's got some distraction at this time of the year...an elderly parent needing care, a child in rehab, an unemployed friend...you name it. I'm not saying go to a shrink but you could talk to a friend over a cup of coffee and get your own fears out of the way.
That way you can be there to make your retail employees' day, so they can make your shoppers' day.

You don't have the luxury of a negative thought for the next six weeks.

Once you have decided your intention is to have a great holiday shopping season, your holiday preparations for stores must include a game plan of how you'll do that for your employees. Then schedule a store meeting.

The point of this employee training meeting is to teach your employees to consciously craft the concept of joy in your retail store. It's a focus far deeper than just customer service or your return policy. It's not about complaining about online retailers or some discount promotions you have scheduled. No, this meeting is about your associates.

Ask your crew if they feel hopeful about the holidays and why or why not.
After they have each shared, explain how choosing a mindset in life is so much more important and productive than anything they will learn. It isn't about the circumstances, it's about the way you think about them. It's a matter of using your choice muscle as to which you'll choose - to be positive or negative about the shoppers, the inventory, the weather, the traffic - you name it. It's all a choice.

Ask if anyone on your staff who has ever been on a sports team, "Did you ever go into a game not focused on winning?" After they answer, "No," ask, "Why not?" Your crew should come up with the idea no coach would have said that it doesn't matter if they win or even lose.

Next ask someone to share with the group a time they were in school and someone said another student was stuck up or stupid. Ask how did they then feel towards that person. Point out that the same thing can happen when working retail at the holidays if we judge shoppers by their dress or focus on the negatives.

Next have them name all the negative frustrations that could happen over the next six weeks and write them on a flip board so everyone can see them. List at least one from everyone. For example, there are bound to be long lines, employees will have to be taking a shuttle to get to work, and there will be bad weather. What else could they come up with that could be bad? Short on merchandise, a sick child at home, stress from visiting relatives, etc.

Next talk about how those things could affect their mood when they arrive at the store. Could they choose to create a good time at work? Of course. Brainstorm with them a few ways you and your crew could choose a better mood.

Want to go further? Then promise you'll donate a percentage of sales from now until December 21 to a local non-religious or non-political charity they all pick.The point is to get the energy right in your store and set the goal to have fun and win at retail this holiday.
The point is to get the energy right in your store and set the goal to have fun and win at retail this holiday.

If you don't work on this, as they open the doors, they might just as easily say, "Another day in hell." Customers can smell that a mile away!

Teach managers to start their day by visualizing everything working smoothly in their beautiful store, with shoppers purchasing, and their store exceeding daily goals.

People shop where people are happy.

For more tips to build sales, check out this strategy, How To Convert Holiday Shoppers Into Loyal Year Round Customers
In Sum
Even with fewer days between Thanksgiving and Christmas Eve. the National Retail Federation expects retailers to enjoy at least a 3% increase. When you're looking for holiday preparations for stores, it has to be focused more on your associates than merchandise.
Teach your employees how to avoid what others say about working retail, and optimize the time they have working with shoppers and you will increase your chances of having profitable holiday sales.
Get the energy right in your retail stores and shoppers will buy.

Remember, people buy feelings, not features.
It's never too late to train your crew, click the link to learn about my online retail sales training that increases conversions and add-ons.