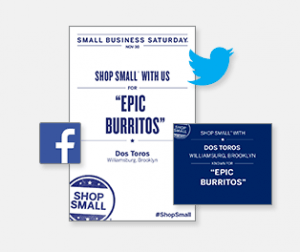 American Express is holding a party in your local area Saturday, November 30, 2013 and they want you to visit your local independent bricks and mortar retail shop or restaurant.
Signup by Monday November 4 and get on the map so customers who are looking to support small retailers can find you.
Recent data shows Millennial shoppers are highly inclined to shop local retailers after looking online, so Small Business Saturday is a perfect opportunity to attract them to your store.
If you take American Express - which I think everyone should - then you get the benefits.
Checkout why I think you should take American Express for your retail business here.
Online-only businesses and businesses without a physical storefront or location do not qualify to be included. Customers cannot use the card for online purchases at national chains or franchised businesses. It is truly a brick and mortar promotion for local small retailers!
You can see a great example how Royal Razor in Baltimore used last year's Small Business Saturday for their social media buzz here .
Plus they give you ten tips how to rally your neighborhood, balloons, and more.
For your American Express customer:
American Express is offering cardmembers the opportunity to get a one-time $10 statement credit when they register any eligible American Express Card and use it on Small Business Saturday 11/30/13 to spend $10 or more in a single in-store transaction at a qualifying small business location that appears on the Small Business Saturday Map.
For American Express:
For years American Express has been shunned by some independent retailers due to the discount rate; their handling charge is higher than Visa or MasterCard.
When I was working in a retail store, a customer about to buy nearly a grand of merchandise with an American Express card, and we had to say, "Sorry, we don't take AMEX." The customer left without his purchases. We joined American Express the next day.
It doesn't take much time to get accepted to take the American Express card, and they are putting a lot of effort behind this buy local campaign to help you stand out. Their excellent American Express Open Forum has been popular for many years, it is a natural extension of their efforts to attract and keep small business owners as cardholders.
Wrap-Up
I'm sure card members will grouse at American Express for cutting their statement credit from $25 in years past to $10 this year. I'm sure retailers who don't take American Express will say Small Business Saturday is a rip off. And if that's you, I'm sorry for you.
Why?
Because you have an opportunity to tie-in to a huge marketing movement with national exposure with a local angle you can provide to your local media. You can get free marketing materials professionally created just for you. You get to target one of the highest spending demographics in the world. Your own Black Friday weekend promotions can only add to your success. And believe me, with a week less to shop between Thanksgiving and Christmas, you can use all the help you can get.
Who else is promoting small businesses like this? Who else is committing millions to helping draw attention to small retailers in a positive way on November 30?
Sadly, not many…
Lose the cynicism.
Get onboard.
If you don't offer American Express, it's not too late to sign up.
*Note: I wasn't paid to write this or have any affiliate relationship with American Express, while all details were checked, if any questions arise about the program, please contact American Express directly.